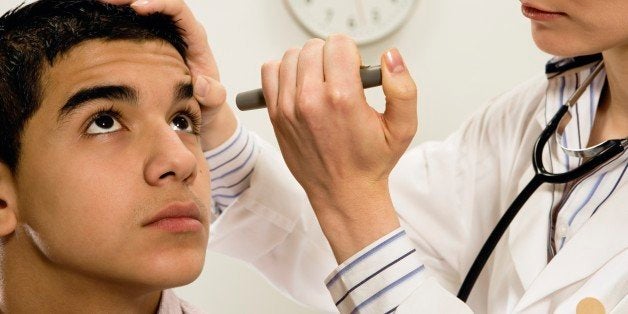 In the wake of the Ebola outbreak, the global community has seen and experienced the consequences, fear, and confusion of managing and controlling a disease that has limited evidence and knowledge base and lack of historical antecedents to support our actions taken. Never before has the global public health community had to address Ebola in the urban and transnational environment in the way we now are forced to do. The high mortality rate of Ebola -- over half of those who are sickened by the virus die -- is a cause for great concern worldwide. However, there is another global public health problem that sits quietly in the shadows of international media coverage, one that affects one child born every minute and has a comparable mortality rate of 60% in that child's first year- blindness.
The WHO estimates that 285 million people worldwide have visual impairment and 39 million are blind. Yet, approximately 80% of visual impairment is avoidable or preventable. Blindness is a disease of poverty; 90% of people with visual impairment and blindness live in low-income settings.
On October 9, international leaders of prevention of blindness met in Mexico City to celebrate World Sight Day 2014 at the Old Medical School of the National Autonomous University of Mexico (UNAM) in the historic city center. This year's Call to Action, No more avoidable blindness, was to address the WHO goal to reduce global avoidable blindness by 25% by 2019. This goal is the driving force of the new WHO plan, Universal eye health: a global action plan 2014-2019, which was approved by the World Health Assembly in Geneva, Switzerland in May 2013. More recently the Pan American Health Organization, the regional arm of the WHO in the America's, passed the Plan of Action for the Prevention of Blindness and Visual Impairment, a regional plan to implement the WHO global plan with strategic objectives and targets that are specific to Latin America and the Caribbean.
At the heart of both the WHO global and PAHO regional plans are eye health indicators that will monitor progress made against the plans by each country. The core group of indicators includes data on the prevalence and causes of visual impairment and cataract surgical coverage in each country. These data are collected by the WHO standard epidemiological survey methodology known as the Rapid Assessment of Avoidable Blindness (RAAB). Regional and national population-based RAAB surveys are essential instruments to guide national eye health policy and implement the regional and global eye health plans. The Latin America region has, in fact, the most number of epidemiological studies with 17 studies published to date and 2\7 additional studies in press, the majority of which have been integrated into national eye health planning and strategies.
The impact of EBM in Latin American eye health programming is extensive. This year, the British Journal of Ophthalmology published the Latin American vision loss data of the 2010 Global Burden of Disease Study. In the combined Latin America and Caribbean region, the estimated prevalence of blindness halved from 0.8% in 1990 to 0.4% in 2010! Moderate and severe visual impairment decreased from 4.3% to 2.7%. The data clearly show that Latin America has come a long way these past 25 years in prevention of blindness programming. Yet, there is still a long way to go, as currently, more than 26 million people in the Americas have visual impairment and over 3 million are blind, with cataract and glaucoma being responsible for 75% of regional blindness. The success of the PAHO regional plan will be measured against the reduction of the number of people with visual impairment and blindness by 6.5 million and 750,000, respectively, in less than 5 years.
Approximately 20.8 million visually impaired people living in the Americas today could have prevented their vision loss, and for many with cataract, sight-restoring surgery remains an option. Blindness and visual impairment is not a sudden outbreak headlining today's news; it is a chronic global health and humanitarian crisis that affects more than a quarter billion people worldwide and requires coordinated and multi-disciplinary action on part of governments, eye care professionals, non-governmental organizations, and industry to ensure that no one is left unnecessarily blind.
What makes #GivingTuesday a unique and innovative approach to involve the global community is its philanthropic, idealistic movement with direct call to action for global community-minded individuals to give back to nonprofits working on the front lines to solve some of the world's most critical, yet curable social issues.
As a proud participant in this innovative movement, and with a single focus on curing cataract blindness, HelpMeSee strongly believes that it takes a community, with the support of the international community, to solve its own problems in order to build sustainable systems to truly eradicate a single problem.
This post is part of a series produced in celebration of #GivingTuesday, which will take place this year (2014) on December 2. The idea behind #GivingTuesday is to kickoff the holiday-giving season, in the same way that Black Friday and Cyber Monday kickoff the holiday-shopping season. The Huffington Post will feature posts on #GivingTuesday all month in November. To see all the posts in the series, visit here; follow the conversation via #GivingTuesday and learn more here.
Calling all HuffPost superfans!
Sign up for membership to become a founding member and help shape HuffPost's next chapter