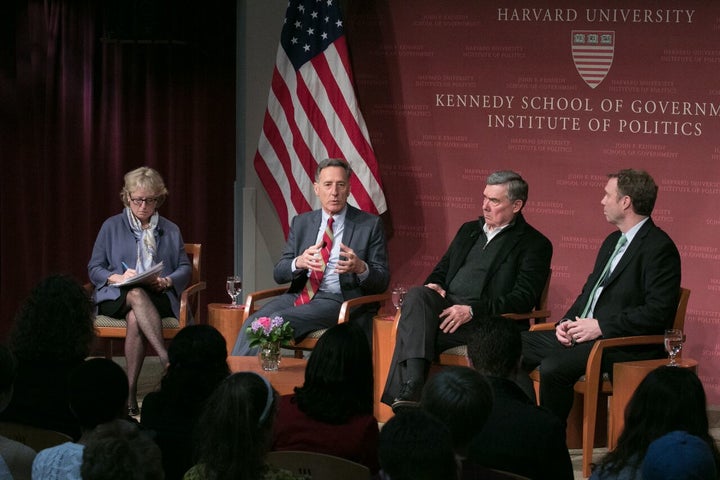 By Jackson Grigsby, Harvard College Class of 2020
"This is the least excusable disease in America, because it is self-inflicted. If I said to you [that] we were going to have 50,000 Americans die this year because of the choices we make, you would say, 'Wow. Well, let's all get together and solve this problem.'" ― Former Vermont Governor Peter Shumlin
On Wednesday, March 29, the John F. Kennedy Jr. Forum at the Harvard Institute of Politics was honored to host Peter Shumlin, the 81st Governor of the State of Vermont, Gil Kerlikowski, former Commissioner of US Customs and Border Protection, as well as David Armstrong, a Senior Enterprise Reporter for STAT, for a conversation on the significant opioid crisis our country faces. The conversation, moderated by Harvard Kennedy School adjunct lecturer Sheila Burke, emphasized solutions to America's opioid epidemic.
Governor Peter Shumlin described the State of Vermont's opioid crisis as a "menace." Opioids he stated, are "killing more Vermonters than anything." At the forum, Shumlin mentioned that in the beginning of his governorship, the state of Vermont was "spending more [money] on prisons than sending kids to school." As governor, Shumlin knew that things had to change.
In his tenure, Governor Shumlin implemented serious legislative changes in the state of Vermont to decriminalize opioids and create rehabilitation centers, as well as institute aggressive policy regulating prescription medications. The state of Vermont is seen as a model for how to treat the crisis.
Commissioner Kerlikowski and David Armstrong emphasized the epidemic in broader terms. To Kerlikowski, the federal government, state governments, the DEA, and physicians must recognize the issue. He argued that in order to remedy the opioid crisis, people need to be held accountable. Kerlikowski also emphasized drug "take back" days, increasing the accessibility of Narcan, a life-saving nasal spray that serves as an emergency treatment to potential opioid overdose.
Finally, Shumlin, Kerlikowkski and Armstrong all stressed the importance of personalizing this issue. The three argued that until we as Americans understand and advocate for the families that are affected by this crisis, nothing will change. While, as Burke mentioned, "the solutions are as complicated as the problems we face," Shumlin emphasized that citizens remain vigilant and continue to advocate for policy change. Shumlin urges citizens not to be "risk-averse," to take on Big Pharma, and hold them accountable as well.
While this issue impacts thousands of Americans and their families, it affects far more than those addicted to opioids.
To learn more, check out the full video of the forum below: