I asked Katie to share her perspectives on the work-life culture of today, what millennial employees are seeking, and the one question they should think about in navigating their careers.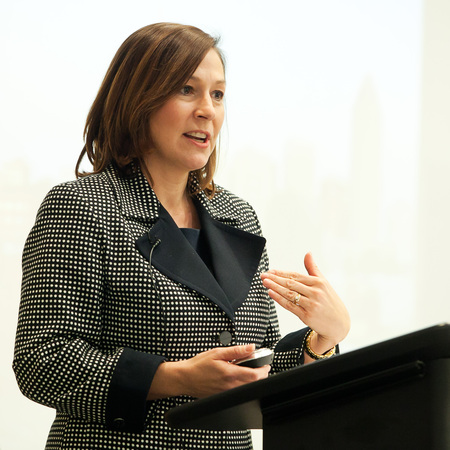 Katie, our readers wrestle with the lines between their professional and personal lives. How is that dichotomy different than a decade ago?
Today, our work and personal lives are blended. We're connected to work on the weekends and answering emails in the evenings after putting kids to bed. And, just as work has bled into our personal lives, we're also bringing more of our selves to work. We're looking for ways to fulfill our need for social contribution not just in our spare time, but also in our workplaces.

There has been much press lately about this shift, especially among the Millennial generation. Millennials want to bring their values to work. In Deloitte's 2015 Millennial Survey, which surveyed 7,800 people in 29 countries, sixty percent of Millennials said that a sense of purpose is part of the reason they chose to work for their current employers. In another survey by the UK-based consultancy Global Tolerance, half of Millennials said they would not only choose purposeful work over a high salary but would also work harder at their jobs if they were making a difference to others. These are not just pat survey responses; they are borne out by real people making real choices.

You've written a book on Profession and Purpose which focuses on helping MBAs navigate through this. What type of trends are you seeing?
In the research for my book, Profession and Purpose, I interviewed dozens of MBA students and alumni from top business schools who are pursuing careers that not only put their business skillset to use but also enable them to fulfill a social or environmental mission. Many of these graduates turned down prestigious (and high-paying) corporate offers to pursue a career where they could contribute to a greater good.
John Collery is an MBA graduate from Northwestern University's Kellogg School of Management. He owned his own business in Dublin, Ireland before coming to business school. He could have interviewed for high-paying roles with the top management consulting firms and banks. But he wanted to have a greater impact on the world. He told me: "Consulting? Not for me. Investment banking? Not for me. Brand management? I don't really care how many children in the world eat chocolate bars, frankly."

When I interviewed him in 2014, he was in the remote Himalayan state of Uttarakhand, India, crafting a strategy for a bio-energy business that would create jobs for the local villagers. Now, John is a business designer at IDEO, where he's working to develop business models that serve the world's poorest communities.

So given this new desire, what question should those looking to blend profession and purpose ask themselves as they navigate their careers?

Mark Albion, former Harvard Business School Professor, asks MBAs a central question in his book More than Money: what will your contribution be? One of the founders of the global organization Net Impact, Mark has become a spokesperson for the career road less traveled, helping hundreds of graduate students see that salary is not the most important hallmark of success in life.

Once upon a time, our personal and work lives were distinct identities. We did what we had to do at work, and made as much money as possible for both our firms and ourselves. Then, we went home and lived out our values in our spare time-in our volunteer activities, charitable giving, and religious or community affiliations. These activities were separate from work.
Now, we can look at ways to bring these interests and passions to the workplace. We can think about the kind of impact we want to have, and choose to work for companies that have vehicles for us to fulfill that impact.
Thank you, Katie. So, readers, what will your contribution be? What questions do you think about as you navigate your careers. Please share in the comments. You can also tweet at me @SanyinSiang and #ExceptionalCareers.
For another great resource on building exceptional careers, check out Erik Michielsen's Capture Your Flag site. The site hosts a series of interviews with leaders as they grow in their careers.
Support HuffPost
The Stakes Have Never Been Higher
Related
Popular in the Community