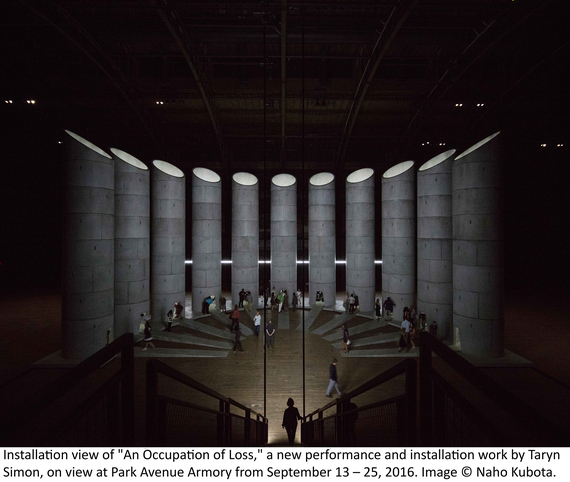 "An Occupation of Loss," the highly acclaimed performance piece by multi-disciplinary artist Taryn Simon, featuring professional mourners from around the world, closed on Sunday after a sold-out, two-week run at Park Avenue Armory in New York City. It was nothing short of extraordinary.
I had read there would be professional mourners in silos. While not sure what that actually meant, I knew that the performance promised to deliver an exotic mix of deep emotions through sounds and instruments. Fifteen minutes before our timed entry, the small audience of some 50 gathered outside the Armory's side entrance on 67th street.
Given the sign to enter, our small group filed into the vast, dark hall and onto a platform high above ground. In front of us were 11 silos, standing straight and tall in a soft arc, with a narrow, gently graded ramp leading to each one. The professional mourners from the 11 countries--including Albania, Russia, Malaysia, Romania, India, China, Venezuela, Azerbaijan, Kenya --entered their assigned silos, as performers taking their places on a stage. Many were dressed in black, one group in white. Some of the women covered their heads, some their faces. Another wore pedestrian clothes, a tracksuit of sorts, and one wore an elaborate, traditional mask and headdress.
All went quiet, as a few percussive beats emerged from one of the silos. The mourning period--a mere 35 minutes, as this was a staged work--had begun. And yet, we all soon felt the symbolic weight of an eternity of mourning.
A colleague had advised me to go into every silo to experience the event as fully as possible. And so we did. One by one we walked the ramps, bowed our heads to go through the short doors into each private space.
As I entered each silo, echoes of emotions I've experienced when paying a Shiva call or attending a wake reverberated. Sometimes I've had a desire to turn and flee, to escape the sadness. But in you go, as you must, to pay your respects and to bear witness to the cycles of life.
From chanting to wailing to drumming, the sounds ranged from sonorous and soft to bellowing and percussive. Some mourners cried as they chanted, making eye contact with the audience, drawing their energy from our own expressions of sorrow and pain.
Each silo soars upwards and is open at the top to darkness. The structural plan of these weird, vertical concrete tubes so beautifully supported not only the acoustics of each performance, but the symbolism of being in a tunnel of grief, while also nodding, architecturally, to the concept of spirits spiraling towards heaven. Acoustically isolated from the other silos, each group's performance could be heard singly, and yet, while inside one, we were aware of the sounds emanating from the others.
Halfway through the exhibit, we stepped back into the embrace of the arc of silos to hear the sounds collectively. Rather than cacophony, there was a mellifluous cadence to the voices and music of bereavement that somehow, mystically, acoustically held together.
Bereavement is universal. No one avoids it and thus the need to go through it is inevitable. How people choose to grieve, whether based on religious law, cultural mores or personal preference, is different the world over. But there is a shared need to not go through it alone, but to surround oneself with loved ones, family, friends, and in some cases, with strangers who lament for a living.
What a generous deed to be a mourner for hire, paid to not only share in the grief of the loss of a stranger, but also to absorb the sadness and ease the burden for those in mourning. While not widely known in the US, professional mourners, called moirologists, continue to and have played an important historical role in Near Eastern and Mediterranean cultures. How does a moirologist tap into the well of deep sadness day after day? Perhaps they draw strength from the healing they promote.
As the 35 minutes winds down, so do the voices and sounds from the silos until we are left with a final chant from one performer. We hear a few more drum beats, just as the performance had begun, and then silence. A large door on the Armory's eastern wall opens, not softly, but abruptly with a clang. Bright light from Lexington Avenue pours into the dark space. Traffic goes by--taxis honk their horns and pedestrians cross the street. Life outside has continued to pulse during the brief moments our group, strangers side by side, were swathed in a shared cloak of grief. Reluctantly, we all made our way to the exit and reentered the world of the living.
Calling all HuffPost superfans!
Sign up for membership to become a founding member and help shape HuffPost's next chapter