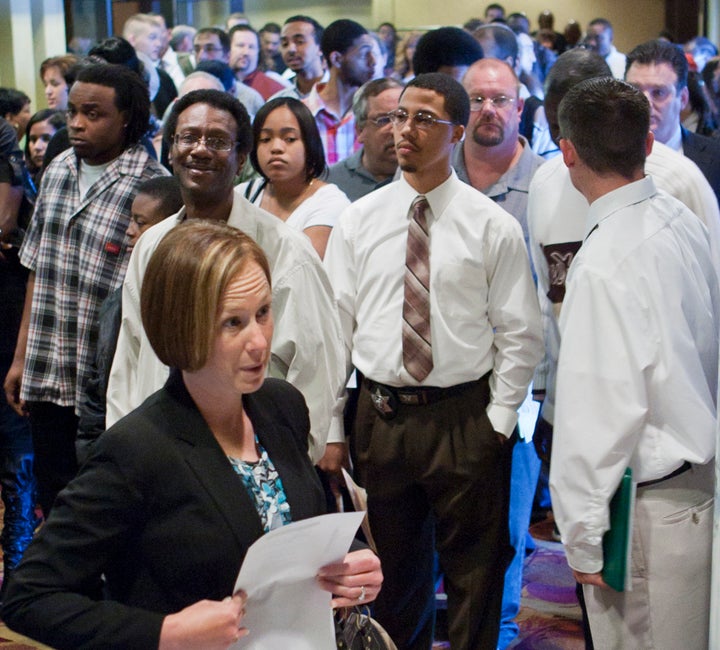 Robin St. Louis of Charlotte, N.C. lost her job as a sales rep just before Christmas in 2009 and said she hasn't had much luck with her job search since then.
"Looking for a job, it seems your résumé goes into a black hole," St. Louis, 46, told HuffPost, describing the process of flinging one job application after another at unresponsive potential employers and staffing agencies.
St. Louis said her family is grateful for the $325 she's received every week in unemployment insurance since her layoff: "This money's sustaining us."
But now the sustenance has been cut off. The federal Extended Benefits program, which provides up to 20 weeks of benefits for long-term unemployed who burn through both state benefits and federal Emergency Unemployment Compensation, expired this month in North Carolina, Tennessee and Wisconsin.
The deadline for payouts passed on April 16. The North Carolina General Assembly approved a bill that would preserve the benefits, but Gov. Bev Perdue (D) vetoed it Saturday because Republicans paired the measure with deep budget cuts. St. Louis is one of 37,000 long-term unemployed North Carolinians who have been left hanging.
The next states where the program will expire are Alaska, Alabama and Kansas, according to Mike Evangelist of the National Employment Law Project. Analyzing state unemployment data released Tuesday by the U.S. Department of Labor, Evangelist predicts EB payments will stop in those states on May 14 unless local lawmakers take action. Payments will stop in June in Arizona, Pennsylvania, Washington, D.C. and New Jersey (though legislation to prevent the cutoff there is on the governor's desk).
HuffPost Readers: Affected by the lapse of Extended Benefits in your state? Tell us about it -- email arthur@huffingtonpost.com. Please include your name and phone number if you're willing to do an interview.
The Employment Security Commission of North Carolina advises on its website that "due to the recent decline in the North Carolina Unemployment Rate, the state no longer meets the Federal and State requirements of the Extended Benefits Program."
The U.S. Labor Department announced Tuesday that North Carolina's unemployment rate has fallen to 9.7 percent from 11.3 percent this time last year, but even if it had not fallen at all, the EB program would still expire. That's because the unemployment rate in any given state must be at least 10 percent higher than it was during the previous two years for the state to remain eligible for EB. When Congress reauthorized federal jobless benefits in December, it included a provision allowing states to modify their EB "look back" laws to include the three previous years instead of two. In most states, the unemployment rate is still much higher than it was three years ago.
(The other requirement is an unemployment rate above 6.5 percent; in May the program will wind down in Virginia because the state's unemployment rate has fallen below that threshold.)
Unlike North Carolina, 18 states have taken Congress up on its offer, according to NELP. Some states have passed legislation that preserves EB eligibility while simultaneously making deep cuts to the state-funded benefits initially provided to the newly jobless.
Robin St. Louis said her husband is still working, and that even though they've withdrawn their 4-year-old from daycare to save money, the family has been getting by. She said her job search has seemed more hopeful in recent months, which is good since she received her final unemployment check on Monday.
"I can smile for this week," she said.

Popular in the Community