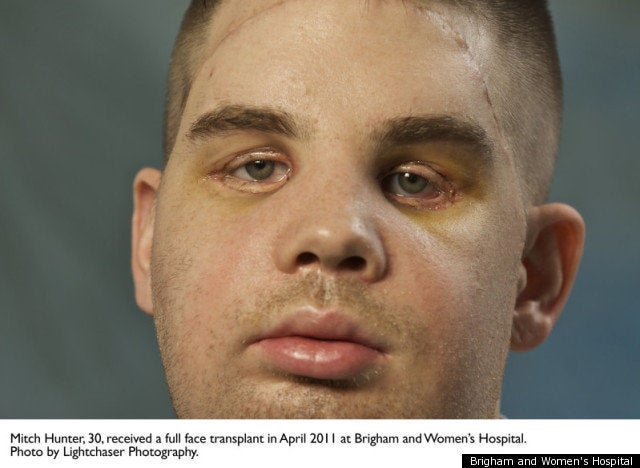 A decade ago, 30-year-old Mitch Hunter had a different face.
But this Saturday, the Indiana resident returned home to his girlfriend, children, friends and family with a brand new face, after undergoing a full face transplant to correct facial disfigurement he suffered 10 years ago in a car accident. In the accident, Hunter suffered electrical shock from a high-voltage wire, and also lost two fingers and part of his left leg.
In April, Hunter underwent surgery at Brigham and Women's Hospital in Boston for a full face transplant from a donor whose family has asked to remain anonymous. The surgery, which lasted more than 14 hours, required more than 30 doctors, nurses and other staff to replace his nose, eyelids, lips and muscles and nerves that provide facial sensation and animation, the Indianapolis Star reported.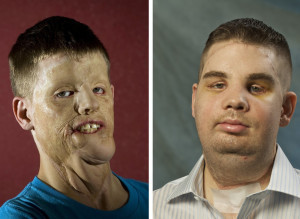 Mitch Hunter, 30, before and after the full face transplant. Left photo courtesy of the Hunter family. Right photo by Lightchaser Photography.
Now that Hunter is home and healing from his surgery, high on his priority list is taking his son and twin daughters on a trip to the zoo, museum or park, according to the Indianapolis Star. He also plans to enroll at a college to study computer science in the fall.
"It feels good," Mitch Hunter told the Indianapolis Star. "I couldn't wait to see my son. I think he recognizes my voice."
Hunter had previously undergone 47 surgeries on his face. The swelling in his face, a result of the surgery, is expected to go down over the next six months.
Hunter has already endured one hurdle as a result of his new face -- he had to show the "before" and "after" photos of his face transplant as photo identification for the security officials at Logan International Airport in Boston in order to fly home, the Boston Globe reported.
Hunter's face transplant is one of about a dozen that have been done around the world, including in France, Spain and China, and the third face transplant to be done at Brigham and Women's Hospital.
A Spanish man known only as Oscar received the world's first face transplant in March of last year. Oscar had accidentally shot himself in the face more than five years ago, and had difficulty eating and breathing on his own before the transplant.
Dallas Wiens, a construction worker whose face was disfigured in a 2008 power line accident, received the first full face transplant in the United States in March earlier this year.
Watch Wiens speak out about his surgery: