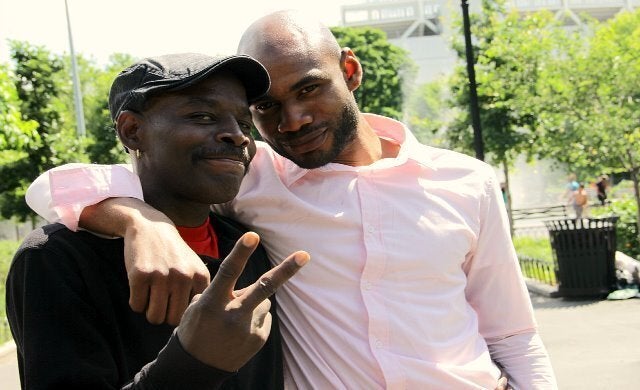 This essay was produced in collaboration with Facebook Stories. For more stories like this visit www.facebookstories.com. To submit your own Facebook story, click here.
At the age of 29, I found my father on Facebook. But before that, I was doing just fine without him.
I never thought I needed a man in life. That's because I was always the leading man in my house and in my life--even as a little boy.
Growing up on Detroit's west side, my neighborhood was rife with gang violence, drug abuse and semi-hopelessness. Manhood was measured by ghetto Darwinism: only the toughest young guns who dared not to fear the pistol-toting bullies, stray bullets or the temptation of the drug game survived.
I ducked and weaved those travails by doing well in school, participating in after-school sports activities and being a pretty good kid.
Given my environment, I did pretty well.
But the "men" of my house did not. An uncle of mine, a long-time drug dealer, died in an accidental fire inside his apartment. Another uncle broke one of The Notorious B.I.G's "Ten Crack Commandments": Don't get high off your own supply. He became a lifetime drug user, and died last year of a heart attack.
At their best, my uncles protected me from The Evil: thugs who wanted to initiate me into gang life; drug pushers who wanted me to sell their product; anyone who wanted to mess with me because they wanted to.
But by time I was 12 years-old, these two men who personified street masculinity were either dead or strung out. That was the year my grandmother handed me a gun, a .357 Magnum I had no idea how to use, and a shotgun that I was never comfortable handling after I saw it nearly shoot off my uncle's foot during an accidental discharge. "You're the man of the house now," she told me. "You have to protect the house."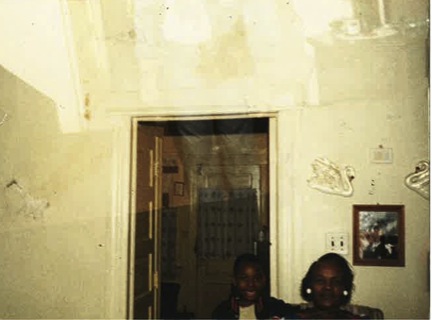 Starr and his grandmother at their Detroit home in an undated photo.
Silently, one question kept running through my head: "Who is going to protect me?" I had no idea who my father was then, but I knew I wanted him in my life. In my mind, I always searched for my father. I had no other means of searching for him other than in my imagination; I didn't know his name. So my grandmother ended up playing mommy and daddy.
If it weren't for her, I wouldn't have survived. That's why she made me go to summer school programs at my middle school, even when I told her a known gang member threatened to kill me. But that didn't matter to my grandmother. "You'll die getting your education," she replied after I expressed my fear of leaving the house. So off to school I went. I'd have to man up to the prospect to getting popped in the pursuit of my education.
My sweet, dear grandmother meant me well. She loved me. But she was an elderly, disabled woman who couldn't walk well. There was very little she could do to protect me from the rough environs I called home.
I had a choice: Man up and learn, or sit at home and be ignorant and uneducated. The latter wasn't an option. Sometimes, I would get beat up on the way to school. When I came home with a bruised cheek, she'd ask, "Did you get a few licks in?"
By the time I entered high school, most of the drug dealers and gangbangers on my block died or got locked up.
Life got much better--and safer.
But it didn't get any more comfortable. The former male role model in my life became live-in drug addict and a constant source of menacing discontent. When he was high, he spoke to my grandmother--his mother, mind you--as a pissed off pimp would chastise one of his ladies of the night.
But that old woman, despite our struggles, raised me well enough to earn a full scholarship to a historical black university in Arkansas. She was so happy when the financial aid counselor called to inform her that her boy would be taken care of for the next four years. She died three months later in my arms.
A heart attack took her home to heaven; her upbringing sent me to college--without a criminal record.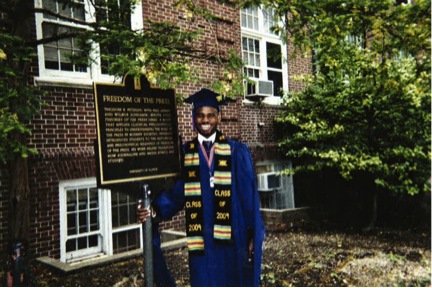 Starr standing outside of the Journalism Department at the University of Illinois at Urbana-Champaign, where he earned Master of Science in Journalism and Master of Arts in Russian, East European and Eurasian Studies degrees in 2009.
My grandmother did her job: she raised me to be a man. But, for some reason, I didn't quite feel like one. Much of what I knew about manhood was protection and masking my fear. I took care of myself all through college. I always wanted to know who my father was, but never pursued him seriously. I didn't need him anyway, I figured. I graduated with honors, got accepted into the Peace Corps, earned two masters degrees and worked some interesting jobs along the way.
In my early 20s, I learned that my father's name was Chris Truesdale. But Facebook wasn't around then.
It wasn't until 2009 that I dared type "Chris Truesdale" into the Facebook search box. I was studying in Ukraine on a Fulbright grant.
Several matches for the name appeared. One of them replied. His profile photo stared into my eyes, as if he had been searching for me as long as I had been for him. (Actually, he didn't know I was alive.) It would be cliché for me to say an "emotional void" was filled when he confirmed with my mother that I was, in fact, his son. So, I'll just say I was very happy to finally meet my father--on Facebook of all places.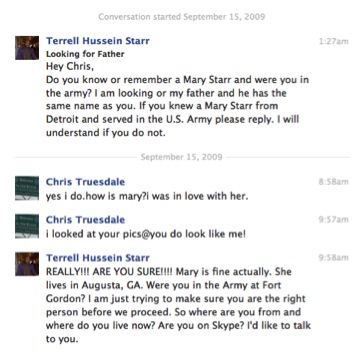 We chatted over Skype for a year and a half during my time in Ukraine. When it was time for me to return to the U.S., he welcomed me to his small apartment in New York City. I had no other place to go. I couldn't find a job in Europe or in the U.S. I felt like crap. I was 30-years-old and could not secure work for myself. My money was all kinds of funny.
But the old man took me in to his home anyway. For me, my father was heaven-sent.
Think about it: How many middle-aged men would take a 30-year-old, Russian-speaking Black man into his home and treat him as his own son after meeting him on Facebook and never in person? He calls me a spy to this very day.
The man I thought I'd never need entered my life at exactly the right time after my Fulbright money dried up. But my father not only provided me with a roof over my head; he taught me a sense of manhood that no one in my life came close to matching.
When I felt professionally downtrodden after one failed attempt to find work after another, he was always there to cheer me up with his optimistic spirit and gritty street humor. When my pockets were empty, he always had a $20 or more to give me.
But, most important, I always knew I had a home as long as my father had one. For the first time in my life, I wasn't "man" enough to care for myself. He provided security I had always wanted as a child.
But no matter how hard I tried, I couldn't mask the fear of being an over-educated Black male in America with no job prospects as well I did the fear of staring down thugs on my way to and from school when I was a teenager. Life has a way of breaking you down like that.
Some people would call it a lesson in humility.
In my early 30s, I felt as vulnerable as I did when I was that 12-year-old kid who longed for a man to protect me from the world I wasn't quite ready to take on alone.
But this time, I wasn't alone. When I finally broke down, my father helped to build me back up. My father was finally here and he's been with me ever since.
Chris Truesdale taught me that being a man is not always about guarding your heart. By bringing me into his life, he actually let his guard down. That was love personified.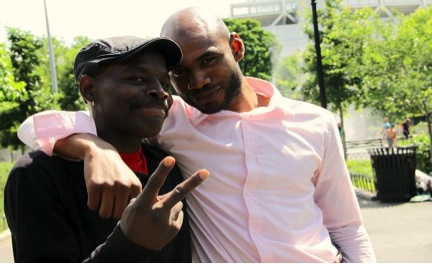 Starr and Chris Truesdale pose for a photo near Yankee Stadium in The Bronx, New York in May of 2012.
Despite my hardships, I'd like to think I would have rebounded and ended up doing just fine had I not messaged my father on Facebook. But why settle for doing "just fine" when you can be doing great?
In fact, I'm doing superb because Chris Truesdale "manned up" and replied to my Facebook message when he didn't have to.
And, just as he did when I first him when I was in Ukraine, my father still checks up on me most days via Facebook chat. Normally, he'll ask if I've eaten or say that he loves me.
We hardly go a day without chatting, "I love you" on Facebook.
It's a simple, yet powerful gesture of love I hope to continue for the rest of our lives.
Popular in the Community