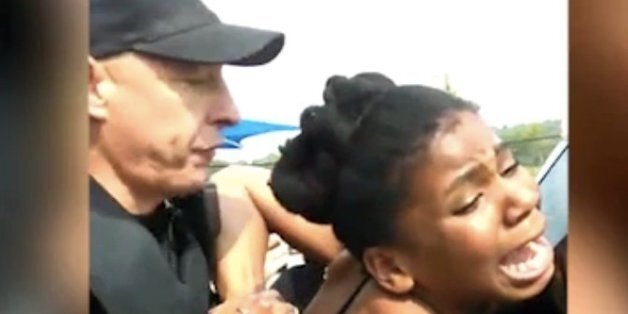 Two women were arraigned Wednesday on charges stemming from an incident last week that they say was sparked by racism and capped off by excessive force from police.
Sisters Krystal Dixon, 33, and Maya Dixon, 34, both of whom are black, were involved in a June 9 altercation with police at a Fairfield, Ohio, public swimming pool. Both women are now facing charges of resisting arrest and disorderly conduct, and two children at the scene, ages 12 and 15, have also been arrested and charged in connection with the incident. The family is also claiming that a police officer broke a 12-year-old family member's jaw and ribs as he tried to restrain her. The Dixons have suggested that race played a factor in how pool staff and law enforcement treated the family.
In a news conference Tuesday, Bishop Bobby Hilton, a member of Rev. Al Sharpton's National Action Network who is now serving as a representative for the family, said that the confrontation began shortly after Krystal Dixon dropped off a group of eight kids at the pool. (It's not clear how many of the kids were relatives of either Krystal or Maya Dixon.) Staff reportedly asked the group to leave because one of the kids wasn't wearing a proper swimsuit. A park ranger was called when they refused. According to a police report, the kids told the ranger that their mom had said they didn't have to leave.
Hilton said that Krystal Dixon went to get appropriate swimwear for the boy in question, but when she returned, she was told that he wouldn't be allowed back in. The situation escalated when Dixon went to retrieve the other kids from the pool area.
A set of videos posted on Tuesday by Hilton appear to show the progression of the incident. In the first clip, Dixon is seen arguing with pool staff. She can be heard asking for a refund, which is denied. A park ranger and a police officer confront both Dixon and the person filming the events. The video ends with an officer asking for Dixon's identification and appearing to grab her wrist.
The second clip starts after the altercation has already gotten physical. More officers have arrived, and one white officer can be seen grabbing a young girl around the neck and pushing her against a police car as she screams. An unidentified white male dressed in a swimsuit appears to be pressing a black male against a fence, alongside a police officer. Police officials have said they used pepper spray during the episode. It's unclear when, but someone in the clip claims to have been Maced.
The final video shows the aftermath of the incident. In the video, a handcuffed Maya Dixon claims that Krystal Dixon is pregnant and that one of the officers punched her 12-year-old daughter.
The original videos are no longer available on Facebook, but a version of all the clips spliced together has surfaced on YouTube.
At Tuesday's press conference, Hilton handed out photos to reporters. The family says these photos show the young girl hospitalized due to the injuries she received during her arrest. Hilton said five people were hospitalized following the scuffle. He's characterized the videos and photos as proof of the Fairfield Police Department's "ridiculous" and excessive use of force.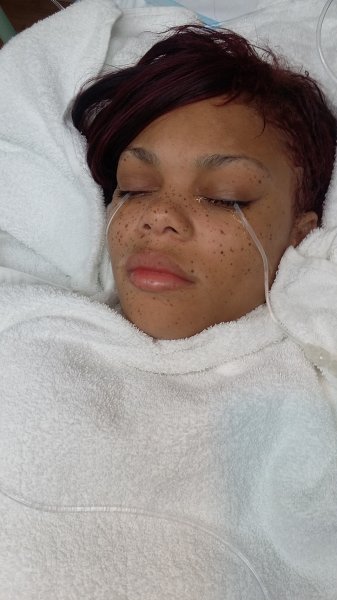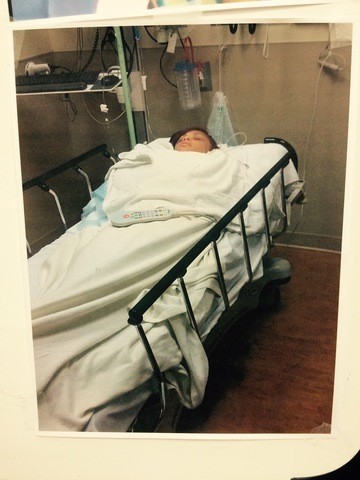 While Hilton wouldn't discuss the extent of the girl's injuries on Tuesday, he had previously claimed that she had a fractured jaw and ribs.
Clyde Bennett II, an attorney for the Dixons, said on Wednesday that he's advised the family "not to talk about" the girl's injuries, calling them a "red herring." He told the Hamilton Journal-News that regardless of the outcome, the initial attempt to arrest Krystal Dixon was unlawful.
"You just can't go up to a person and grab them in America, even if you're a police officer. You have to have a reason to do that," Bennett said. "You can't just say, 'Come here,' and snatch them. That's unconstitutional."
Bennett also said the family believes race played a factor throughout the entire confrontation.
"They believe that if they were white, the police officers would not have attempted to arrest any of them. Secondly, they would not have used excessive force when trying to arrest them," he told The Huffington Post. "They believe the officers' actions were racially motivated."
According to Bennett, the family is convinced that if they weren't black, pool staff wouldn't have asked the whole family to leave just because one member was violating a dress code.
A 911 call made as the episode unfolded mentions the race of the Dixons, though the caller claims it was not a factor.
"Everything's going crazy and they're videotaping, trying to make it look like a racist thing and it's not at all," said the caller, a pool employee. "They were breaking our policy and we told them they couldn't be here anymore and it's really scary and I don't feel safe."
An official police report claims that an adult and several male and female juveniles began striking and pushing officers after they attempted to detain Krystal Dixon. The report also states that an adult told a juvenile to get a Taser from her purse during the arrests.
Fairfield police Officer Doug Day told The Daily Beast that "at one point, one of our officers felt his gun was being taken away from him."
Fairfield police Chief Mike Dickey has maintained that his officers handled the situation properly, telling WLWT that they responded with the necessary amount of force to handle the "non-compliant" suspects. He said the fact that there wasn't more violence was a testament to his officers' handling of the situation.
"When individuals attack police officers, the officers are obligated to defend themselves," he said, according to WCPO. "That they didn't use any weapons shows the restraint they used."
Fairfield Mayor Steve Miller is also standing behind the police force.
"This is an unfortunate situation and our officers had a tough situation there. But I think they did a good job in showing restraint," said Miller, according to The Cincinnati Enquirer.
The incident in Fairfield happened just days after video emerged showing police officers in McKinney, Texas, aggressively breaking up a pool party, with one cop pinning a black girl to the ground and drawing a gun on a group of black teens.
Krystal and Maya Dixon both pled not guilty Wednesday to charges of resisting arrest and disorderly conduct. A pretrial hearing has been scheduled for July 8. Bennett has called for the city to drop all charges stemming from the incident, including the charges against the 12-year-old and the 15-year-old.
Popular in the Community