Going to school in Beverly Hills, it is no surprise that many students go on to becoming prominent figures in the entertainment industry. There are numerous notable Beverly alumni: Angelina Jolie, Betty White, Nicholas Cage, and Leighton Meester, to name a few. However, meeting Jack Abramoff, an alumni who has gone on to become a notorious political figure, was also very interesting.
Jack Abramoff, the infamous former lobbyist, visited my school and his alma mater: Beverly Hills High School (BHHS) on Tuesday, February 28. Since he graduated from BHHS in '77, Abramoff went on to becoming the top lobbyist on K-street and was subsequently convicted for corruption of public officials, tax evasion, and fraud. After spending three and a half years in prison, he has become devoted to reforming politics in America by abolishing corruption. In the assembly, Abramoff told us about his journey from being a nervous freshman at BHHS to the most successful person in his field to hitting rock bottom and spending 1,299 days in prison.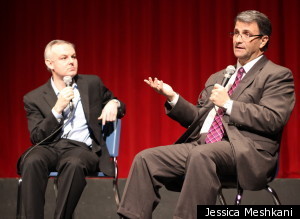 Abramoff was interviewed by Josh Gross, publisher of the Beverly Hills Weekly and President of the Beverly Hills High School Alumni Association.

This was Abramoff's first visit back to BHHS in 35 years. At BHHS, Abramoff was involved in student government and the football team. He claimed that his involvement in student government in high school triggered his interest in politics. The last time he was in that very auditorium, he was campaigning for the position of student body president (for the record, he did not win).
In 1994, Republicans took over Congress. Abramoff knew many of the key people from his College Republicans Group, which he had founded while he attended Brandeis University.
Abramoff claimed that he had never actually wanted to become a lobbyist, but he was very well connected with key politicians, and an opportunity came up while he was studying law at Georgetown University.
For those of you readers who don't know, a lobbyist is an advocate who tries to get someone to do something to benefit someone else. A lobbyist has access to decision makers and is good at persuading.
Abramoff served as a lobbyist for several Indian Tribal Governments. Although he didn't know much about their issues, he used this to his advantage by giving them an unbiased third perspective.
Fast forward to 2004, Abramoff had expanded his practice and was now a top lobbyist. Abramoff had about 40 employees, and their motto was to never lose. Because his team had such a high success rate (they only lost one case, ever!), Abramoff charged around $150,000 a month -- much, much more than other lobby firms. "I wasn't a lobbyist; I was a warrior," said Abramoff.
Later that year, the Washington Post published an article about Abramoff's corrupt practice. Abramoff took this with a grain of salt, as he was in denial. He didn't think what he was doing was illegal; he was doing what every other lobbyist did but just to a much a larger extent.
Abramoff finally realized that this was a serious issue when he was on the cover of newspapers more often than John Kerry, who was running for President that year. He went back and read his emails and realized that he did in fact break the law. Looking back, Abramoff admitted he had a very arrogant attitude and believed that rules and laws were merely inconveniences and did not apply to him.
Abramoff described his time spent at federal prison as a nightmare. They were the worst days of his life. They stripped away everything from him: his clothes, his hair, his privacy and his rights. He was a controlled slave. While he was here, he spent lots of time thinking about his past actions.
Now that Abramoff is out of prison, he in reformist mode. He wrote a book, Capitol Punishment, which gives his insight and proposals as to how the corrupt system can be changed.
One student asked Abramoff for advice for students with political aspirations to avoid the corruption on Capitol Hill. Abramoff advised that first and foremost, you should learn all the rules and follow them. Secondly, he advised us to behave like some one is watching our every move. "Try not to do anything that you would be embarrassed about if it was filmed and shown on the evening news -- or put on YouTube."
BHHS senior Shaneel Poonja thought the assembly was really insightful. "It was great to see something we were learning about right in front of us. It really solidified all the aspects of politics that we learn in the classroom. It was a great opportunity," said Poonja.
Sara Newman, also a senior, had her reservations. "I thought it was really biased and hard to tell what was the truth and what was just his own twisted spin on events."
I personally thought that it was commendable to hear him acknowledge his past and own up to his misdoings.
REAL LIFE. REAL NEWS. REAL VOICES.
Help us tell more of the stories that matter from voices that too often remain unheard.