It is the spring of 1982. I am 34. My daughters, Violet and Ruby, are a few months shy of their third and fifth birthdays. Although the most important pieces of the puzzle of my life fit perfectly (i.e. being the mother of two perfect daughters), the larger picture, the marriage, is in deep trouble.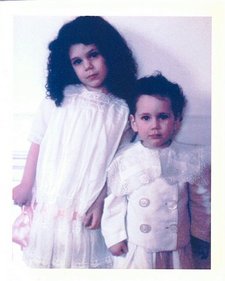 My parents stayed unhappily married for 38 years until my father died, and as my mother so inelegantly and bluntly put it shortly after his death, "I wish he died 20 years before!" I so didn't want to be her, to look back on my life with regret, as she did, to kick myself for staying, as she did, to stay when every bone in my body screamed at me to leave. I knew too well what it felt like to grow up in an unhappy home. I would not do that to my daughters. But how could I leave? I'd made a vow, "for better or worse." I'd been with Richard for 16 years -- a lifetime -- or so it felt at the ripe old age of 34. My children were barely out of diapers; they deserved a happy, cohesive family. How could I even fantasize about leaving, let alone act on it?
At the same time that I am planning the girls' joint birthday party luncheon for 75 adults and kids, deciding the menu from the new Silver Palate Cookbook, I am contemplating ending my marriage. In between food shopping at Balducci's on Ninth Street and Sixth Avenue, I am fantasizing about carrying on a torrid love affair with my high school boyfriend, the only other "serious" relationship of my life (or as serious as any relationship can be when you're 17), who I know lives in New York, although haven't seen nor spoken to in almost 20 years. For the umpteenth time, conflicting thoughts of love, lust, staying, going, isolation, betrayal, commitment, consume me as I walk down Columbus Avenue pushing Violet in a stroller one early summer afternoon.
From the back of a 1948 Rolls Royce, I hear my name called. It doesn't compute. How could someone who owns a vintage Rolls Royce know me? I stop, peer into the back seat and low and behold, out pops my high school boyfriend, Paul. He looks as cute as ever! At that moment, I am utterly convinced that the hand of God has touched me and absolved me of any future sin. At that moment, I promise God that I'll start going to temple, Bat Mitzvah my daughters. What do I do now?! "Go for it," I say to myself, "this is divine intervention." "Don't go for it, you fool," I say to myself a second after that. What in God's name can I be thinking? Cheating on your husband is despicable, vile, unacceptable. I would hate that woman if it weren't me. But how can I not go for it? I am Scarlet O'Hara, Paul is Rhett Butler (although he ended up being more Ashley than Rhett, but that's another story), we are meant to be together!
Before Ruby's birth, my husband, Richard had been my God, my salvation; he had rescued me from an abusive home. I was indebted to him for loving me. But Ruby's birth changed all that. Much to Richard's dismay, our playing field had been leveled. I have become a force to be reckoned with. In the end, I do what I knew I would do from the moment Paul called out my name. I insist that Paul and I meet for lunch, let the chips fall where they may. We make a date for a few weeks later, after Ruby and Violet's party. I am more excited than I've been in a very long time, maybe ever.
My party planning proceeds full-steam ahead, despite the marriage falling apart. The food I am preparing from Silver Palate's first cookbook -- cold sesame noodles, pasta with tomatoes, basil and brie, big bread sandwich -- is delectable (30 years later, these recipes are still a part of my entertaining repertoire). The birthday party turns out to be one of the best I've ever thrown. Maybe it's because I know it will be the last one I host as part of an intact family unit, and maybe it's because of the dear friends and family who share in the celebration, but maybe it's something way more primal -- my love for my daughters has opened my heart and filled me up. Because of Ruby and Violet, I know what pure love is. Because of Ruby and Violet, I know I need to find true love.
Not long after the party, Paul and I meet for lunch. One thing leads to another, as I know it will, and an affair begins. It doesn't lead anywhere, as well it shouldn't, but it teaches me a few invaluable lessons. One, I am so not an affair kind of gal, the lying eroding any sense of myself as a decent woman. Two, if I've gone this far outside of the marriage, then it is time to run, not walk away. Thirdly, and maybe most importantly, I learn that I am lovable, something I never knew before. The marriage will be over a few weeks later.
My life has been blessed with many sublime celebrations, many luscious meals, but I can still recall, with such clarity, the food, the friends and family, the laughter and love that day in 1982. It might have been an ending, but it was the beginning of something grand.