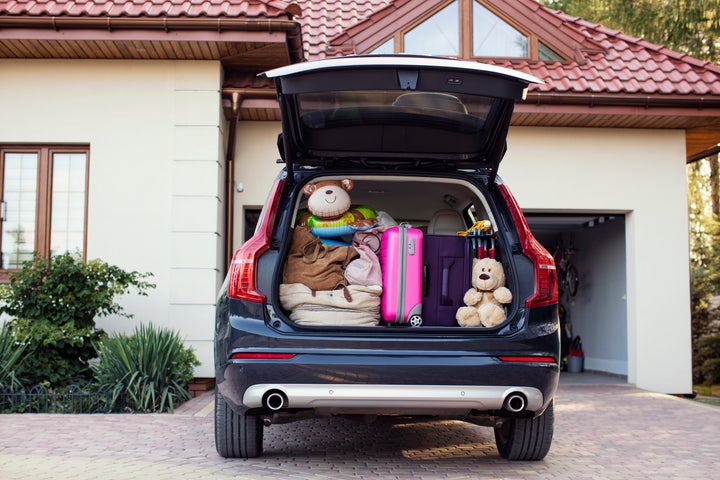 Family road trips can be a test for parents on how long they can keep kids occupied in the car before the children reach their breaking point, or more specifically, their tantrum point.
We asked the HuffPost Parents community about their tips and tricks for keeping kids occupied during those long drives, and we've got two words for you: baby wipes. Even if your kids aren't babies, our readers said.
They also suggested other important items to always have in the car in case of emergencies and a few ways to keep the kids busy and happy. Here are 14 tips from our readers on how to make family road trips more manageable.
"We move and travel often and I've learned a few tricks. If taking a road trip, consider covering your car's seats with a waterproof cover. It's much easier to clean, especially if your kids get carsick. It saves the upholstery from all kinds of messes: food, spills, vomit. I also recommend using Ziploc bags for carsick kids. That way you can seal it up and toss it without any spillage. Headphones are a lifesaver! I love Cozy Phones headphones for smaller kids. They are cute and totally wearable. And snacks are a must! Keep it simple and mess-free (or mostly mess-free) with fruit strips, applesauce pouches, jerky, etc. We like to keep a small soft-sided cooler in the car to store Lunchables and Go-Gurts. And no matter how old your kids are, bring baby wipes!" ― Heather Williams
"DVD player, iPad, another tablet, plenty of snacks, drinks and rest breaks for meals like breakfast or dinner. We usually eat sandwiches in the car. I pack an entire cooler full of sandwiches, fruit, cheese, and veggies likes carrot and celery sticks. I pack another cooler of water, juices boxes, tea for myself and Cokes for my husband. I make individual bags with a sandwich, fruit, and cheese. That way each person can grab what they want. My son is very easy to travel with, and as long as he's not hungry, sick or bored, he's good to go." ― Melissa Watson
"I try to space things out, but it's a mix of each kid having screen time on their tablets, movies on our flip-down screen in the car, and snacks ― lots of them. When we stop for gas/potty breaks, I let the kids get out to pick out a special treat at a gas station, even if it's candy. On our most recent trip I stocked up a cheap plastic bin with dry-erase boards for each kid with markers, crayons and coloring books. Wipes of any kind, whether baby wipes or Wet Ones in a canister are a huge help to clean messy hands from all the snacking. A full-sized bottle of hand sanitizer with a pump, a roll of paper towels, and box of tissue that I can keep within an arm's reach in the car, are also always on my necessities list." ― Charlotte Kennedy
"For road trips we bring toys that are magnetic and a grabber toy... so kids strapped in car seats can often pick up the toys they drop without help from Mom or Dad!" ― Jenn Otto
"We have each kid pack a 'go bag.' They have toys, books, headphones, tablets, and coloring books and colored pencils. We also get travel books and games from Usborne Books. We have a travel case for movies and a car DVD player, since we drive eight hours back to our hometown. Snacks and juice pouches are easily accessible, and [we sometimes use] 'calm-down candy' as a bribe. I also have a container in the car for travel with Band-Aids, Pedialyte, Tylenol, Tums, wet wipes, and Neosporin." ― Rachael Grayson
"First we start with car bingo ($1 cards at Target). When that gets boring we move to books, and when all else fails (and it usually does), it's screen time, baby! Lay on the iPhone, iPad, portable Blu-ray player! Works every time and gets us to where we are going with less bickering than when I was a kiddo." ― Brianna Freeburn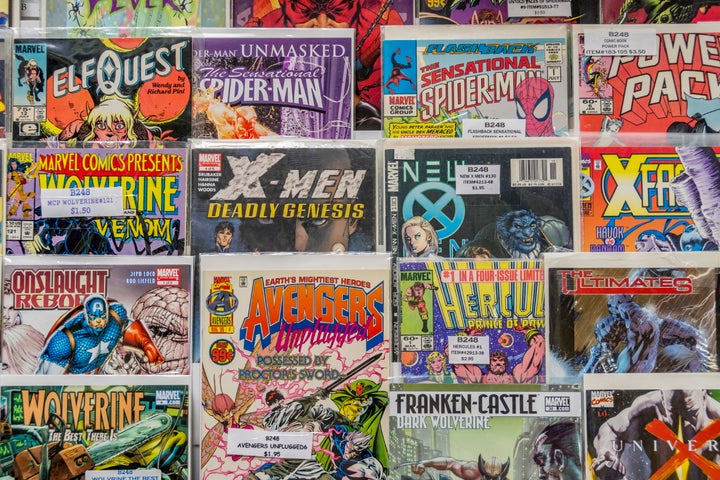 "I like to visit the local comic book store and get some new comics for my boys. They're cheap and small enough for travel. They encourage reading and imagination. They also come in so many genres from 'My Little Pony' to superheroes to everything Disney to Spongebob. Really can't go wrong." ― Shannon Prieto
"We traveled from Ontario to British Columbia in Canada with four kids ages 1 to 7. I brought a bag of toys for each one, which they had finished looking at a half hour into the trip. We discovered they enjoyed looking out the windows most and playing car bingo games, despite them being very active kids. Our success also rode on our timing. We would pack up each morning and be on the road between 5 and 6 a.m., stop for gas, a pee break and to change clothes, then eat breakfast on the road again. We'd stop for lunch at a park, but we'd have finished eight hours of driving by early afternoon, so they had all afternoon and evening to play. It made it not seem like such long days when we got so much driving done while they were groggy!" ― Sarah Devries
"Some favorite toys/books and a couple new ones for emergencies. Lots of snacks. One or two containers of Play-Doh (keep it simple!), activity books and sticker books. Don't forget to play games. My kids are always distracted by playing I Spy, or when we are in the car finding certain colored cars or houses, or all the letters in the alphabet in order." ― Amy Kilpatrick
"I pack magazines, coloring books and plain paper for drawing. Word search pads for our 8-year-old, and new coloring pens, as we travel by car a lot. We invested in a travel lap tray that wraps around her that has pockets and good edges so nothing can fall off. Oh, and not forgetting snacks!" ― Cheri Wickers
"Magnetic 'paper' dolls are pretty cool and fun. They make lots of themes: pirates on a ship, animals on a farm, princess in a castle, etc." ― Angela Ballard Peene
"With my son, Audible. He can handle long car rides only as long as he has a book to listen to. Works for me!" ― Cat Williams
"Whenever we go on road trips with the kiddos, we pack a portable DVD player, small toys, books, coloring books, drawing paper, and crayons/pencils. Also lots of snacks. I teach them games my brother and I played when we were younger and on the road. We talk about things we see out the windows, and I try to encourage talking about their books and what they mean to them." ― Breanna Boenicke
"Snacks on snacks on snacks! Did I mention snacks? Also, suckers, Legos, some action figures that he forgot about having so it's like a new toy, and colorful pens/crayons to draw with. Play-Doh is nice as a last resort, but proceed with caution." ― Crystal Michelle
These submissions have been edited and condensed for clarity.