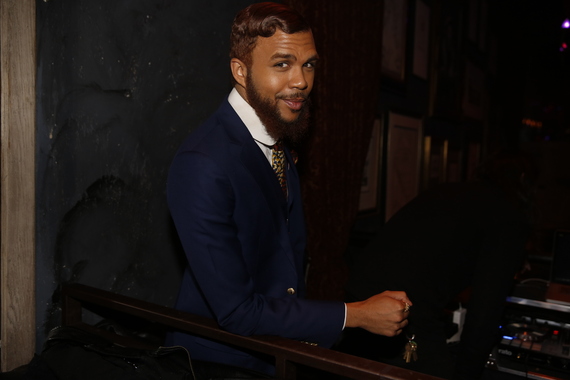 If fashion is a language, then Jidenna is its namesake.
In a world where designer clothing reigns supreme and labels create hierarchy, Wonderland Records' newest addition, Jidenna, has reincarnated the meaning of what fashion is supposed to be -- a form of nonverbal expressionism.
Fashion, itself, has served more as a fence that a bridge between cultures since the development of modern textiles millions of years ago. From a representation of religion to an indication of gender, fashion has been the sorting hat of all eras and social classes: if someone wears a dress, you assume they are female. if the dress comes from a well known designer, it is implied that the person has some form of wealth.
But Jidenna, although making it big after his first single "Classic Man" debuted on the Billboard Hot 100 Chart, is stirring up more conversation for his style of clothing than his infectious beats.
Defined as a "modern day Willie Wonka" with a style that USA Today classified as "street elegance" Jidenna is giving substance to one of the most recognized items of clothing: a suit.
Having graduated from Stanford University with a Bachelor of Arts degree in Comparative Studies in Race and Ethnicity, interning at the Martin Luther King Jr. Research and Education Institute, and becoming a member of the Cum Laude Society in Milton Academy's 2003 graduating class, Jidenna knows a thing or two about racial politics. Before his career began to take off, he spent years working the Mural Music and Arts Project, a California based organized dedicated to educating and empowering youth through art and music.
Most commonly associated with the world of business, Jidenna has cultivated the suit, (the-three piece suit to be exact) into a statement that illustrates the effects of the people and time that came before him in the society we currently live in.
At a quick glance, Jidenna's style might seem irreplaceable. It is made up of bespoke tailoring. But for him, it's all about what is conveyed from his clothing than the clothing itself .
As hip-hop might home gold watches and chains as form of wealth and luxury, Jidenna has revolutionized the custom made suit into an indicator of a different form of wealth - protest. There is a form of power in standing up for you believe in, and contrary to the activism we see on our streets, television screens, and Twitter streams today, Jidenna has achieved this in a different kind of way -- clothing.
With style mixed with influence from men like Andre 3000 and Malcolm X, and the freedmen from the Antebellum South period from 1865 through 1965, Jidenna birthed a style that both honors and acknowledges the old Jim Crow Era, but is ultimately pushing away from it in this new era of Jim Crow politics.
Think of it as a visual representation of the African diaspora - the times have changed but the black man's story hasn't. When referring to his style in an interview with Vibe.com, Jidenna stated," I do believe that in the Jim Crow era, there was a special dignity that came after the abolishing of slavery. And I wanted to represent that for the millennial generation..."
While every black man might live his own experience, the roots of that experience are tied back to a globally conceptualized representation of Black identity. And through Jidenna's bespoke suits, he's quietly going against that.
Calling all HuffPost superfans!
Sign up for membership to become a founding member and help shape HuffPost's next chapter