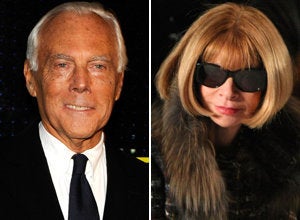 During Fashion Week the stock market searched for bottom, again. Roland Burris was caught in an expected scandal. The BCBG Max Azria Group, which showed three times this week, was downgraded by S&P from "B-minus" to "CCC-plus". A move showing Wall Street does follow fashion.
The week started with Anna Wintour telling the Wall Street Journal that value is in and flashy things are out. Some designers hailed her wise words, others' chose to ignore. Michelle Obama was to attend the events, yet sent her social secretary Desiree Rogers instead. The normally elusive Wintour was almost omnipresent this season.
Trying to focus on clothes consumers are actually likely to buy or will take a small risk on. Diversity might become the new buzzword as designers just making a name for themselves.Jason Wu, Jill Stuart, Christian Sirano, Adam Lippes and Mara Hoffman, who gave us wearable and comforting clothing, made well and with just the right amount of color and style, showed strong. I can't add Alexander Wang to this category because he's definitive luxury. Bankers might not be able to shop for their girlfriends this coming fall.
Young designers are using this slowdown to their advantage. As the higher priced tiers and the fashion houses women aspire to wear have divided and split from the lower economic rungs of the fashion world. As shoppers look through their wardrobe and figure out what they can simply make do with or without.
Donna Karan successfully created a line that bridged the commercial and artistic divide. While others chose to go with overt fantasy and scream from the runway "I'm here, buy my clothes" the more pared down collections that resounded to the designers base were the most successful. Lacoste created an almost mesmerizing array of fall coats that anyone must have and should have. Michael Kors went with neon, a decision I'm not quite sure about.
Somewhere during the week shoulder pads became tied to an economic slowdown as did an almost nocuous kaleidoscope of color patterns. Please stop.
Diesel launched a new store and greeted us with a reinterpretation of the jazz age, yet the clothing sent down the catwalk were thoroughly and unmistakably their brand ethos. A day after, they promptly sent an army of punks dressed in mohawks and spiked leather jean jackets to hand out leaflets to the throngs around the park.
Leather, fur and the exotic is fighting it's way back into the wearable. Or at least designers hope. Most chose to go with the faux variety, yet Dennis Basso chose to throw in every conceivable creature alive, Bassarisk anyone? (Is that a Harry Potter character?) Numerous ateliers chose to trim, line or give us leather pants. This might be their version of durability much to PETA's shudder.
Domico Vacca, although new to the tents, brought forth a look for the affluent that is enjoyable, contemporary and sexy. He might find his niche after all.
In an undercurrent caught by a few, Elie Tahari, Adam Lippies, Akiko Ogawa and the students of the Academy of Art University - inspired by everything from Japanese landscaping, to wallpaper to embroidery, provide us with something new, well-done and exciting.
The models are fuller and more accessible than in years past. Gone are the wire hanger frames and protruding elbows and ribs. The men are masculine the women are ethnic and diverse. The world of fashion is embracing the "Obama-effect" whole-heartedly. As the strong showing from Arise Magazine proves. Monarchy gave us a great look at the new American man.
The industry is trying to redefine itself. Trying to understand, like the rest of us, what this new era means to them. The young designers breaking through can use this downturn to move up the rungs of this dynamic industry.
For what we wear, how we show the world who we are, will always be vital, important and personal. As our image and our affinity to brands change over time. This period will be a boon to some and a hit to others, as the houses who chose correctly what the consumer will care about and desire. Will move forward. Color and a more sculpted look will come back. Disposable clothing will be out. New ways of dressing will help us redefine this new world we've all been collectively thrust into.