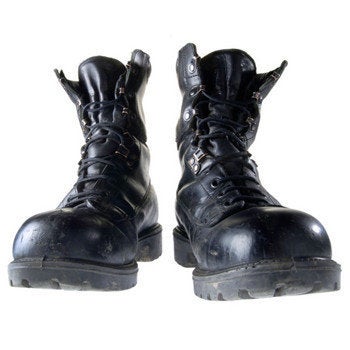 There's nothing better than being fearless. Being fearless rocks! AND, it's easier than you think. You just need some tools and support to get you started in the right direction. That's where I come in! Join me starting Monday, September 10, for a one-month Fearless Living Boot Camp. With a little guidance -- and big support from the HuffPost community, AND state-of-the-art technology provided by Social Workout Media -- we're all going to get bold and move into action.
So: Think of something you want to change in your life -- you know what I'm talking about -- and ENLIST NOW!
WHAT: A one-month boot camp in Fearless Living, hosted by me!
HOW: Every day from September 10 through October 7, I'll post a video, offering encouragement and challenges, AND explaining my battle-tested model for beating your fears. It's called "Stretch, Risk, Die," and a lot more on that to come. You'll be on the hook for logging your Fearless Living actions each day, and cheering for your new friends in the Boot Camp.
WHEN: From Monday, September 10 through Sunday, October 7, 2012.
JOIN NOW: To enlist, simply click the CONNECT button on the Boot Camp widget just below this post. This widget will appear every day beneath my Boot Camp posts, so you can track your progress and see others'. There is also a whole page dedicated just to the Fearless Living Boot Camp on Social Workout, and that's where you can go to comment in depth, ask for help, and lend encouragement to others.
Join the Boot Camp and log your fearless activity using the Social Workout-powered widget just below. If you're a Facebook member, simply click the "Connect" button. To sign up with your email, cheer on your fellow enlistees, and to see all the daily videos and commentary, go to the Boot Camp homepage!