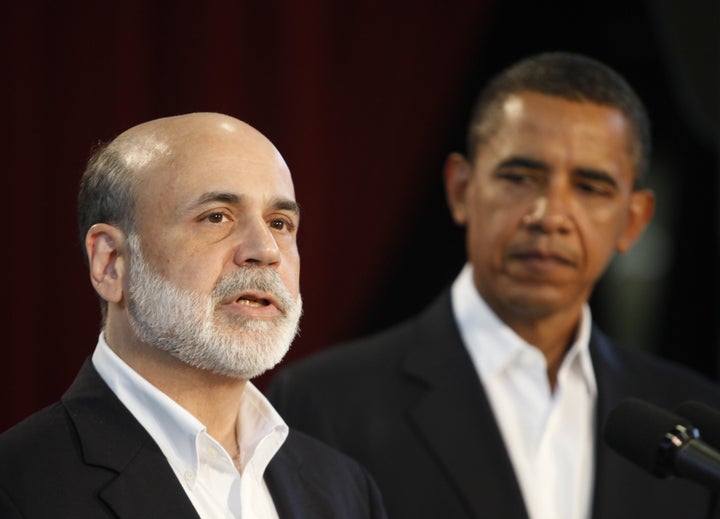 Facing perhaps the biggest loss of power in the institution's nearly 100-year history, the Federal Reserve fought back today with a little-noticed move that seemed to send a message to Congress: we use our oversight authority over banks to help us shape the direction of the economy.
So, Senate Banking Committee Chairman Christopher Dodd, don't take it away.
In the wake of the biggest financial crisis and most severe economic downturn since the Great Depression, many in Washington have blamed the Fed. Partly to punish it for past failures and partly to help it concentrate on the biggest financial and economic issues, Dodd took away the Fed's regulatory authority over banks in the November draft of his bill to reform the financial industry. Last month, he offered a new draft of his bill, this time giving the Fed authority over the nation's biggest financial firms.
But the Fed is still facing a loss of its oversight powers over nearly 5,000 bank holding companies and nearly 900 banks.
To fight back, the Fed has embarked on a campaign to convince Congress that the loss wouldn't so much punish the Fed as it would the economy. The argument, in essence, has been this: we need to be able to keep tabs on banks because it helps us understand the economy, and that helps us steer the economy -- like setting interest rates -- in the right direction.
Fed Chairman Ben Bernanke has repeatedly presented this argument; so have the chiefs of the 12 regional Feds scattered across the country.
The argument, though, wasn't gaining much traction. Shortly after Bernanke made the case March 17 before a House panel, Dodd's spokeswoman reportedly sent various reporters an e-mail that contained excerpts from statements made by former Fed and Treasury Department officials arguing that bank supervision does not play a role in shaping monetary policy.
In minutes released Tuesday of the Federal Open Market Committee's March 16 meeting, the Fed made clear that supervision does affect monetary policy by including the following language:
Members noted the importance of continued close monitoring of financial markets and institutions -- including asset prices, levels of leverage, and underwriting standards -- to help identify significant financial imbalances at an early stage. At the time of the meeting the information collected in this process, including that by supervisory staff, had not revealed emerging misalignments in financial markets or widespread instances of excessive risktaking. All members agreed that the Committee would continue to monitor the economic outlook and financial developments and would employ its policy tools as necessary to promote economic recovery and price stability.
The key passage is "...including that by supervisory staff..." The Fed here is making the case that it uses information from its supervisors, and that that information helps it shape monetary policy.
A Huffington Post review of previous minutes from FOMC meetings -- the Fed's policy-making body that sets the main interest rate -- shows that the last time the Fed mentioned that it gleaned information from its bank supervisors was during its Nov. 6, 2002, meeting. Since then, while the Fed has discussed bank issues like lending and capital levels, it's never explicitly said that it got that information from its regulators. In fact, bank capital and lending levels are public.
"This is a paragraph that in one way, shape, or form has been in the minutes probably since November," said former Fed governor Laurence H. Meyer, vice chairman and director at Macroeconomic Advisers, an economic consultancy. "However, it hasn't before included this notion of information gleaned from supervisors."
"Now, why is it there? Well, it's there for two very clear reasons. One, the committee has uniformly argued that the appropriate response to an emerging asset bubble likely would not be monetary policy, but rather supervisory and regulatory policy. So, the key there is a focus on the synergies between monetary policy and supervisory policy, with supervisory policy doing things that prevent monetary policymakers from being diverted from full employment and price stability [the Fed's dual mandates].

"But more importantly, I think this is political, too. The Fed argues that it needs supervisory authority over banks in order to provide information that will help them in the setting of monetary policy.

"So this is what they're saying: 'I told you that, didn't I?' This is the message to Congress."
The HuffPost review of FOMC minutes found several instances in the 1990s of Fed policymakers discussing information gleaned from their examiners, but nothing in the past seven-plus years.
Last month, in a speech to the Independent Community Bankers of America, Bernanke tried to make clear that his mission as the nation's central banker relies on the Fed's supervision over community banks.
"[M]any of our regular interactions with community banks arise from our oversight of bank holding companies and state-chartered banks that choose to join the Federal Reserve System," Bernanke said in a speech that highlighted the central bank's structure of 12 regional banks with a headquarters in Washington. "One particularly valuable aspect of our federal structure is that, over the years, it has provided policymakers in Washington with a way to keep in close touch with the continent-spanning, highly varied economy of the United States."
Also, in contrast with the official data that the Fed analyzes, which Bernanke notes has its flaws, "the grass-roots information that we obtain from community bankers and the other community and business leaders who serve as Reserve Bank directors provides a forward-looking perspective on economic developments and concerns, as well as a level of detail and qualitative insight that is often lost in the aggregate numbers."
"Our contacts with community bankers also provide critical insights into the state of our nation's banks. Because of the remarkable diversity of the U.S. financial system, a supervisory agency that focused only on the largest banking institutions, without knowledge of community banks, would get a limited and potentially distorted picture of what was happening in our banking system as a whole.

...

"As a group, community banks are also important to the nation's financial stability, a particular focus and responsibility of the Federal Reserve.

...

"For all these reasons, our supervisory relationships with the state-chartered banks that have joined the Federal Reserve System are immensely valuable, as is the range of contacts we have with community banks."
The Fed's move to make an explicit reference to this relationship in its policy-making body's meeting minutes is an outgrowth of this recent campaign to preserve the Fed's powers.
"I would look at this as, maybe, politically clever, and a subtle way of making their point," Meyer said. "This is critically important to [regional] Federal Reserve banks because that's what they do: If they don't have consumer protection authority and they don't have bank supervision, I mean, what the hell are they doing? They've got big buildings with 20 economists.
"So I think what this is also saying, reading between the lines, is this: 'Look, we don't just need supervisory authority over the large banks. That's about Wall Street; that's about the big guys. What we really need to know about is Main Street, and we can only get that by having access to supervision of smaller and regional banks."
Meyer doesn't agree with this line of thinking -- he doesn't think the Fed gains much from keeping oversight over smaller banks, plus he'd prefer that banks and their holding companies have one supervisor, as opposed to the current structure of a bank regulator and then a bank holding company regulator -- but he's willing to keep the bank supervision system as is in order to keep what he views as politicization of the Fed at bay.
A longtime Fed observer cautions, though, against reading too much into the FOMC minutes.
"I don't think they're sending any kind of signal," said Tim Duy, a former Treasury economist now at the University of Oregon who runs a popular blog chronicling the Fed. "They're supposed to be using information from their examiners. I don't think there's a huge message there."
Duy points out that the minutes don't usually convey anything that hasn't already been expressed.
"It's always a challenge to distinguish between the innocuous and the important," he said.
READ the meeting minutes below: