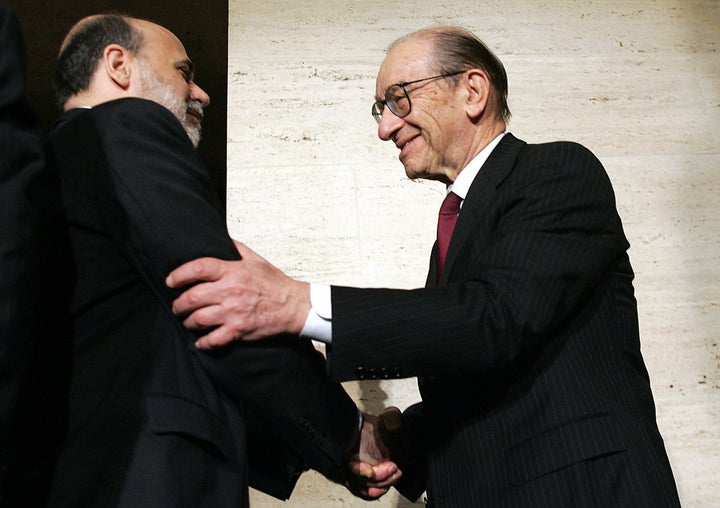 The transcripts, which give word-for-word accounts of what was said at eight Fed meetings that took place in 2006, reveal that while some of the nation's top bankers spotted the trouble brewing in the housing market, many more of them -- including people who have since gone on to positions of greater prominence, like Secretary of the Treasury Timothy Geithner -- believed their top priority should be heading off a rise in inflation.
In the meeting records, which were made public on Thursday, the repeated warnings about inflation echo a conversation that has taken place in recent months, with left-leaning economists saying the Fed should make more currency available to encourage spending and investment -- and potentially ease the pain of an economy barely in recovery -- and conservative economists arguing that this would push the value of the dollar too low.
"I think inflation risks should remain our predominant concern," said Geithner, then president of the Federal Reserve Bank of New York, in late October of 2006.
To be sure, one of the Fed's primary jobs is to keep inflation in check. Still, it's notable that as one of the biggest financial crisis in U.S. history approached the nation's top economists were asleep at the wheel.
The transcripts show that many Federal Reserve executives were optimistic about the country's prospects for economic growth, even though a sharp rise in unemployment, a massive seizure of the financial system and a nationwide decline in housing values were all less than two years away.
"I think we are unlikely to see growth being derailed by the housing market, but I do want us to be prepared for some quarter-to-quarter fluctuations," said then new Federal Reserve Chairman Ben Bernanke in late March of 2006.
Many top Federal Reserve officials did not appear to believe that the slowdown in the housing market would hurt the overall economy. Gary Stern, then president of the Federal Reserve Bank of Minneapolis, said in March of 2006 that he thought that housing would grow weaker only from an economic drag, not vice versa.
"It seems to me more likely that housing is the tail rather than the dog," Stern said. "Only if overall economic conditions deteriorate, with employment declining and income growth slowing or declining and so forth, would I expect there to be more broadly based and more severe problems in housing."
"The financial system remains sound and flexible," Stern later said at the June meeting.
"We just don't see troubling signs yet of collateral damage, and we are not expecting much," Geithner said of the potential impact of housing on business and consumer spending, on September 20, 2006. "The more interesting questions are really on the inflation forecast."
As of early 2006, the assumption of the Federal Reserve appeared to be that robust economic growth would be sustained for a while.
"Needless to say, it's fitting for Chairman Greenspan to leave office with the economy in such solid shape," said Janet Yellen, who is now vice chairman of the Federal Reserve, on January 31, 2006, the day before Bernanke took over as Federal Reserve chair from Greenspan. "The situation you're handing off to your successor is a lot like a tennis racquet with a gigantic sweet spot." Laughter followed.
Some Federal Reserve board members did note in 2006 that the housing market was weakening and said that it was a concern, but in many cases they minimized its threat to the financial system and the broader economy. They expressed confidence that strength in other areas, like income growth and increased hiring, would sustain the economy even as housing purchases slowed down.
"We believe that, absent some large, negative shock to perceptions about employment and earned income, the effects of the expected cooling in housing prices are going to be modest," Geithner said in late March of 2006.
"Of course, this view may prove optimistic," he added.
Popular in the Community