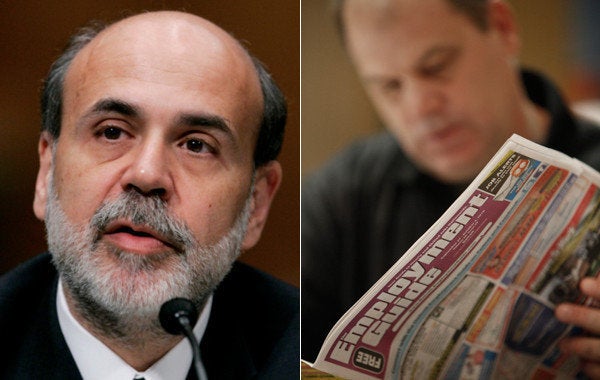 The Federal Reserve's efforts to stimulate the economy could lead to the creation of as many as 1 million jobs, Fed chairman Ben Bernanke said, according to Senator Richard Shelby (R - Alabama), Bloomberg reports.
The quantitative easing program, in which the Fed will buy up to $600 billion of U.S. government debt from clients including the nation's biggest banks, has come under fire in recent weeks, as government figures and civilians have subjected the Fed to an unusual amount of criticism.
But for now, at least, promoting employment remains one of Bernanke's official goals. And according to Bloomberg's report, he's confident the monetary policy efforts will encourage job creation.
In a private meeting with senators, Bloomberg says, Bernanke estimated quantitative easing could help create between 700,000 and 1 million jobs, according to Alabama Senator Richard Shelby, the senior Republican on the Senate Banking Committee. "He basically defended his position," Shelby said, according to Bloomberg.
But recent developments challenge Bernanke's optimism. As Bloomberg reported yesterday, some companies are planning big expansion projects overseas.
As Reuters' Felix Salmon said in a recent video, money is "sloshing" everywhere except where Bernanke wants it to slosh -- to job creation. Only a restoration of confidence (and consumer demand), Salmon said, will encourage companies to create jobs.
The economy added about 151,000 jobs last month, but the unemployment rate remained at 9.6 percent. As AP noted, the economy needs to at least 100,000 jobs per month just to keep pace with population growth.

Related
Popular in the Community