Julie Rhodes wants to make you feel bad in the best possible way. The crowd sandwiched into The Lizard Lounge, one of Boston's storied, shaggy music venues, on a recent Saturday night have enjoyed the two other bands on the bill--Gold Blood and the Associates (a funk ensemble) and OldJack (Old soul with shades of southern rock influence)--but they are clearly taken with Rhodes. The frenetic energy stills for a minute in the cramped performance space as Rhodes, an unassuming young woman from Somerville Massachusetts, takes her place at the mic, and opens her mouth to release the ghosts of James, Joplin, Winehouse, Fitzgerald, and her own--a legacy in the making.
The Lizard Lounge feels like a house party without curfew. If your parents were super hip and outfitted their downstairs with a bar, some cocktail tables, and an area just big enough to cram in a drum set, a keyboard, and some amps and mic stands and then they encouraged you to invite your weird music friends over to hang out and play all night, you would have the funky basement grotto that is the Lounge. The quarters are so tight that there is a forced intimacy between the audience and the artists that is not unpleasant. This is palpable not only when they are performing--mic stands practically spill onto the short row of cocktail table placed at the edge of the rug that marks the "stage" area--but when they are between sets. Musicians grab drinks at the bar, hover in corners balancing plates of food as they nibble and chat. Sometimes they get pulled back up to play with another band, leaving a half finished beer and a plate of French fries stranded.
The lack of formality gives the Lounge an "anything can happen" aura to it, which suits Rhodes who finds herself in the middle of an "anything can happen" moment. Two years ago to find Rhodes singing you'd have to be in the car sitting next to her. Playing clubs, recording an album, or building a career as a working musician were not on her radar even as she found herself at countless shows of bands like Hopeland and Newfound Glory as well as an annual attender of the Newport Folk Festival. A casual fan "hello" from Rhodes to New Jersey folk/blues singer/songwriter Jonah Tolchin after one of his shows at Newport eventually lead Tolchin to discover Rhodes' untapped gifts as a singer and songwriter. His encouragement lead Rhodes to pen one of her first tunes "Hey Stranger" that would make it onto her debut album, Bound to Meet The Devil, produced by Tolchin and released in February of 2016.
Back in the Lizard Lounge, it could just as well be Newport or the Ryman the way that Rhodes commands the room with her sultry, keening vocals. She sings the first verse of her tune "Grinning in Your Face" acapella before her band kicks in. You can feel the room lean closer, (if that were even possible) as Rhodes draws listeners into her world of blues/roots songs where ache is a constant companion and wisdom walks in years too late. "Hey stranger/how didja get that hold over me/I was minding my mind so carefully/but you stole it so easy," she croons on "Hey Stranger," a song that weaves reggae rhythms around Rhodes' lines about the vulnerability of attraction that often catches us unawares before its too late. She continues on in the great blues tradition of giving voice to desire and want covering the Fenton Robinson song "Somebody Loan Me A Dime." Before launching into the heartbreaking ode about a guy desperate to call his girl, riddled with raw need for her to take him back, Rhodes jokes that getting dumped is timeless, unlike payphones.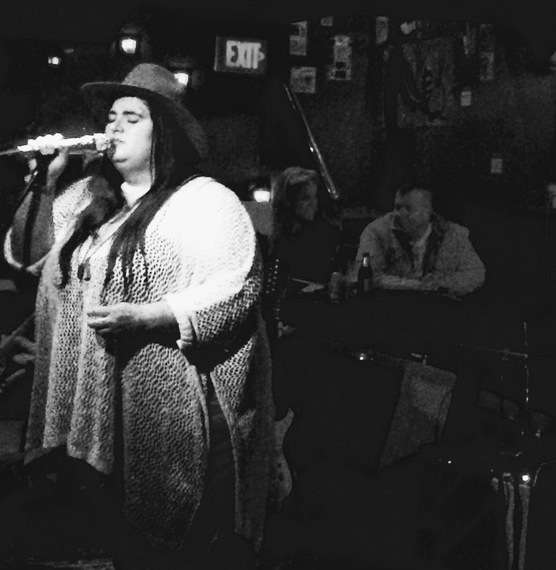 Another cover in the set was Etta James' searing "I'd Rather Go Blind," a song that Rhodes laced with an edgy conviction, her voice both a growl and a wound when she sings "I'd rather go blind boy/than to see you walk away from me," leaving you to wonder whose heart is ultimately breaking.
The set winds down, but feels much too short for all the mojo that Rhodes has conjured. Like any good house party, no one wants to really see it end. As if to remedy this, Dan Nicklin, the frontman for OldJack, takes it upon himself to invite anyone who's inclined to cram around a mic and join in on Rhodes' tune "In Your Garden." Nicklin gets the crowd to stomp and clap to create what already feels like a reckoning before the first chord lands on this lean blues song that features the refrain: "Oh go on and leave me/like a weed in your garden/Nothing I can say is gonna make you stay." It takes all of two seconds for the uninitiated to grab hold of this song and add their voices to the delicious angst at its core where you want to feel so bad, so good.
Calling all HuffPost superfans!
Sign up for membership to become a founding member and help shape HuffPost's next chapter