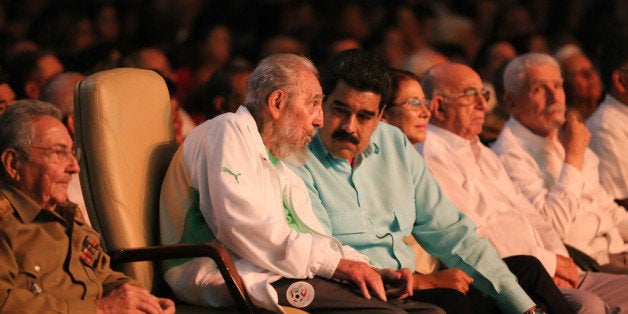 Fidel Castro turned 90 on August 13th, celebrating with the children of the troupe La Colmenita and scores of comrades of the old guard, their political heirs and special guests at the Karl Marx Theater. Before July 31st, 2006, the omnipresent and tireless Comandante seldom participated in public meetings and his appearances are mainly through the photos shot by his son Alex Castro.
A shrunken old man with insecure movements was guided and seated on his special chair between Raul Castro and Nicolas Maduro by two bodyguards. He seemed very frail and his glance reflected the effort to listen and answer properly. All normal in a 90-year old great grandfather, weakened by a long illness who had overcome death, but not for the Fidel Castro who has his lecturing articles aired, pretending to be the forceful Comandante he was once. The previous day he published an incoherent article recalling his childhood, followed by the peril of human kind's extinction, the threads of a nuclear attack on China and Russia and criticism of President Obama for not apologizing during his visit to Japan, as if Fidel hadn't been ready to start an atomic war between the United States and the Soviet Union in 1962.
The honors for his 90th birthday started in January and gained momentum when Fidel assisted to the closing ceremony of the Communist Party congress in April. The media, books, poetry, paintings, sport competitions, domestic and international meetings have been dedicated to highlight Fidel's ideas, sacrifices and accomplishments. Indeed, Cubans endure nowadays the result of his doings as the sole person with ideas and possibility to carry them out during 46 years. The economic, political and social destruction of Cuba is his great legacy. He has been a charmer of wills, a genius restricting human rights and a skilled international maneuverer, as much as a failure guiding the economy. His imposition of absolute and everlasting power will most probably ensure his relaxed passing away and his entry into history as the plunger, the annihilator of Cuba. Cubans expect Fidel Castro not to interfere in the critical situation existing and changes urgently needed.
Cuban Independent journalist
Havana, August 15th, 2016
Calling all HuffPost superfans!
Sign up for membership to become a founding member and help shape HuffPost's next chapter