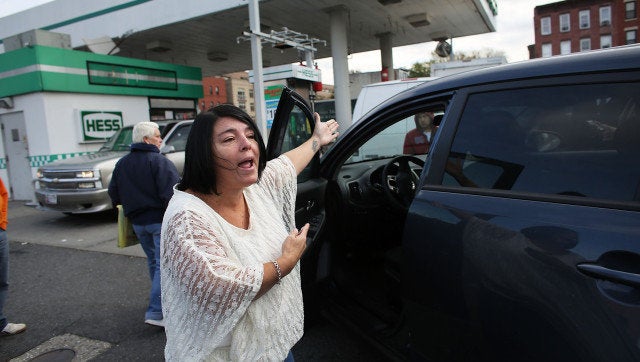 Waiting in a 45-minute line Friday morning at a Hess gas station in Center Moriches, Long Island, to fill up a portable fuel tank, Chip Daniel noticed sudden a flurry of police cars surrounding the station. He heard shouts and stomping, and the groaning of drivers in the packed crowd of cars in what is becoming an increasingly familiar scene at New York and New Jersey gas stations in the aftermath of Hurricane Sandy.
"There was some jackass trying to cut the line and they called the cops. Four police cars came up to him and he began arguing with the police," said Daniels, 44. "It took them some time, but finally he went back to his own spot."
In Moorestown, N.J., where Anna Sanders was staying with relatives after her home near Newark had lost power, she watched similar scenes unfold via social media, and even set up a Twitter account dedicated to helping other residents find fuel at the state's packed and often closed gas stations.
"Things sound pretty bad ... Please try to be nice to the attendants, it's obviously not their fault and they seem to be getting the brunt of lots of anger," she told The Huffington Post by phone, echoing her online advice.
As the East Coast and severely damaged neighborhoods in New York and New Jersey continue to recover from Hurricane Sandy, the heroic rescues and caring neighborhood spirit of the storm's immediate aftermath has in some cases morphed into rudeness, heated arguments, ruthless competition and threats of violence, while struggling residents scour for everything from fuel and food to generators and space on packed public transit lines.
Businesses have reported looting at stores on Coney Island, there have been unconfirmed reports of burglars posing as utility workers and, in at least one extreme case reported by the Associated Press, a man was arrested Thursday in Queens for pulling a gun on a customer while trying to cut ahead in line at a gas station.
"This is one of the enduring questions. Does adversity bring out the best or worst in people?" said Ben Orlove, an anthropologist at Columbia University who studies human reactions to natural disasters. Living on New York's Upper West Side, which largely escaped damage, Orlove said he has mostly witnessed New Yorkers going to lengths to help each other, from offering shelter to friends and family without power, to volunteering to make food deliveries to the elderly.
"But there are always those who become more selfish," he said.
Across the region, the problem has been most apparent at crowded gas stations, where customers have had to deal with up to three-hour long lines for access region's limited fuel supply. The sporadic breakdown of decency has especially been on display in hard-hit New Jersey, with news and social media reports of a small number people turning from an ethos of sharing resources after the storm to a fend-for-yourself mentality.
Virginia Arnold, a mother of four who lives near Philadelphia and away from much of the damage, posted on Twitter about a friend with no electricity who was caught in an unpleasant situation on Thursday.
"I have a friend at work who lives in New Jersey. Loaned her neighbor her generator, now they won't give it back," she wrote.
"Some [expletive] tried to fight me today because I wouldn't let her bum ass charge her cellphone on my work generator...did you buy my gas? no," wrote another woman on Twitter.
Even in areas where there is ample gas or a sense of civility, it hasn't always lasted for long. When word spread via social media Thursday that a Shell station at 3rd Avenue and Bergen Street in Brooklyn still had some premium gas left, they immediately ran out. On Friday afternoon, a Shell attendant sat in the darkness behind a glass window and refused to speak with a reporter from The Huffington Post. He just pointed aggressively at a large hand-written sign in front of him, as he had done so many times that day.
"Don't know when the gas is coming," the sign read.
At gas stations that still have fuel, fistfights between agitated people waiting in line are frequently being reported via social media, and some customers have taken to YouTube to post videos of altercations. On Thursday, WNET-TV reported that a Hess station in the Flatbush neighborhood of Brooklyn reported disorderly conduct and called in police for crowd control. The station quoted a man saying that a "marked up" black market for gas was emerging and that he had considered taking his gas across the street and sell it to people who didn't feel like waiting in line.
Orlove, whose research partly focuses on hurricane preparation and recovery, said crowded gas stations are particularly susceptible to emotional outbursts and tense scenes.
"There's a psychology of waiting. If you have a line that snakes around, people like that. It's better than one long line because you have a series of small points you can focus on," he said. "[But] it's the opposite at gas stations, they have just big straight lines. Plus, you have the uncertainty of possibly getting to the pump and there being no gas. The anxiety goes up."
While extreme actions may stand out, it's not the norm. From the brave work of the National Guard to collections by the Red Cross and shelters run by local houses of worship, the stories of good far outnumber the stories of bad behavior, and police in New York and New Jersey say there has not been an unusual uptick in crime.
"There are police checking on rest areas and gas stations, but they not being deployed to any specific incidents," said New Jersey State Police spokesman Adam Grossman. In New York City, police spokesman Joseph Cavitolo also emphasized that he did not see isolated incidents as a sign of broader increase in crime.
Many residents of powerless neighborhoods have even managed to make a bit of light out of the mildly post-apocalyptic nature of the proceedings.
Ashley Ward, a comedian living on Manhattan's Lower East Side, said she and her husband, comedian Nate Starkey, had begun calling their neighborhood the "Shadowlands," and whenever they needed power they would head to the "Free Zone," which is any neighborhood above 35th street or over the bridge into Brooklyn. The name "SoPo" has also emerged as a popular delineation for the area "South of Power."
Jennifer Mudge, an actress in Manhattan's Chelsea neighborhood, said her neighbor had nailed a bag of produce outside her window because the air was cold enough to serve as a refrigerator, while New York blog Gothamist posted a photo of Brooklyn residents charging phones by fire-powered generators as a National Guard truck rolled behind them. "The Way We Live Now," the post half-jokingly began.
"Lower Manhattan feels like a bizarre video game where they CGI'd some imagined New York City without electricity and people," Mudge said. "But still, we're really lucky."
Calling all HuffPost superfans!
Sign up for membership to become a founding member and help shape HuffPost's next chapter
BEFORE YOU GO