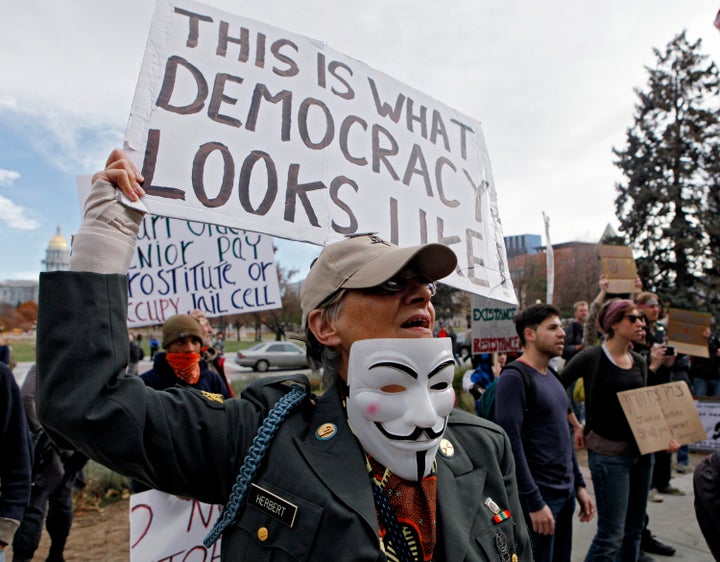 Last week's ouster of protesters at New York's Zuccotti Park, and incidents throughout the day of action for the Occupy Wall Street movement on Thursday November 17th show, perhaps more than ever, that it is important for activists wielding cameras to know how to record footage safely, effectively and with intention. Instances of alleged police brutality and the legality of actions by cities and their police forces have been highlighted by the hundreds of activists who are recording events as they happen at various Occupy protests.
At WITNESS we've been training activists to use video to document human rights abuse for nearly 20 years. We'd like to share our Top 10 Tips for Filming Safely and Distributing Footage with an eye to the events of the Occupy Wall Street movement. We also have additional how-to video resources on our website.
Please feel free to adapt, add to, and make suggestions to these in the comments below. And above all, we hope you will share them with activists and anyone who is using video to tell stories in order to create change.
Top 5 Filming Tips
PREPARE: Know your equipment. Turn off features to maximize battery life (e.g. wifi search on phones). Have charged and extra batteries, use empty memory cards and bring back-ups. Use a camera strap or tie your camera to your wrist. Where possible, turn on correct date, time and location capturing features. Write the National Lawyer's Guild's phone number (or other legal support team) on your forearm and save in case you need legal support. (In NYC: 212.679.6018) If arrests occur, call in location, time and name of anyone arrested.
FILM WITH INTENTION: Hold your shot steady (minimum 10 seconds) pan VERY slowly, avoid jerky movements and zooming -- move closer when possible. Get multiple angles -- wide, medium and close up. Film for those who aren't there -- what do they need to see to understand what's going on? If violence or abuse occurs -- KEEP RECORDING.
ALWAYS CAPTURE: Date, time and location (intersections, street signs, landmarks.) Get various angles when documenting the size/behavior of the crowd, number and formation of police and any weapons they are holding or using. Record any police orders or permissions given and the time and officer's name and badge number. Record when police are creating or moving barricades or orange nets. Record any police filming protests or protesters.
Top 5 Tips for Distributing Your Video Footage
TITLE WITH INTENTION: Keep titles brief and descriptive. Add date, location and time. Use words you or one would use to find your video. E.g. Occupy, New York City, Protest
DESCRIBE YOUR VIDEO: Always include date, location and details of what happened BEFORE, DURING and AFTER recording. Consider starting with a URL for viewers to find more info, e.g. www.occupywallst.org -- November 12, 2011 | Brooklyn, NY | then video description.
TAG YOUR VIDEO: Always add these tags -- date, time, city, specific location, occupy wall street, occupy, ows. Use common tags found in your search: 'police brutality' 'arrest' 'pepper spray'
Stay safe, and be effective with your filming!
We'd love to hear feedback on what filming and distribution tips you have. Please share them below in the comments or Tweet us at @witnessorg or use the hashtag #video4change.
Popular in the Community