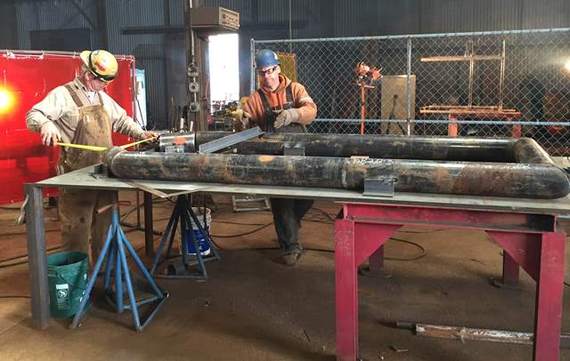 Deepwater Wind employees assemble pieces of the Block Island Wind Farm in Rhode Island.
Today the U.S. took another big step in the transition beyond coal to clean energy as the nation's first offshore wind project broke ground.
Block Island calls itself the "Last Great Place," but this small island 12 miles off the coast of Rhode Island is first in the hearts of environmentalists and clean energy advocates across the nation today. Big things are happening just off the shore of that little island. That's where Deepwater Wind has started construction on America's first-ever offshore wind project.
This project will provide 30 megawatts (MW) of power -- enough to provide clean energy to every Block Island resident -- while cutting electric bills by 40 percent. Thanks to this new wind farm, the current polluting diesel generators that power the island, which burn 1 million gallons of diesel annually, will be coming offline, the equivalent of removing 150,000 cars worth of carbon emissions from the roads. Switching from dirty fuels to clean energy means cleaner air and water for Rhode Island families. Even better, excess power will flow back onto the grid in the Northeast via an undersea cable that Deepwater is installing.
In 2013, Sierra Club stood side by side with labor and environmental groups including LiUNA, Audubon, and the National Wildlife Federation to turn folks out to a number of hearings in support of the project. Today, we can congratulate our allies and Deepwater Wind on making that hard work a real clean energy success story.
The Block Island Wind Farm project is just the beginning of a burgeoning offshore wind industry in the United States. The Bureau of Ocean Energy Management has designated a wind management area off the coast of Rhode Island and Massachusetts that has the potential to generate as much as 9,000 MW of clean wind power. If we are able to harness that wind, it means power for 700,000 homes and 43,000 offshore wind-related jobs on the East Coast by 2030.
That means that 700,000 families could get their electricity from homegrown New England power. And New England isn't alone; up and down the Atlantic coast, from New Jersey and New York to Delaware and Virginia, the clean energy industry is making plans to develop offshore wind power. Investing in clean, safe, renewable offshore wind will power our region and allow us to reap the economic benefits for years to come while providing well-paying jobs that stay right here in our communities.
Today's groundbreaking in Rhode Island is the next in a long line of clean energy successes that underscore a real truth about America's energy future: that renewable energy is ready to go and here to stay. The change in America's energy outlook over the last five years has been dramatic: Coal power is on the decline, now less than 40 percent of our energy mix, and continuing to fall. Over the last five years, 188 coal-fired power plants have retired or announced that they will retire. At the same time, clean energy sources like wind and solar are have been on the rise and are now cheaper than fossil fuels in many places. Wind energy now powers 18 million American homes, while solar power keeps the lights on in 3.5 million more.
Moving beyond coal means more than just phasing out coal-fired power; it means investing in America's true clean energy promise. Today, on Block Island, we again prove that America can be a leader in creating a clean energy reality that ensures that every person has the right to breathe clean air, enjoy clean water and live in a world free from the threat of climate disruption.
Related