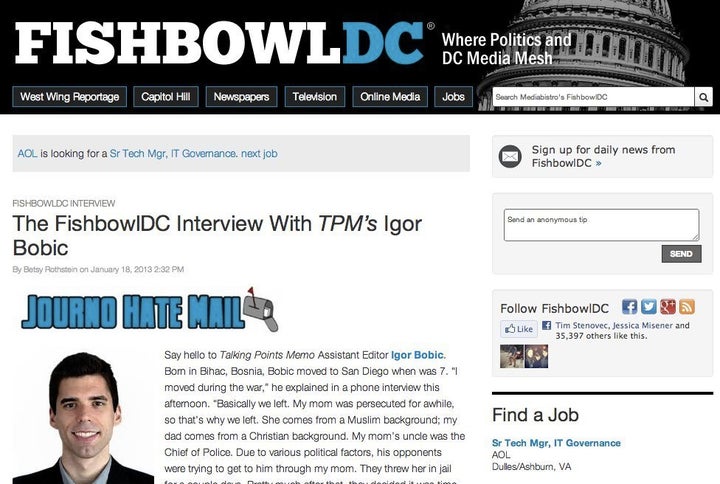 Washington gossip site FishbowlDC has been hit with a libel suit by a local publicist.
Wendy Gordon sued FishbowlDC, along with editor Betsy Rothstein, writer Peter Ogburn, and parent company WebMediaBrands, for a series of very, very crude posts about Gordon. Apparently, Fishbowl spotted Gordon's pictures on Facebook and decided to make a regular feature out of them, writing things such as, "The sultry look on her face says it all. Wendy is DTF and on the prowl. So, give yourself an extra blast of AXE body spray, maybe think about double bagging it and say hello to Cougar Wendy!"
Legal Times was the first to report about the suit on Thursday. The complaint goes methodically through several posts Fishbowl wrote about Gordon, and then rebuffs all of the claims made. This yields many gems, such as the following:
"Contrary to Defendants' false and defamatory assertion, Ms. Gordon does not emit some type of unusual heat between her legs that would cause a wax figure to melt."
"Contrary to Defendants' false and defamatory statement, Ms. Gordon had not 'straddled Tiger Woods a few weeks' earlier, or at any time for that matter."
Fishbowl's lawyers told Poynter there is no merit to the suit. The defendants might point to a letter Gordon sent Fishbowl in 2011, in which she wrote, "Thanks for giving me a day," though the letter also criticizes the site for calling her a "cougar."
REAL LIFE. REAL NEWS. REAL VOICES.
Help us tell more of the stories that matter from voices that too often remain unheard.