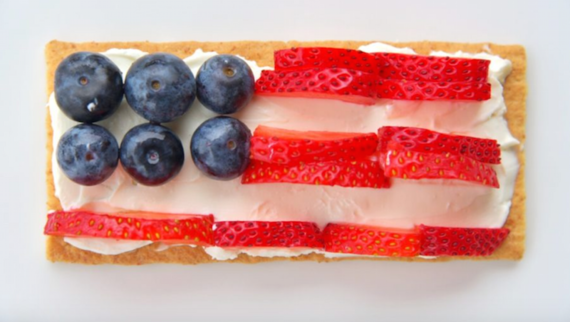 Happy Birthday to you,
happy birthday to you!
Happy birthday dear America,
happy birthday to you!
We salute you and all of your FREE ways, America!
This July 4th, we will be celebrating with neighbors and I can't wait to bring these Flag Graham Crackers to our neighborhood party. The beauty of this dessert/snack is that it is so simple, no recipe is really even needed.
Four ingredients, 10 minutes, no-bake...perfect for a busy parent with small kids!
Flag Graham Cracker recipe:
Age: 15 months plus
Food storage: best served immediately
Total time: 10 minutes
Serving options: self-feed, family friendly
graham crackers
cream cheese
organic strawberries, diced
organic blueberries, diced
Spread a thin layer of cream cheese over a graham cracker.
Add the strawberries and blueberries to emulate the American flag.
We also enjoy these non-holiday strawberry graham crackers for a special dessert or snack. My kids and husband LOVE them!
If you enjoyed this post, check out our cookbook What a Good Eater! for baby & toddler recipes with healthy herbs and spices to add flavor and broaden your baby's palette, now available for pre-order on Amazon! Sign up to receive our newsletter for other great ideas on feeding your baby, toddler, and family.