 The Florida Keys, a necklace of coral islands stretching 127 miles from the tip of the Florida peninsula, epitomizes the art of reinvention. Not only have the Keys and the people who live there survived countless floods and hurricanes, including three that finally put the kibosh on Henry Flagler's Overseas Railway that connected these free-standing tropical islands to the rest of the country, but they've managed to do it all with an uncommon panache.
Pilgrims from other places end up here with a dream to try something new and the cojones to create a whole different reality for themselves.
Take Joe and Ronnie Harris, for example. New Yorkers through and through, they worked for NBC until Joe, on a diving trip to Key Largo, turned around and saw what he called the world's most beautiful sunset. That was in 1991 and, before he was able to regain his senses, he was the proud owner of a small beach and the 11-room hotel that fronted it.
And since what's a Florida hotel without tropical greenery, he and Ronnie, his eventual wife, started buying plants, so many that they noticed their two-acre property had morphed into a botanic garden.
Today, Kona Kai Resort still features nightly, knee-weakening sunsets, but Joe and Ronnie watch them under the tropical fronds of their very own botanic garden, a 501c3 non-profit complete with an ethnobotanist, educational programs and tours of their more than 250 species of plants.
Joe, who has been known to say that "plants are people, too," sees this as his new life mission.
On the tour, led daily by Rick Hederstrom, a bright, eager young ethnobotanist straight from London's Kew Gardens, I learned that West Indian mahogany contains catechin, an anti-oxidant that reduces the risk of heart disease, that the seats of Henry Ford's first Model T's were stuffed with Spanish moss and that if you place the top of a pineapple in your backyard garden, it'll eventually grow into a pineapple bush -- if you happen to live in the appropriate climate. With the plants in this botanic garden, I could have waterproofed a blow gun, plucked a needle used in Haitian voodoo or temporarily stunned some fish, making them easier to catch.
My main thought while on this tour is was why can't every kid in America see this. Maybe they'd realize there's more to life than the tiny screens they worship.
Kona Kai also has an art gallery, topped only by that sunset that I enjoyed while munching on Jamaican cherries, star apples and other exotic fruits grown right there in the Botanic Gardens at Kona Kai.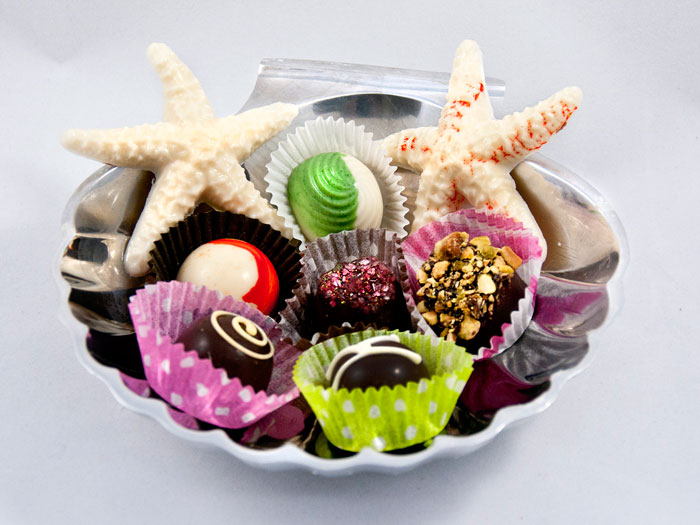 While in the land of reinvention, I also met Bob, a former pilot from Arizona, and Christie Thomas, a former travel agent from Wisconsin, who have taken another plant -- cacao -- and turned it into some of the best truffles and chocolates this side of the Atlantic. The duo, who met a few years ago when Christie's sailboat was hit by lightning in Brunswick, Georgia, poured their entire retirements into Key Largo Chocolates, a booming concern that, in less than a year, has already grown out of one location. Their slogan, "Nobody knows the truffles I've seen" is only topped in creativity by their pastel pink and green shop at mile marker 100.5 that turns out such handmade concoctions as three-dimensional chocolate seashells, key lime pistachio bark, key lime truffles and chocolate-covered wine bottles.
Suzanne Holmquist, a former producer for the BBC, resurfaced in Key Largo after marrying an American engineer and boat maker. They recently added the African Queen, the 100-year-old steam boat used in the 1951 movie of the same name, to their fleet. Even though the celebrity vessel is registered as a national historic site, it had fallen into disrepair after its previous owner, a Humphrey Bogart enthusiast, died in 2001. After a six-month, $70,000 restoration, the African Queen is now back plying the waters of the Florida Keys. And as for Holmquist, she and her husband run Calypso Sailing Company, a fleet of tall ships, out of their bullet-ridden home (it was once used in a stakeout of drug runners) in Marina Del Mar.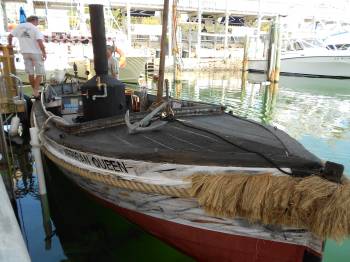 Further down the Overseas Highway, at mile marker 48.5, I witnessed yet another reincarnated career. Richie Moretti ran a successful Volkswagen dealership in Orlando before buying a little mom and pop hotel in Marathon that was going into foreclosure. He rescued it, running it as the hotel it had been since the 1940s.
Its salt water pool, almost a redundancy sitting next to the ocean, eventually became an "inn" for rescued ocean creatures. First there was a tarpon, then a school of tarpon, a Goliath grouper, some lobsters and eels. In the mid 1980s, when Teenage Mutant Ninja Turtles were all the rage, the school kids who came to the motel on field trips kept asking Moretti "where are your turtles?"
They sure couldn't miss them now. The entire motel has been converted into a rescue operation for injured sea turtles. Moretti even bought the nightclub next door for use as a hospital, complete with operating rooms, doctors (well, veterinarians) and a couple ambulances. Since it opened in 1986, Moretti's Turtle Hospital, the only such facility in the world, has rescued more than 1000 turtles, releasing most back to their ocean homes after propeller injuries, flipper amputation and the removal of viral tumors caused by the fibropapilloma virus that affect 50 percent of the world's sea turtles.
So watch out if you're heading to the Florida Keys. It might just inspire a whole new life.
Related