Ron Burkhardt's curiously handsome and codified new geometric-inspired works create a zigzag jigsaw puzzle of communicative compositions that keep the viewer guessing until the final piece falls into place. If you want an enjoyable adventure through trial and error as you develop a knack for interpreting this painterly abstract language in altered block letters, it's commendable not to be tempted into sneaking a peek at the show cards under each painting where the titles are revealed. In the beginning, it's a guessing game of sorts until you become familiar with the method of finding answers. It's not the first time artists have enjoyed camouflaging a built-in message that adds charisma and intrigue; Leonardo da Vinci loved to write backwards utilizing a mirror as a decoding device. Twombly's childlike scratches of words written in long-hand morphed into flowing and unreadable pencil-thin lines of wavy abstraction. Franz Kline was known on occasion to incorporate his last name within structural brushstrokes as a kind of inside joke.
In Burkhardt's new series of works on display at the Leonard Tourné Gallery on the Upper East Side of Manhattan, the evidence is clear that he has been exploring successfully for several years a new constructive visual language that has evolved into architectonic forms highlighted with a hidden word. In addition, this novel method pays a distant homage to initial experiments in Neo-Geo that found its sharp edge and inspiration in cubistic innovation, all the way back to early experiments by Georges Braque.
This striking collection titled CITYSCAPES is the latest convincing argument of Burkhardt's knack for utilizing abbreviated block letters that have been abstracted and utterly reduced to their bare bones, juxtaposing one form next to another and spelling out in colorful lines and geometric shapes the names of major cities around the world. Burkhardt takes his quasi-parlor game on the road, circling the globe and making stops that would be a challenge for a travel agent to piece together between one airport and the next. Within the context of each arrangement, the artist also throws in references to an urban skyline accented by modern buildings and minimal flat façades. His idiosyncratic language of homemade abbreviated letter forms is highly skilled and inventive, but he doesn't stop there. Pushing the envelope even farther, his exploration of color combinations is allied to the national flag colors of individual countries that coincide with a city within its borders.
The majority of Burkhardt's past professional career has been devoted to effective and innovative communication, first as an art director and highly sought after advertising director, and he has received more than 200 awards for creative excellence. So it makes perfect sense that this artist's early professional background would pave the way for a new fine art adventure utilizing his remarkable communication and persuasion skills in order to adopt a novel approach to picture-making. Text in art is not new. Picasso used newsprint in his early works during his Cubist period. Jasper Johns used alphabet stencils to identify and highlight individual American states. Robert Indiana only utilized stylized letter forms that he seductively stuck together. Duchamp was a fan of incorporating text into his Dada works, and contemporary artists such as Jenny Holzer, Mel Bochner, Christopher Wool, Barbara Kruger and Edward Ruscha all utilize text as the major constituent, if not the only component in their art.
Since these compositions are minimalist in their design, they also have a kinship to renowned artists like Kenneth Noland, whose bold use of broad bands of color was a pioneering technique that has influenced generations of young painters. The forms Burkhardt creates are spacious and bold and certainly have a subliminal relationship to the spare imagery portrayed on flags flown by navy vessels and sailing yachts. At times, some of the works seem to point to a line-up of directional signals moving right and left and up and down, giving a slight ambulatory sense to his balancing act of colored squares and triangles.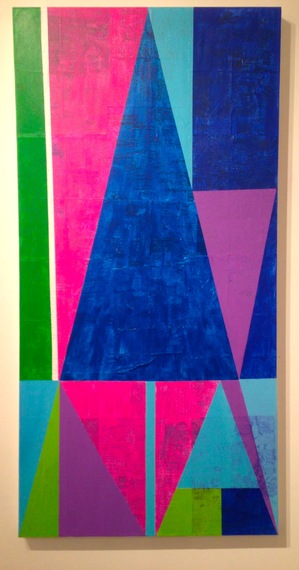 Ron Burkhardt, Notism LetterScapes: ATLANTIS, 2014, Acrylics, pen & ink on paper collaged on canvas, 48 x 24 in.
Among my favorites in the exhibition, where proudly flying one's colors is an art in itself, are the series of clever works that spell out some of the world's most provocative and interesting cities, topped off with the true colors of an exotic country, from Dubai to Rio and beyond. My personal pick is the work titled Atlantis, referring to the city that took a permanent bath and mysteriously sank to the bottom of the sea. This particular configuration seems to fit together, like hand-cut stones for an Egyptian pyramid design that leaves an enduring impression. But in addition to the medium being the inherent message, many of these new works have a surprisingly striking juxtaposition of stark color permutations that are unique and distinctive on their own. Burkhardt also throws in for good measure other subjects besides cities, such as the painting where he pays 'lip service' to disguising words like "Kiss."
This is a fascinating exhibition that lights up the white walls, sharing space with imaginative patterns of disparate shapes that make this show an enjoyable first class destination, complete with decorative room service and a cryptic message waiting at the front desk.
Popular in the Community