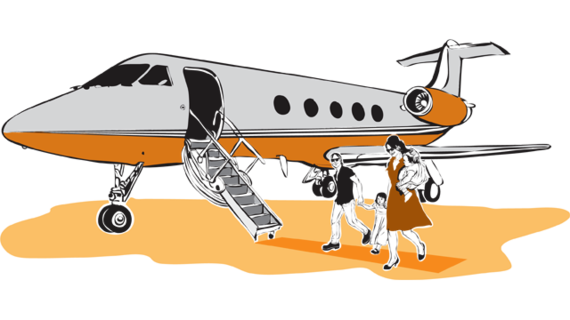 The party at Manhattan's Intrepid aviation museum was over the top even by hedge fund standards: While some guests sampled caviar and $200-a-bottle cabernet, others took turns test-driving a Rolls-Royce. But the real attraction was jet maker Bombardier's latest toy for gazillionaires--a sleek long-range Learjet 85, parked behind a velvet rope. The jet retails for about $18 million, which doesn't include a six-figure tab for annual upkeep.
Few of the assorted guests that night could afford to fly the 85 home, but that didn't trouble the party's host, Bombardier's Flexjet subsidiary. It wanted all in attendance to know that its jet card would let them fly free of TSA friskings, boorish seatmates, and bad food for about what they'd lay out for a new luxury car.
Jet cards work a lot like debit cards: You make a deposit--anywhere from $35,000 to $100,000--which gives you access to the operator's fleet. Each trip is charged against the balance in the account, and the cost of the ride varies depending on the type of plane you want and how many people come along. (The cost of a three- or four-hour trip in a seven-seater starts at about $11,000, or $1,500 per person--not a huge premium over first class.) Virtually all of the companies selling jet cards offer a full refund at any time to purchasers who decide to cash out.
The jet card concept has been around for a while--NetJets pioneered the idea with its Marquis card--and is growing in popularity as the potential market widens beyond the one-percenters. Much of the increased demand is being driven by those who could well afford to fly first class but who find it, well, not so classy, and by a drop in prices caused by a glut in the private jet market following the recession.
While it won't ever be as affordable as flying commercial, flying private could come down even further in cost, with smaller, more efficient jets rolling off assembly lines. Orange County, California-based JetSuite launched four years ago as a more affordable option, by using the Phenom, a four-seat light jet produced by the Brazilian aircraft manufacturer Embraer. The list price for the Phenom is under $4 million, and it guzzles less fuel than other similarly sized models, allowing JetSuite to offer cards starting at $50,000. The company recently added the Cessna Citation CJ3 to its fleet; with double the range of the Phenom and room for seven, it can fly nonstop on routes like New York to the Caribbean. JetSuite recently jumped on the social media bandwagon and is offering those who "like" it via Facebook deals such as a $499 one-way flight from Oakland to Las Vegas (made possible by the fact that the plane often flies empty segments between dropping off one customer and picking up another).
Inevitably, others are exploiting niches like jet pooling. Newport Beach, California-based Jumpjet, for instance, is promising private jet flights for the price of a first-class ticket by having several passengers traveling between the same points share a ride. The company is a newcomer, and it remains to be seen whether its business plan will fly.
Finally, if you just want a onetime "trip of a lifetime," a single-ride charter may make the most sense. But keep in mind that many charter companies are middlemen, brokering a deal between passengers and the owner of the aircraft. As such, there's not a lot of formal oversight. The recent crash of a 43-year-old chartered Learjet carrying Latin pop star Jenni Rivera, while still under investigation at press time, renewed concerns about whether this sector needs more federal oversight. Prospective passengers should start by asking if the operator has passed a safety audit by an FAA-approved inspector, such as Argus, which goes beyond the minimum standards set by the FAA.
OFFERED BY Bombardier; Cessna; Empyrean through its Lindbergh Card; JetSuite; Marquis; and Sentient.
PLUSES A lot less expensive than ownership.
MINUSES The fixed hourly rate can be double the cost of chartering, since it can include the cost of returning the plane home empty.
OFFERED BY Jumpjet and BlackJets (800-916-5387).
PLUSES Can save up to 70 percent of the cost of flying a private chartered jet; operators can handle much of the hassle and paperwork of chartering a plane.
MINUSES Finding a plane to go on your schedule can be dicey; hooking up with strangers on a small plane, as one wag puts it, "takes the private out of flying private."

Charter Brokers/Air Taxis:

OFFERED BY OneSky and Blue Star Jets both act as middlemen between customers and their networks of approved charter operators, offering discounts on empty legs. Linear Air, based near Boston, flies a small fleet of microjets, such as the three-passenger Eclipse, mainly along the Eastern Seaboard.
PLUSES Can offer lower prices on well-traveled routes by finding smaller planes and identifying empty legs.
MINUSES Mainly for those with flexible schedules flying in popular markets.
More from Condé Nast Traveler: