Food Informants is a week-in-the-life series profiling fascinating people in the food world. We hope it will give you a first-hand look at the many different corners of the food industry. Know someone who would make a great Food Informant? Tell us why.
Chris Cosentino is the executive chef of San Francisco's Incanto, an offal-heavy (not sure what offal is? Check out our Whole Animal Guide here) rustic Italian restaurant located in San Francisco. While encouraging patrons to try different cuts of meat, Cosentino also champions eating locally. He's previously cooked at such renowned restaurants as Kinkead's and Chez Panisse, and cites Jean-Louis Palladin as a big influence on his cooking style. He also co-owns Boccalone, which sells various cured meats and house-made salami. To learn more about Cosentino, check out his website, Offal Good.
Read Chris Cosentino's diary below to learn about some of his many projects, and what types of offal he eats in a week.
Friday, August 6
10am: Head to Incanto for menu meeting with Manfred, our chef de cuisine. Spend most of the day making schedules and prepping for SF Chefs Grand Tasting tent. We were stuffing and poaching sausages.
2:30pm: Finish packing food for SF Chefs opening night and hop in a cab to the event at Union Square. I give a speech for the cake cutting ceremony and serve 1600 portions of pork estufada, a Portugese stew. Our booth is packed all night and thankfully, the Anchor Steam booth is just across from our station.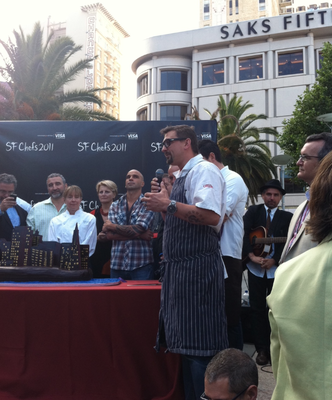 10:25pm: Get cab to restaurant to unload our stuff and check on staff and greet some guests. Head to SF Chefs after party where I catch the tail end of Dave the Butcher breaking down a lamb. Talk with the group about the difference between classic butchery vs. chef-trained butchery -- very different methods but you end up with the same product and cuts in the end. We decide it's all about the type of efficiency needed for the environment and that dictates the techniques.
Saturday, August 7
7am: Coffee then off to the farmers' market with my son to buy for the restaurant. We picked up two types of pluots from the Hamadas, watermelon radishes, petit radishes, broccoli from Dirty Girl and Douglas Fir from White Crane. Plus some beautiful chilies on the vine for me to hang and dry at the restaurant.
2pm: Kitchen menu meeting at Incanto and then off to SF Chefs Iron Chef battle. Elizabeth Falkner and I team up against Dominique Crenn and Russell Jackson to win a $20,000 donation to our chosen charity and we win! We present the check to Meals on Wheels of San Francisco.
6:30pm: Back in the kitchen at Incanto for service. It's a full house (sous chef from Joe Beef is here) and the ticket rail is packed at 10:15. Last plate goes out at 11 and I head home at 1:30 AM.
3am: Wake up with unopened beer in hand fully dressed on the couch sitting up.
Sunday, August 8
8:30am: Bagel cream cheese and fresh tomatoes with espresso. Hang out with family, help clean the house and watch some TV with my son. It's a rare day to just chill out.
6pm: Head to Incanto and work dinner service that gets a little crazy...had to let a server go. Show a journalist dining with us how we make the corzetti with pig blood. Get home at around midnight, eat an order of sardines from the restaurant then go to bed.
Monday, August 9
7:15am: Pack my son's lunch of salami, green beans and cherry tomatoes for camp. Pack clothes for my trip to Toronto.
12:10pm: Cab picks me up to go to the airport and I check in to find out my flight has been delayed two hours. Have a quick rice bowl and start work on typing recipes for cookbook in between work calls. Surprisingly, I finish eight of them.
11:10pm: Land in Toronto and on my way to the Black Hoof. Have a great meal -- Grant Van Gameren and the staff cook me an awesome dinner including cured meats like a spruce salami and some pickled milkweed pods that were an amazing treat and something I had never seen. Also the beef tongue on brioche there is unf*cking believable.
2:30am: Mercifully, the staff at Black Hoof goes easy on me -- I get a tour of both locations from Grant and Jen Agg and hang out and talk shop. We talk about how the job never stops, and why we continue to wake up and go back everyday for more, and we chat all things curing and preserving since they put up tons of products each summer for the winter. Plus they cook everything on an electric stove which I am still trying to wrap my head around.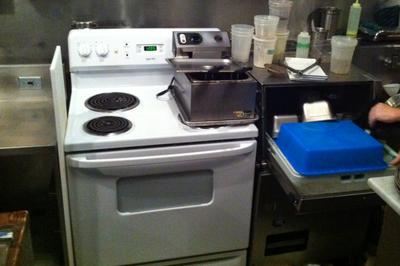 2:45am: Check in at the Four Seasons and crash.
Tuesday, August 10
9:45am: Full day of shooting. Can't say what I ate yet but the weather was crazy…hot, then it poured. [Editor's note: Stay tuned?!]
9:15pm: Back at hotel, call my wife then head to dinner at Bacco with Grant and Jen. Have great meal! The chef started by sending out a round of his cured meats, a fried course of small fish, blossoms, and pigs ears, then on to the pasta course of pigs blood spaghetti with burratta, and an eggplant lasagna. More fun conversation about the dining scene in Toronto, their recent trip to Chicago and their meal at Alinea where I still haven't eatenn so it was interesting for me to hear about it.
Wednesday, August 11
5:20am: Wake up call and head to the airport.
7:00am: Go have breakfast of grapefruit juice, oatmeal and a double espresso at the Maple Leaf Sky Lounge and board flight back home.
8:20am: Productive flight. Finished 6 recipes after a small nap and catch up on some reading. I read the blood article in the new Food Arts magazine, Food & Wine, the New York Times food section, and watch a bad movie.
10:40am: Land at SFO and again have to direct the cab driver how to get to my house.
12pm: Take the BART to the Ferry Building to check on Boccalone then head to meet Anthony Bourdain for a day of shooting his new show. We went for amazing Korean food, beers and soju.
5pm: Head to Nob Hill for last shoot with Tony then meet Phillip Baltz at Americano. We have dinner at Nojo -- I wanted to take Phil someplace he hadn't been and we ate tons: all the skewers, chicken skin matcha & sea salt, gizzard, beef tongue, beef heart, tomato cha wan mushi, tsukne & egg yolk sauce, karate of wing & drums, pork jowls and pork belly, and a lot of beer.
10pm: Hang out with my wife Tatiana and go to bed.
Thursday, August 12
7:15am: Wake up and make breakfast for Easton: whole wheat bread, my wife's peach jam and peanut butter and a glass of milk. I have some Americanos and take a shower.
10:30am: We go to get Easton some Pokemon cards then go to the restaurant to check in set menu for tonight's parties. With 3 leg of beasts, Manfred and I talk about vegetable sides and salad choice. Odds and ends board menu items get worked out then we talk about the next menu changes for tomorrow.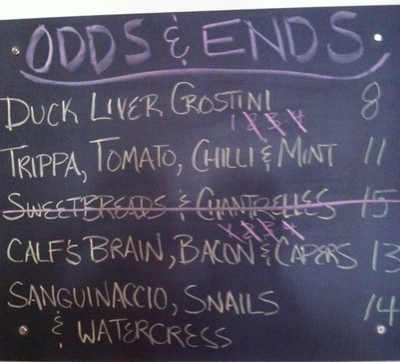 11:15am: Go home make Easton lunch of tomatoes and bell peppers. I call Sang Yoon to go over our event for Los Angeles Food & Wine this October. We're doing a lunch called "Meat in the Middle" where we're each taking one end of an animal and cooking our way through it until we meet...in the middle. TBD on which end I get.
1pm: Back to Incanto for a TV shoot then staff meal and meeting about new dishes and how to provide better service.
5:30pm: Doors open and I'm on the line until midnight. We sold out the entire odds & ends board. We did a special ham in hay with masumoto peaches for our regular guests Jay and Grace. They adopted a peach tree and dropped off peaches for their dinner. All the diners came at the same time for a huge seating all at once but otherwise a great night.
12am: Finish with clean up and start drafting new menu items.

See the previous Food Informants: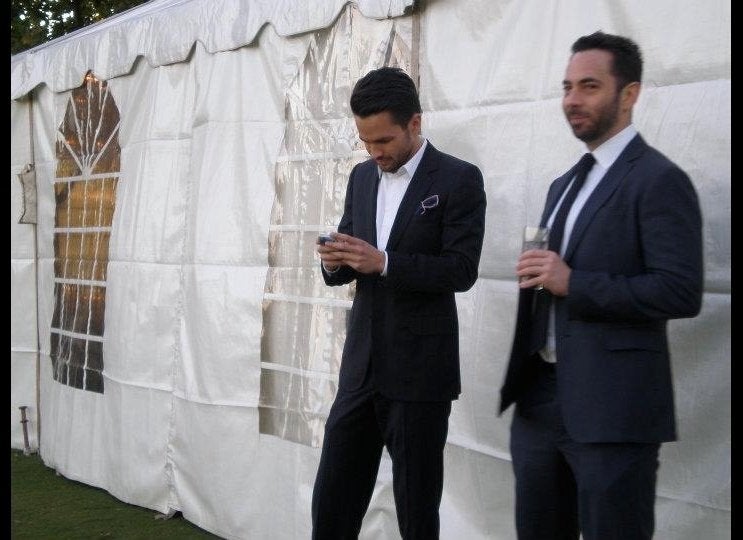 Food Informants
Related