Food Informants is a week-in-the-life series profiling fascinating people in the food world. We hope it will give you a first-hand look at the many different corners of the food industry. Know someone who would make a great Food Informant? Tell us why.
Lee Brian Schrager serves as the Vice President of Corporate Communications & National Events at Southern Wine & Spirits of America, Inc. He joined the company in 2000 and oversees projects for the company in all 35 states in which it does business. Most noteworthy in Schrager's resume is his creation of the South Beach Wine & Food Festival in 2002 and the Food Network New York City Wine & Food Festival in 2008.
Prior to joining Southern Wine & Spirits of America, Schrager spent 17 years with InterContinental Hotels across the country where he began as a room service manager and worked his way up to Vice President of Food & Beverage at the InterContinental Hotels. Schrager studied at the Culinary Institute of America and at the School of Hospitality Management at Florida International University. Schrager has also been awarded the Community Service Medallion from Florida International University. An active philanthropist, Schrager was Chairman of the Make-A-Wish Foundation Gala for the past 10 years; Chairman for Jackson Memorial Hospitals Golden Angels Gala for 4 years, recipient of the Miami Beach Chamber of Commerce Distinguished Service Award, Dade Human Rights Humanitarian Award (presented by Hillary Clinton); as well as a current member of the Board of Directors for the Food Bank For New York City. Schrager received the Food Arts Silver Spoon award in January of 2008 for his creation of the South Beach Wine & Food Festival, and was inducted into the BizBash Hall of Fame in April 2010. He is a regular contributor to Ocean Drive magazine and serves as the Chief Lifestyle Advisor for Gilt City.
Read Lee's diary below as he runs around the recent New York City Wine & Food Festival.
Monday, October 8
12pm: Arrived at Marea to have lunch with my dear friend Pam Krauss, who is also my book publisher and the SVP of Clarkson Potter. I hadn't seen her in a while so it was great to catch up, talk about the upcoming weekend, and of course discuss plans for SOBEWFF 2013 (I'm always thinking ahead).
3pm: I hopped on a quick phone call with my friend Sean Michael Gross.
7:30pm: Met my friends Mark Pastore (President of Pat LaFrieda Meat Purveyors) and Rowen Seibel for dinner at Rosemary's. Rowen's client, Gordon Ramsay, is participating in this year's South Beach Wine & Food Festival. It's been quite a few years since Gordon's been down to SOBE so I'm especially looking forward to having him there in February.
Tuesday, October 9
3:30pm: I jumped on the phone with Doug Jacob to discuss a potential sponsorship opportunity with Lacoste as it relates to a Celebrity Chef Golf Tournament we are producing in South Beach that's being hosted by the great Jose Andres. Difficult as it was to talk about South Beach while I was two days away from the start of the New York City Festival, it had to get done.
6:30pm: Swung by Charles Phan's "Vietnamese Home Cooking" cookbook party at Union Square Events Kitchen. A lot of industry leaders and good friends of mine were there and it was great to catch up with everyone before the madness began.
8pm: Scooted off to the opening of Guy's American Kitchen & Bar. No one can throw a party like Guy.
9pm: Arrived at NoMad for dinner with my friend and WME agent to the culinary stars Jon Rosen. He wanted to make sure he got the chance to see all of his clients over the Festival, so I helped him plan his calendar for the weekend ahead.
Wednesday, October 10
9am: Began the NYCWFF with our pre-Festival committee meeting at in the Garden Room of the Standard Hotel. After months of planning, we were all geared up and ready to go for our fifth NYCWFF. I made sure to grab a large cappuccino on the way.
12:30pm: Headed to lunch with Food Network's Amanda Melnick at Union Square Café. 2013 will mark the 20th anniversary of the Food Network so we talked about how we could best tie that in to next year's Festival.
4pm: Just as I was checking my calendar, my phone rang. It was my 4pm interview with Grub Street to discuss a piece they are doing on my pre-Festival eating schedule. I ducked into a Starbucks, grabbed my second cappuccino of the day, and continued the interview.
6:30pm: Arrived at St. Anthony's Church for "Slice Out Hunger," a fantastic pizza party that supports City Harvest, New York's extraordinary food rescue organization.
10:30pm: Hailed a cab and headed over to our Festival Chef Kick-Off Party at DBGB, which I co-hosted with my friend Daniel Boulud. And just like that, the 2012 Food Network New York City Wine and Food Festival began.
Thursday, October 11
8am: Arrived at our Hospitality Suite at the Soho House for our first NYCWFF morning meeting. Early as it was and lengthy as these meetings sometimes are, I don't know what I'd do without them.
9:30am: Met Tolan Florence (wife of Tyler, one of my favorite chefs) for breakfast at Pastis. We talked about Tyler's upcoming NYCWFF dinner and segued into plans for SOBEWFF 2013. As I mentioned, I'm always thinking ahead.
5pm: Headed to Bagatelle to co-host a People Magazine Party with Paula Deen. Any party with Paula is an occasion not to be missed.
5:30pm: Arrived at 82 Mercer just in time to meet Giada before the start of Meatball Madness. My schedule for the evening was pretty tight, so I was grateful to be able to turn over my yearly responsibilities (of walking with Giada to each station) to Food Network and Cooking Channel President Brooke Johnson.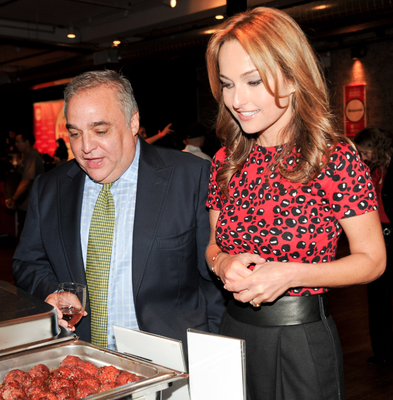 Neil Rasmus/BFAnyc.com
6:15pm: Arrived at Yotel to see the final set-up for Shake and Bake and to greet Whoopi Goldberg. I thought I was on time but as usual, Whoopi was fastidiously early and already doing her job when I got there. We always have a great time together, especially when there's fried chicken involved.
7:30pm: Sat down just in time for the start of Anthony Bourdain's Roast at Pier 60. I hosted a fabulous table of guests that included Dana Cowin, Katie Lee and Andrew Zimmern so I felt particularly happy to be in such great company.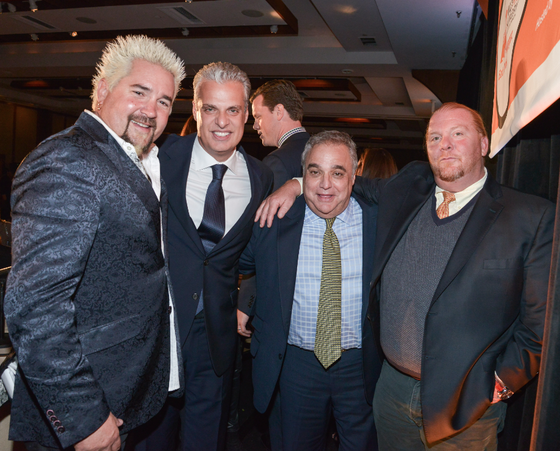 Madison McGaw/BFAnyc.com
10:30pm: Exhausted and stuffed, I swung by the Public Theater to catch a glimpse of Astor Hours. It was a fabulous event though I couldn't keep my eyes open any longer, so I hopped in my car and headed home.
Friday, October 12
9:30am: After our Festival morning meeting, I lingered around our Hospitality Suite for a bit to get a few things done before my meeting with Premier Partnerships to discuss SOBEWFF sponsorship evaluations.
10am: Walked over to the Dream Downtown, our host hotel, for our Sponsor Welcome Brunch. I took the elevator up to the rooftop (which features the most gorgeous views of the city), said a few quick hellos, thanked our fantastic sponsors and scooted out.
11:30am: Met Scripps Networks' Michael Portgual at the Standard Hotel to discuss SOBEWFF 2013.
12:30pm: Got into my car to head to Basketball City for a quick look at the incredible set-up for Burger Bash.
2pm: Met with LG's Michelle Donovan at the Soho House to talk about their sponsorship for the weekend ahead.
6:30pm: Headed back over to Basketball City to greet Rachael Ray before her Burger Bash hosting duties began.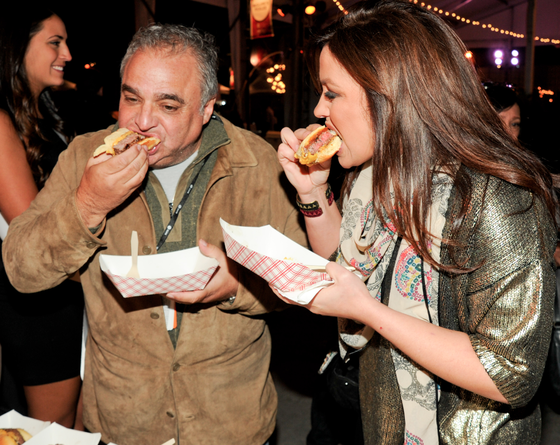 Neil Rasmus/BFAnyc.com
9pm: Arrived at 82 Mercer for a quick look at SWEET.
10pm: Dropped by the Dream Downtown to see Bethenny Frankel surrounded by fans at Cocktails Ever After.
11pm: Arrived at Rock & Roll at The Harvard Club to say hello to Morimoto.
Saturday, October 13
9:30am: Hopped in a car to head to Basketball City to take a peek at the set-up for Fun & Fit in the City.
11:45am: Popped in to watch Stanley Tucci's Grand Tasting demo at Pier 57. He has a new cookbook out and is also a fellow Food Bank for New York City Board Member so having him a part of this year's line-up was really special.
12:30pm: Walked into the Core Club for the start of our Brunch with Blackberry Farm, one of my favorite Relais and Chateaux properties.
1pm: Arrived at Oyster Bash at The Standard's Hotel's Biergarten. Fabulous music and fabulous food -- or so I heard (I don't eat clams or oysters but everyone said that the oysters were divine).
2:30pm: Saw the last 15 minutes of Trisha Yearwood demo. She is hosting a terrific southern brunch in SOBE this year so we chatted about a few details before she headed off to her book signing.
3pm: Arrived at the International Culinary Center hoping to catch Jacques Torres before his Chocolate Making Master Class. Of course, I missed him by two minutes but was happy to run into Tyler Florence (who was prepping for his dinner that evening) and Charles Phan (there for his seminar) on my way out.
5:15pm: Ran into Pier 57 to say hello to Ina Garten before her Tent Talk. Our friends Kate Tyler and Pam Krauss (both of Clarkson Potter) were there as well so we all chatted backstage for a few.
7pm: Just missed Alain Ducasse at the Benoit Dinner at Bank of America Building. I try my hardest to fit everything in but with over 130 events, it's nearly impossible to time it all right.
8pm: Walked around to each station with Bobby Flay at Tacos & Tequila. I thanked the evening's sponsors and left 82 Mercer for the third and final time during the weekend.
10pm: Arrived at one of my favorite events -- Next Iron Chef at Highline Stages. The best part was getting to spend some quality time with Giada -- just catching up in a corner of the room. I think we spent more time together that evening than we have in the last five years!
11pm: Swung by our Chef After Party and grabbed a few pieces of Blue Ribbon's famous fried chicken.

Sunday, October 14
11:30am: Greeted Paula Deen at her brunch at Pier 60. This event was (and always is) one of my highlights of the Festival weekend. She and her husband Michael look incredible and between the two of them, they have lost over 100 pounds!
12:15pm: Caught the last half of Giada's demo before dashing over to Sandwich Showdown at Highline Stages. The patty melt that I loved last year came in first this year so I felt a small victory.
2pm: Arrived at the gorgeous Whimsical Indulgence Brunch at the Core Club.
4pm: Had a few bites of food with Andrew Zimmern before the crowds started forming at Trucks and Train.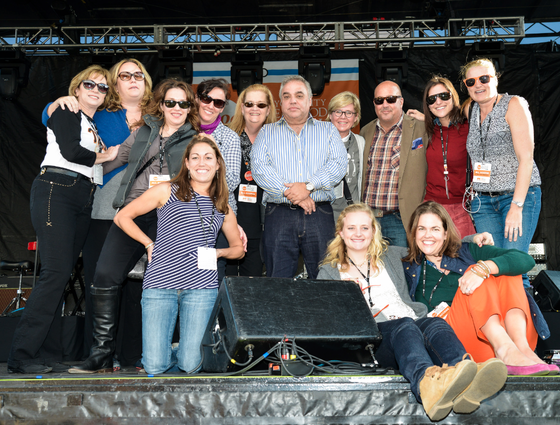 Madison McGaw/BFAnyc.com
7pm: Half dead, I walked into the sublime Opening the Slanted Door Dinner with Charles Phan at ICC. I was happy that I managed to stay awake, or at least enough to enjoy a fabulous meal and a few glasses of my favorite Whispering Angel rosé with Food Network and Cooking Channel President Brooke Johnson. A perfect ending to a near-perfect weekend.
See more Food Informants below:
PHOTO GALLERY
Food Informants
REAL LIFE. REAL NEWS. REAL VOICES.
Help us tell more of the stories that matter from voices that too often remain unheard.