On Sunday's flight to Nashville I sat across from Jets fan Jeff Cohen, who has held season tickets since 1976 and will attend all 16 games (home and away) this year. Cohen, an executive for Marimekko, was dressed in a grey Jets sweatshirt and looked more like a coach than a fashion mogul as he thumbed through WWD and we talked about our mutual love for football and food.
"I always combine my football games with fun weekends," said Cohen, as we swapped a list of Nashville restaurants and music venues. I've always associated Nashville with music, but until this weekend I had no idea that the people here are just as serious about the food.
The Hermitage Hotel is short trip from the airport so shortly after landing my group and I were at the Oak Bar having burgers and club sandwiches and partaking in some of the finest small batch bourbon imaginable. Then it was on to the Bluebird Café, which is considered the best place to hear original music in Nashville. Fortunately, our guide was Neil O'Donnell, former quarterback for both the Jets and Titans, and judging from the reception he received at the Bluebird, O'Donnell is as popular as ever in Nashville.
Dinner Sunday night was at The Capitol Grille, which sources all of its ingredients locally from their own farm. They serve as good a dry aged ribeye as I've had anywhere and their wine list boasts a Dunn 2006 cabernet that's seldom available in the best Manhattan restaurants.
Monday I toured the Vanderbilt University campus, which is beautiful, but unfortunately that was interrupted by a rain and hail a monsoon that the locals claim is not unusual for winter in Nashville. O'Donnell took us to The Southern, where I had oysters soaked in scotch and the chicken fried chicken, which is chicken fried in chicken grease. Both were delicious.
As we got to the entrance of LP Stadium, I saw a catering truck from Pigs & Pies, which boasts "Nashville's best butts." Both teams looked impressive during warm-ups, but the best they were able to deliver were lackluster performances and the game was a disappointment. If not for Chris Johnson's 94 yard run (a franchise record) the Titan's offensive output would have been nonexistent. The Jets directionless play has been heaped on Mark Sanchez, but someone should be calling the coaching staff to task as well.
The Jets lost the game (14 - 10) along with their playoff hopes, and it's about time Rex Ryan starts accepting some blame for this embarrassment. As I walked out of the stadium, an outraged fan summed it up with this short rant: "Rex Ryan has ruined the sweater-vest! I'll never wear one again!"
I'm not sure if I will be watching the Jets again anytime soon, but I can't wait to get back to Nashville.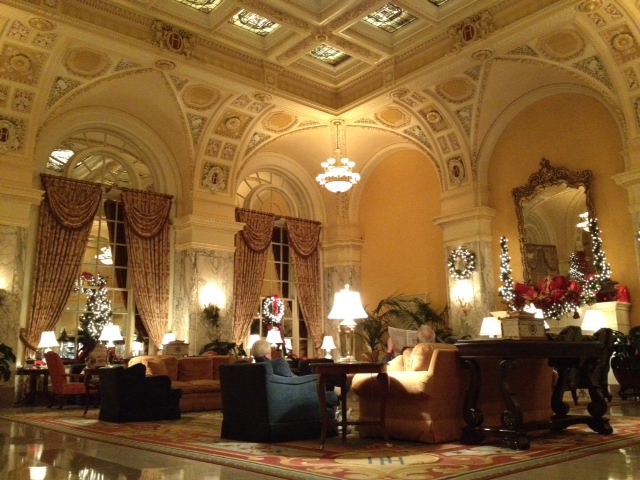 (Hermitage Hotel lobby -- Photo by the author)