This year, as we come together as a global community for the crucial COP21 climate talks in Paris, I take heart from two things. First, the new evidence from C40 demonstrating that city leaders have massively ramped up emission reduction action since the last big climate talks in Copenhagen in 2009 ended without a treaty agreement. Second, that as much as a third of the remaining 'carbon budget' will be determined by urban policy decisions. Taken together, these two sets of data tell me that there is a real chance that action by mayors, added to what we all hope will be agreed in Paris, can make the difference is getting the world on to a safe, low-carbon development pathway.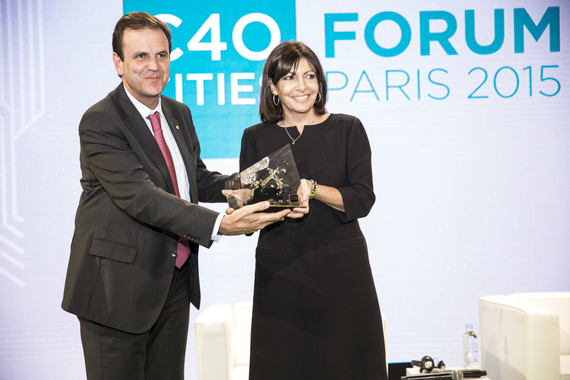 Rio Mayor Eduardo Paes presents Paris Mayor Anne Hidalgo with a Special C40 Award for Resilience and Global Leadership at the C40 Forum, part of the Climate Summit for Local Leaders. December 4, 2015.
This past year has seen the global significance of cities brought to the fore, with everyone from global ad agencies to the Pope to the President of the United States applauding the decisive work of mayors and the crucial impact the world's megacities have on our global future.
Cities are where the future happens first

Cities are -- without hyperbole -- where the future happens first. This is true on many levels: today, cities command vast resources, consuming more than two-thirds of the world's energy and accounting for 70 percent of global greenhouse gas emissions with their booming economies and broad-scale systems. Because they need to deliver services and function on a daily basis, cities are natural breeding grounds for innovation, lending themselves to reinvention and even renaissance.
And this will only continue: by 2050, 70 percent of the world's population will live in cities, meaning that the majority of the globe's human capital will be driving city dynamics in some way.
This concentration of resources may look to some like a concentration of responsibility. Like the future will be decided upon in cities. And, to a large extent, that is true.
But I see that not as a daunting challenge, but as a thrilling opportunity -- and one that mayors are already stepping up to capitalize upon. As Chair of C40 Cities Climate Leadership Group, I emphasize the power that cities have to implement changes that will impact peoples' daily lives.
Recent research from the Global Commission on the Economy and Climate shows that a group of less than 500 cities -- including nearly all of the C40's member cities -- will be responsible for 60 percent of global economic growth and 50 percent of greenhouse gas emission increases between now and 2030.
Additionally, new C40 research indicates that urban policy decisions made before 2020 could determine up to a third of the remaining safe global carbon budget that is not already locked-in by past decisions. These findings are significant in the context of COP21: negotiations for a critical new climate treaty concern action that will be taken after 2020, but we now know that mayors in office today have the opportunity to ensure a low carbon future for our planet.
The report calculates that moving from a business as usual scenario to low carbon urban development across all the world's cities would save 45 Gt CO2 by 2030 - equivalent to eight times the current emissions of the United States.
And this kind of investment -- which cities are already pursuing -- also makes strong economic sense: investing in low carbon infrastructure before 2020 will be four times less expensive than having to replace high carbon infrastructure in the future. The even better news is that building our cities smarter - by investing in low emission transport, more efficient buildings and waste management - represents a $17 trillion opportunity worldwide by 2050.
Cities hold the key to our future. But that does not mean that national governments have no role to play. Like much of the rest of the world, mayors hope to see heads of state sign an international treaty at the COP21 climate negotiations to cut emissions at the national level. We just want to gently remind them that when they return home -- high on the success of international collaboration -- that's when the real collaboration begins.
Cities have been committing to reducing carbon emissions through various pathways for well beyond the 10 years C40 has existed. Since the much-cited COP15 in Copenhagen, which the world largely deemed a catastrophe, mayors have undertaken more than 10,000 climate actions.
Research C40 completed in partnership with Arup last year indicated that - as of September 2014 - 228 cities had committed to reducing their greenhouse gas emissions. Taken together, these commitments alone represent an opportunity to save 13.0 Gt CO2e by 2050.
With support from their national governments, cities can do even more. Separate research with Stockholm Environment Institute demonstrates that cities can make meaningful contributions towards more aggressive national emissions targets, helping bridge the global emissions gap.
Mayors around the world are already taking transformative action

Fortunately, from a city perspective, COP21 is not the beginning of the road - nor is it the end. For 10 years, the global network of C40 - representing more than 640 million people and a quarter of global GDP - has been facilitating collaboration and solutions for its members, which now number at 80+.
C40 is an engine for progress on climate change, deploying critical research and facilitating sharing of knowledge and ideas between cities that not only helps reduce carbon emissions, but also makes cities cleaner, safer and more economically prosperous places to live and work.
Increasingly, this means fostering knowledge transfer between cities not just in the developed world, but also in the Global South. In fact, this year, for the first time, half of C40's member cities are from the Global South, an area that is rapidly urbanizing and is critical in shaping the future of urban spaces.
And the flow of information is not unbalanced: Latin America is leading globally when it comes to sustainable public transit systems, for example. Earlier this year, C40 held a Latin American Mayors Forum - the first-ever regional forum of its kind - where cities announced the international Declaration on Clean Buses, demonstrating a commitment to reducing emissions and improving air quality by incorporating low- and zero-emission buses in city fleets.
In August, my city - Rio de Janeiro - became the world's first city to be fully compliant with the Compact of Mayors, the world's largest common platform for cities to report their emissions, set targets and develop plans to cut emissions and prepare for the effects of climate change.
Coupled with the vast new membership of Chinese cities in the C40 network - including the addition of Guangzhou and Nanjing in just the last few months - these developments further demonstrate the power of the often-overlooked cities of the Global South. With the right support from national governments - including assistance with financing and creditworthiness - and recognition by the global community, cities of this kind can become models of sustainable urban development.
For the past year, governments, businesses and citizens around the world have anticipated COP21 as some kind of last chance to turn the tide of global climate change. And yes, a strong international agreement is an important step towards ensuring a climate-safe future. But no matter what happens, cities and their leaders will continue to move steadily forward on their mandate of making their cities better places to live and work. For C40 mayors, the road to Paris began at least a decade ago.
This post is part of a "C40 Cities" series produced by The Huffington Post and the C40 Cities Climate Leadership Group, in conjunction with the U.N.'s 21st Conference of the Parties (COP21) in Paris (Nov. 30-Dec. 11), aka the climate-change conference. The series will put a spotlight on the mayors of C40 cities, a network of the world's megacities committed to addressing climate change, and is part of HuffPost's What's Working editorial initiative. To view the entire series, visit here.
Calling all HuffPost superfans!
Sign up for membership to become a founding member and help shape HuffPost's next chapter