1,600 talented millennials attended this fall's Forbes Under 30 Summit in Philadelphia, the second in this fast growing Forbes franchise. 300 of those attendees participated in the athletic Rocky Run (emulating the famous run up the Museum steps by Rocky of the film fame) amidst Philadelphia's fall foliage. Six inspiring Under 30s were on-stage finalists in Forbes $1 Million Under 30 Change the World Social Entrepreneurs Competition. 7,000 arm-waved to the beat of Hanson and A$AP Rocky at the Forbes Under 30 Music Festival produced as the hip Summit's headlining finale in partnership with the Global Poverty Project, the organization behind the annual Global Citizen Festival in New York's Central Park.
Justine Lucas, Global Director of Programs of the Global Poverty Project, was very excited about "getting a new generation of global citizens engaged in ending extreme poverty." The dynamic achieved was a converging point between worldly wealth and global poverty, using one to eradicate the other. Indeed, the whole focus of this Under 30 Summit was on inspiration and achievement focusing on the betterment of the planet.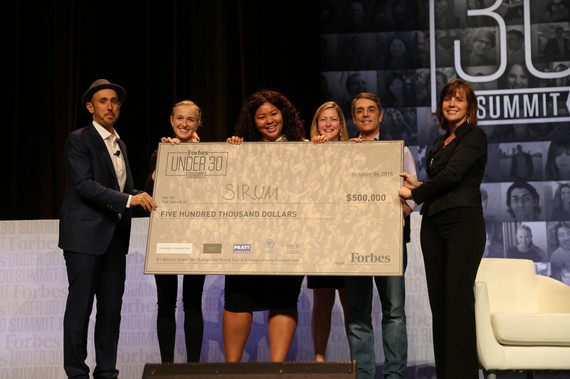 FORBES Magazine editor Randall Lane presents the winning check to Kiah Williams, co-founder of SIRUM. Photo courtesy of FORBES.
The "young, vital disruptors" who entered the Forbes $1 Million Under 30 Change the World Social Entrepreneur's Competition were deep in the Summit's ethos: an ethos that capitalizes not only on net worth, but also the worth of its impact on the world. More than 2,500 young social entrepreneurs from around the globe entered the Forbes Change the World Competition and of those, 915 quarter-finalists completed a long-form application. Social enterprises for-profit business models were most represented, followed by hybrid business models with donated and earned revenue, and finally nonprofit business models. The winner was SIRUM (Supporting Initiatives to Redistribute Unused Medicine)a 501(c)3 non-profit co-founded by Kiah Williams, 29, and two other Stanford University graduates. An altering-the-status-quo company addressing a vital problem, SIRUM left the podium with a check, enumerable add-ons from Forbes and the coalition of Funds and Wharton academics guiding its future.
Williams, who grew up in West Philadelphia, confided that while it was only a few miles away, it was light years from the stage on which she stood. She conceived this "match.com for unused meds" while growing up in a neighborhood in which she knew mothers who had to pick between paying the rent and buying costly medicine. Unconscionable, she thought, in a country where we spend $3 Trillion in healthcare while about 50 million skip filling their prescriptions due to costs. With the Forbes win, Williams and SIRUM will be able to expand into all the states and not just the few in which it is operating.
"These young superstars were chosen as finalists in this historic competition because they have the ability to solve problems, scale solutions and change the world," says Randall Lane, editor of Forbes magazine, who oversees both the Forbes Under 30 Summit and Forbes Summit on Philanthropy.
"Everyone wants to know how we generated so much social media buzz (1.3 billion social media impressions last year) on Under 30. When you put almost 2,000 young influencers in a room, all of whom have credibility in their own spheres, there's a popcorn effect." And indeed, in these last two years, the founders of Tinder (now driving the back engine of the burgeoning Forbes Under 30 App), Theranos, Oculus, and an abundance of baby-faced Billionaires, have crossed the Under 30 stage.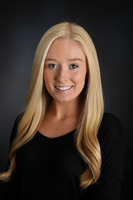 Chicago high school senior Morgan Mansur attended this month's Under 30 Summit in Philadelphia. Photo courtesy of Mansur.
Morgan Mansur, a 17-year-old senior at the Latin School of Chicago, observed, "What inspired me most was the number of outstanding female business leaders included in the Forbes' 30 Under 30. I know that I want a career in business, so I'm always in search of successful businesswomen as role models. Although gender equity has improved, the workplace still rewards men disproportionately, especially in startups. In fact, I learned from the Summit that just seven percent of venture capital funding went to female-founded companies. That's what made watching Elizabeth Holmes, the world's youngest self-made female billionaire and founder of the blood testing company, Theranos, so exhilarating. Just before she was presented with the Forbes' 30 Under 30 Doers Award, she said you have to ask yourself, 'What's the thing you love, and that you're so incredibly passionate about that if you got fired you'd still want to do it?' I believe that sentiment resonates with people my age: we hope to find careers that allow us to engage in work we find personally meaningful."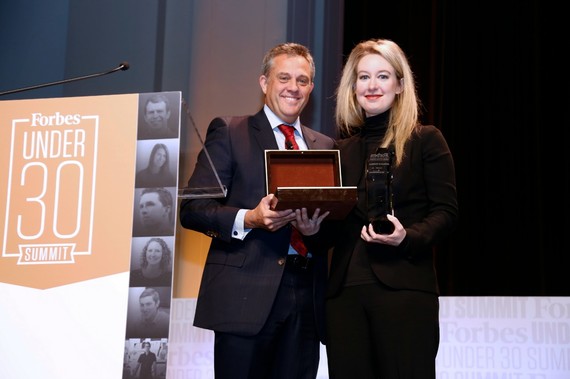 Elizabeth Holmes, founder and CEO of Theranos, receives the FORBES Under 30 Doers Award from Rudy Chavez, President of Baume & Mercier. Photo courtesy of FORBES.
Hanson, the iconic brotherly band with the impressionable hit "Mmmbop" and its own 3CG Records, now has a charitable foundation focused on AIDS and poverty relief in Africa. Lindsey Stirling, the 28-year-old electronic violinist with over one billion views on her YouTube channel; Shawn Mendes, the 17-year-old singer/songwriter whose rise on Vine earned him a major label record deal (another recurring theme at the conference...stars in Beauty, Entertainment, Business et al often get their big numbers start on social media); and A$AP Rocky, the Harlem-born rapper featured in the music category of last year's Forbes 30 Under 30 list, rocked the final night for the celebratory crowd who had spent the past two days juggling this superior conference intertwining innovation and public good.
The Forbes Under 30 Summit will continue to discover, fund and applaud the Under 30 Innovators both in the U.S. and globally next year with the Forbes Under 30 EMEA, to be held in Tel Aviv and Jerusalem.
Randall Lane sums it all up.
"If you're looking at influence over the next 50 years, this is the most important gathering anywhere this year. These are the people who will run the world and change the world, and they're already doing it."
Related
Popular in the Community