"One child, one teacher, one book, one pen, can change the world," said the youngest-ever Nobel laureate, Malala Yousafzai. In recognition of the life-changing impact a teacher can have on her or his students, we partnered with the California State Lottery and asked alumni of the largest public school system to tell us about the educators in their lives who made a difference: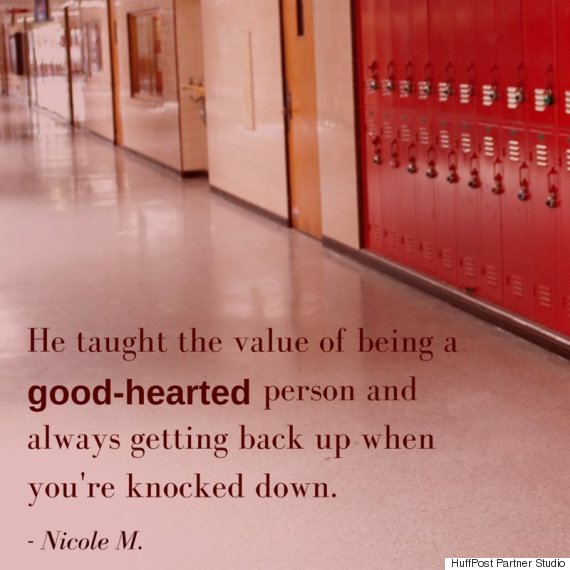 "I can't thank Mr. Williams enough for the lessons he taught me. Not only did I find my passion for agriculture in his classroom, but he taught the value of being a good-hearted person and always getting back up when you're knocked down -- no matter how hard it may be. Teaching a high school kid how to put real life in perspective when it always seems like the world is falling apart is hard … but I will never forget it." - Nicole M. (Central High School in Fresno, California)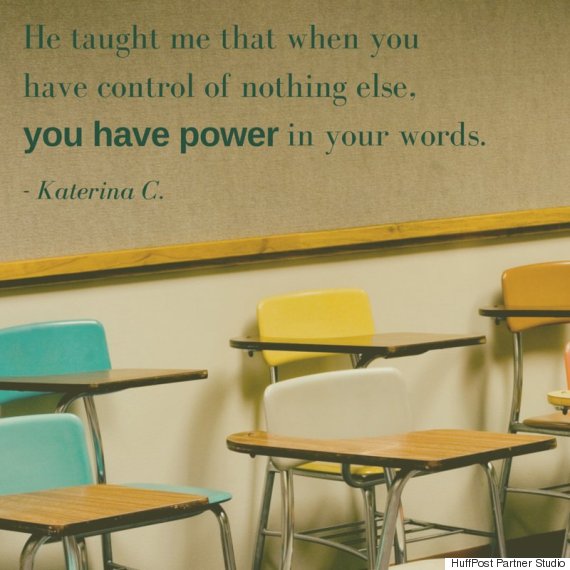 "Mr. Brough taught English at Perris High School in the '80s. At a time in my life when everything felt hopeless, he told me I excelled at something. He taught me that when you have control of nothing else, you have power in your words." - Katerina C. (Perris High School in Perris, California)
3. An Education Beyond The Classroom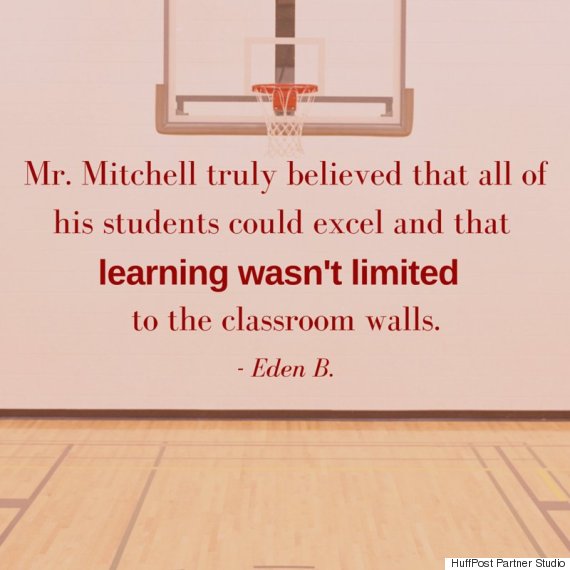 "Mr. Mitchell truly believed that all of his students could excel and that learning wasn't limited to the classroom walls. I want to thank him for his unwavering patience, encouragement, kindness and creativity; for supporting not only his students but their families; and for all the memories that, 20 years later, still bring tears of joy because of how much he meant to so many people." - Eden B. (Betty Plasencia Math & Science Magnet Center in Los Angeles, California)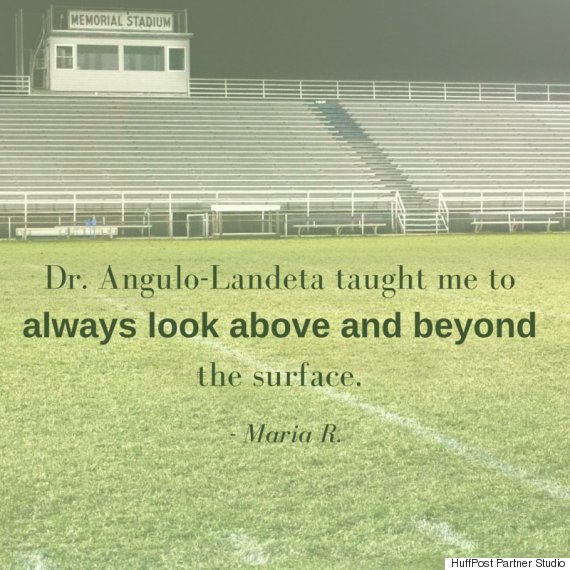 "Dr. Angulo-Landeta taught me to always look above and beyond the surface, instilling a strong sense of ambition and drive. Her 'si se puede' ['yes, you can'] attitude motivated me to change my family's legacy by graduating high school and now, obtaining a doctorate degree. Because of her, I am a confident Latina woman who is consumed by wanderlust and love." - Maria R. (Mathematics, Science & Technology Academy in Lennox, California)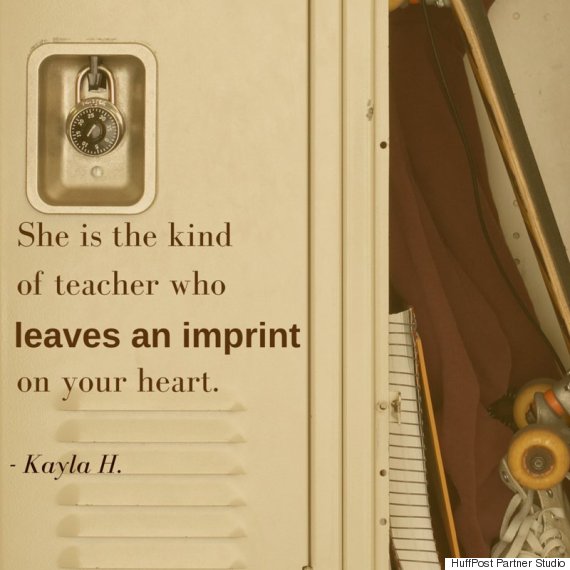 "Mrs. Rhay was my second grade teacher but has been a constant support to me. Even if you are not in her class anymore, she is willing to be a part of her students' lives. She is the kind of teacher who leaves an imprint on your heart." - Kayla H. (Palmetto Elementary in Fontana, California)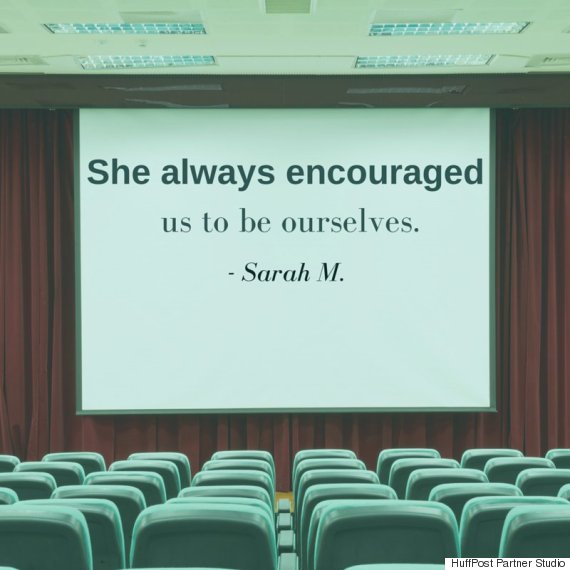 "Mrs. Johnson was my fourth grade teacher. We actually moved in the middle of the fourth grade so I didn't even get to have her for the whole year. She always encouraged us to be ourselves. Even when you made a mistake, she had a positive response. She validated what you came up with and would reframe it so that you didn't feel bad about making a mistake. I try to emulate that as a teacher now myself." - Sarah M. (Mountain View Elementary School in Claremont, California)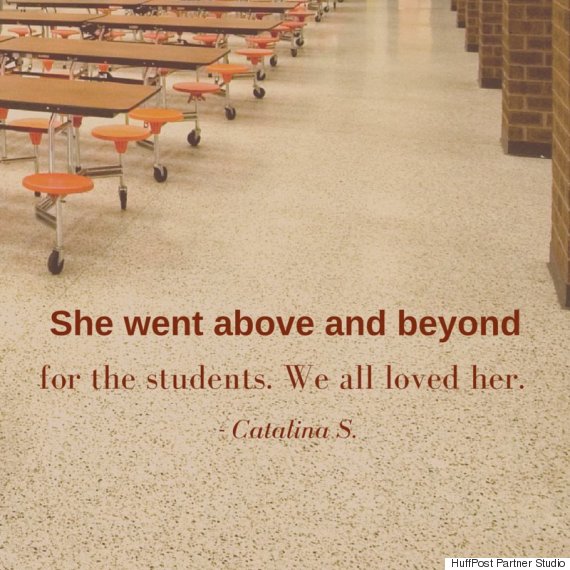 "Mrs. Lee was my fourth and fifth grade teacher from 1967 to 1969. She went above and beyond for the students. We all loved her. I was really poor. A fourth grader doesn't talk about it, but she was intuitive. She arranged camperships for another girl in my class and for me. And she drove us there each way. I learned to swim that summer and saw the moonwalk live on a television that they rolled in. Every July [on the anniversary of the first moonwalk] I think about where I was. And she made that happen. - Catalina S. (Henry W. Longfellow Elementary School in Pasadena, California)
"I've often thought of Mr. DeGree, who taught eighth grade in the '70s, throughout the years because he made such a positive impact on my life by making me feel good at doing school work for the very first time in my life. The thing that really stayed with me is how invested he was in ensuring we each learned the lessons by creating an atmosphere in his classroom where learning felt fun and easy." - Christine B. (Peralta Junior High School in Orange, California)
Great teachers can change lives. California State Lottery knows that education creates possibilities, which is why the mission of the California State Lottery is to maximize supplemental funding for public education.
Related