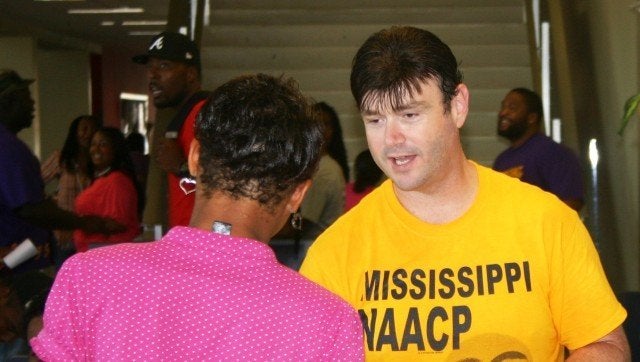 Michael Teasley, a white student who became the first white president of an NAACP student chapter at a historically black college, was found dead in his apartment on Monday. He was 40 years old.
Teasley was elected to his unlikely position at Jackson State, in Jackson, Mississippi, in 2010.
"I'm doing the exact same thing that other people were murdered for in the 1960s," he told the Jackson Free Press in 2011. I started out registering people to vote, and I got to be president of the organization…and I don't have to worry about being murdered. it's like a breath of fresh air."
He said that he became interested in the NAACP because of its economic concerns. "I saw back then the gap between the wealthy and the poor, which was widening with the help of things like the Bush tax cuts for the wealthy," he told the Free Press. "It was all economics with the NAACP. Also, the NAACP was the most prevalent organization on campus that was doing the most work on voter registration and economic awareness — and even teen-pregnancy prevention and the prevention of violence against women — issues that I'm very passionate about anyway."
Teasley hailed from Rankin County, Miss., and dropped out of school when he was in junior high and began dealing drugs, but turned his life around when his mother died, the Jackson Clarion-Ledger said.
His brother, Chad Teasley, said in a note on the university's school news website that he was touched by the condolences for his brother. "His family and I are all very grateful that in what turned out to be the last years of his life, he was among devoted friends who cared so much about him, and that in his passion for social justice he was able to make a real difference in the lives of many others," he wrote. "He truly loved Jackson State."
Popular in the Community