 WASHINGTON -- Republican mega-donor Foster Friess declared Friday that he was going to contribute money to outside groups to help elect Republican candidates in both the 2014 midterm elections and the 2016 presidential campaign. The Wyoming-based multimillionaire investor also declared himself "excited to be a part of the 1 percent."
Friess jumped into the national spotlight in 2012 when he pumped more than $2 million into the Red White and Blue Fund, a super PAC supporting former Pennsylvania Sen. Rick Santorum in the Republican presidential primary. His money helped the wildly underfunded Santorum to win the Iowa caucuses and to run strong through April against eventual GOP nominee Mitt Romney.
For 2014, Friess said he is prepared to continue his big giving to aid Republican candidates in the House and the Senate.
"I very, very much want to be involved in helping those senators and congressmen and women who can embrace those special values that make America great," he said at a breakfast at the St. Regis Hotel in Washington, D.C., sponsored by The Christian Science Monitor. "Everyone knows why we're great is because of the free markets."
Friess mostly dodged the question of whether he would give through the more transparent super PACs or through "dark money" nonprofits that do not disclose their donors. He also waved away another query about how much he gave in 2012, including contributions to dark-money groups.
"You can ask any question you want, and I can decide to answer any question I want," Friess said when asked how much he contributed in the most recent election. "Next question."
He was, however, more than happy to talk about supporting another presidential run by Santorum. "Rick Santorum has so much potential and so much eagerness to serve our country," said Friess.
The real value of outside Republican groups' heavy spending in the 2012 election was much debated after President Barack Obama won reelection and Democrats picked up seats in both the Senate and the House. Questions were also raised about whether the super PAC spending by wealthy individuals like Friess and casino tycoon Sheldon Adelson unnecessarily extended the Republican primary, thereby hurting Romney in the general election.
On Friday, Friess invoked a personal mantra -- "Excellence embraces error and builds on it and transforms it" -- before declaring that he does not regret any of his giving.
"It was absolutely worth it because I allowed Rick Santorum to express views and ideas that the American people wanted to hear and needed to hear that never would have been articulated," Friess said.
"I think we helped Mitt Romney," he continued. "I think we helped define him and caused Mr. Romney to understand some of the visions of [Rick Santorum]."
Still, the president won reelection by more than 4 percentage points and 126 electoral votes. This, however, was not the key point to Friess. "You have to understand that the American people gave the Republican Party a mandate in this last election," he said. "We have a total gain of 17 state legislatures since 2010 -- [they] have moved from the Democratic power to Republican power."
Friess also claimed that the president has a weak mandate because "the total numbers take into account a lot of the center cities that went for Obama." When asked whether he thought votes in the "center cities" should be discounted, Friess firmly answered, "Yes."
He also sought to counter the narrative of a "war on women" that emerged in the 2012 election. Friess said this was rhetoric ginned up by Democrats and their allies in the media. Recounting an instance in which television personality Joy Behar said that Santorum wanted to take away contraception, Friess said, "Somehow that message took advantage of all the low-information women voters out there, who just follow Joy Behar and had no idea that Rick Santorum and Mother Teresa believe that contraception goes against Catholic teaching."
During the campaign, Friess created a controversy when he joked that "back in my days ... gals put [Bayer aspirin] between their knees" to prevent pregnancy.
Friess joked again on Friday about contraception. "Hugh Hefner even said I was trying to reverse the sexual revolution. I have four kids. They're two years apart," he said. "Contraception has been very, very good to me."
Before You Go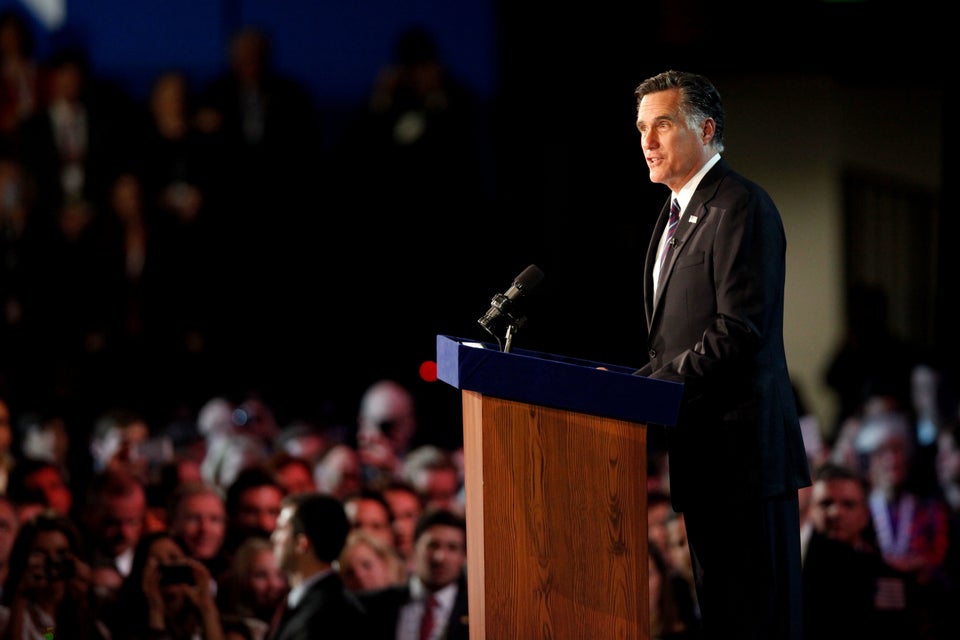 100 Years Of Election Night Losers
Popular in the Community