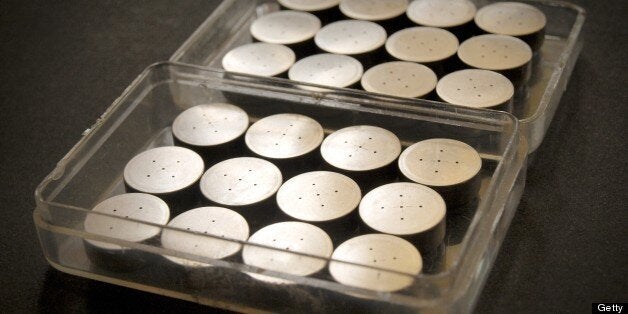 In October, 2010, a 1-year-old boy named Emmett from Phoenix was playing with a remote control to a standard DVD player. Like most young, curious children, he was fascinated with the buttons and like most parents, his mother didn't think twice about any potential danger. Why would she? Parents have been letting their kids play with remote controls since they were invented.
After only a few minutes, Emmett found a way to open the back of the remote control. He noticed a shiny, coin-sized button battery -- the same one that can be found in calculators, watches, key fobs and flameless candles. And Emmett did what any normal, 1-year-old kid would do: He put it in his mouth and then swallowed it.
Each year in the United States almost 3,000 kids -- or one every three hours - do the exact same thing, some resulting in serious injuries and in some cases, deaths. Unfortunately, it's a growing trend. According to the National Capital Poison Center, serious button battery injury cases more than quadrupled in the last decade.
The biggest risk in swallowing these button batteries isn't choking, as many people might suspect. It's burning. When a button battery is swallowed, the saliva triggers an electrical current. This leads to a chemical reaction that can cause severe damage to kids in as little as two hours. Once burning begins, the results can affect a child for a lifetime. In the last three years, Emmett has endured more than 30 surgeries, spent eight months in a Pediatric ICU and has gone through a partial reconstruction of his esophagus and airway.
The tricky part is that at first, it may not be obvious that something is wrong. Kids can still breathe with the coin lithium battery in their throat. Symptoms of button battery ingestion, such as coughing, drooling and discomfort, may be similar to symptoms of other childhood illnesses. In Emmett's case, doctors believed Emmett's high temperature was a result of the flu and sent him home. Over the next two days, his symptoms became worse. On the way back to the pediatrician, Emmett started vomiting blood. He was sent directly to the emergency room, where an x-ray revealed the button battery lodged in his esophagus, dangerously close to his heart.
Emmett is a courageous young boy who continues to fight. Emmett's parents want everyone to know his story so we all understand how to prevent this kind tragedy from happening to another young child.
Safe Kids and Energizer are working together to raise awareness about this serious risk and urge parents and caregivers to keep coin-sized button batteries and the devices that contain them out of sight and out of reach of small children.
Here are few simple tips to help prevent the children in your life from swallowing button batteries.
•Search your home, and any place your child goes, for gadgets that may contain button batteries.
•Put button battery-powered devices out of sight and reach of children. Store loose button batteries safely. Something as simple as a piece of duct tape over the remote can deter a small child from accessing the battery.
•If you need help, call the National Battery Ingestion Hotline (202-625-3333).
•Help us spread the word by sharing this information with caregivers, friends, family members and sitters.
WATCH: Emmet's Story -- The Dangers of Swallowing a Button Battery
Related
Popular in the Community