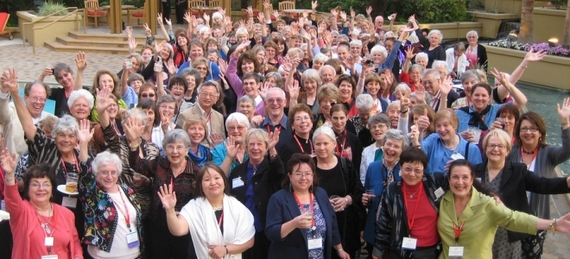 "I don't think that's a good idea," he replied. I smiled, but his face turned almost as white as his Catholic clerical collar.
Father Ambrose and I were planning a joint worship service for our congregations, and he wondered about the evening's focus.
I said, "Women! Let's talk about the ordination of women!"
Though it was the first time we had ever met, I couldn't resist the opportunity to pull his leg and have some fun.
We never discussed it again, but I suspect he would have joyfully embraced the full leadership of women in the church.
What about Pope Francis? Will he ever bless the ordination of women, or will he continue to keep women in their place?
I deeply admire Pope Francis. His warmth and compassion, his candor and humanity are a breath of fresh air. His love for the poor and his commitment to people rather than to an established hierarchy are inspirational.
I welcome his work for the church to offer more easily forgiveness to women who have had abortions. However, I still fail to understand why women who have endured that trauma need forgiveness in the first place. Perhaps it is the church that is in need of forgiveness for further stigmatizing women who so often already feel deep shame and guilt.
I am glad the path to annulment has been straightened a bit. Yet, even that leaves me puzzled. If we look at Jesus' teaching on divorce, we discover that he was challenging a patriarchal system that denied the basic dignity of women.
I only live an hour from Philadelphia, and I thought about traveling up I-95 to see a pontiff I hold in high regard. But I only thought about it for a moment. I'm not a big fan of crowds numbering in the millions.
Nevertheless, if I had a few moments alone with Francis I would tell him about a young girl named Teresa. She is bright and inquisitive, teeming with boundless energy.
A couple of years ago her second grade teacher led the class in a discussion about what they wanted to be when they grow up. Sally wanted to be a nurse. John wanted to be a teacher. Scott wanted to work with animals. "And Teresa, you, what do you want to be when you grow up?"
"Oh, I want to be a preacher and work in the church," she beamed.
Guess how the other students responded? They laughed at her and ridiculed her. They made fun of her. "A preacher! Girls aren't preachers." Even her teacher scolded her for such a silly idea. Teresa did the only thing a second grader can do. She buckled under the pressure and said, "Well, maybe I'll be a teacher too."
Francis, what would you say to Teresa?
In the first century women served with men in church leadership positions, but with institutionalization came marginalization. Women were put back in their place.
Oh, we cover it up with platitudes like, "Well, women are so blessed they need not be priests or preachers." Or, "It's not that women are second class citizens. It's just that they serve God in different ways."
Yeah. Right. And if you believe that, you probably see the ongoing debate about abortion as exclusively pertaining to the sanctity of life rather the the underlying issue: the control of women and their bodies.
Francis, you can make a difference. You are in a position to effect change and, eventually, transformation.
Francis, remember what Martha said to Jesus, "You are the Christ." She publicly affirmed her faith. She bore faithful witness. She preached a lifetime of sermons in that one sentence.
Francis, please remember that Paul said in Christ there is no male or female.
Francis, please remember that the resurrected Christ first revealed himself to women, not to men! And he told them to go and tell others.
Francis, please remember that Jesus shattered the taboos and traditions of his day by speaking to women in public and teaching them about the kingdom of God.
Francis, Jesus loved women. He died for women. He rose for women. Women already are serving as faithful ministers around the world. But your blessing of the ordination of women will open the doors of fruitful ministry to countless others.
Francis, you are in a unique position to make this happen. You have the spirit and authority and compassion to make this happen.
About twenty years ago, I sat in on a meeting of a committee entrusted with the responsibility of nominating church leaders. Several names had already been considered when one of the men suggested that Emily would make a good elder. Several people nodded their head in agreement. But Jean shook her head. "No, I don't think so. I can't support that."
The rest of us were a little surprised. "Why not?" someone asked.
"Well, I just don't believe that women should serve as elders. It's not their place."
Another woman on the committee replied, "I think I'm going to be sick."
Well, the committee did go ahead and recommend Emily, and she was a good leader.
Now, I hope you understand that Jean was an active member of the congregation. Kind and caring, she was a longtime and loyal member of the choir. On church workdays she was there with her yellow rubber gloves scrubbing floors and windows and cabinets. When help was needed for an overnight youth retreat at the church, she gladly helped out. She was a strong leader in the Presbyterian Women. As a matter of fact, she did such a good job at the church for that group that the Presbytery asked her to serve on its leadership team for the Presbyterian Women.
Guess what happened a few years later? She, of all people, was nominated to serve on the congregation's governing board. "Jean," a member of the committee asked. "Would you be an elder?"
Several weeks later Jean and the other elders-elect came to the front of the church. She knelt down on the floor, hands were placed on her head, a prayer was offered, and she was ordained. She served faithfully. She served enthusiastically.
Could it be that she finally found her place?
Francis, do you want to put women back in their place?
I hope so because they belong right beside Christ, sharing his love and telling others how he has touched their lives.
Yes, Francis, that is their place, the place where Christ invites them.
REAL LIFE. REAL NEWS. REAL VOICES.
Help us tell more of the stories that matter from voices that too often remain unheard.