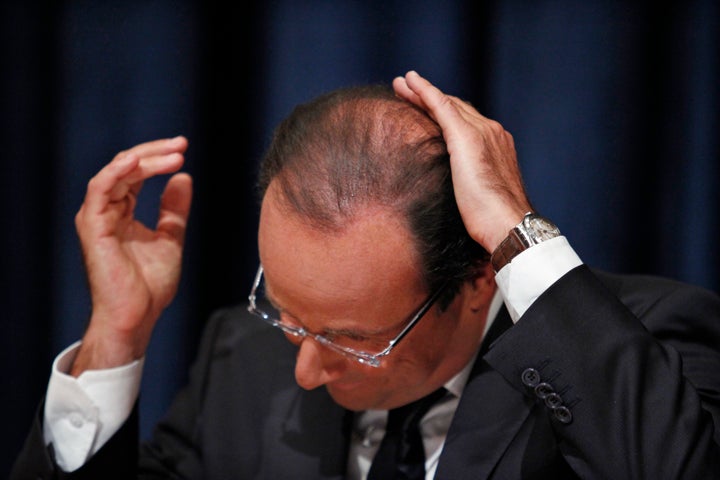 Sacré bleu! French taxpayers were not happy to learn they've been footing an annual six-figure bill to style President Francois Hollande's hair.
"9 895, c'est la salaire du coiffeur de Hollande!" the weekly newspaper Le Canard enchaîné declared on the front page of its July 13 edition, revealing that the embattled leader's personal hairdresser earns a monthly income of 9,895 euros ― nearly $11,000. That works out to about $132,000 a year.
By the end of Hollande's five-year term next spring, France will have paid the mysterious barber a gross salary of more than 593,700 euros, or nearly $660,000, Le Canard enchaîné indicates in its article.
French government spokesman Stephane Le Foll confirmed the startling figure. "Everyone gets haircuts," he said. "This hairdresser had to abandon his salon and he's on tap 24 hours a day."
Identified only as "Olivier B.", the well-compensated hairdresser started working for Hollande at the start of his term. He reportedly travels with the president and signed a contract that commits him to secrecy regarding his work.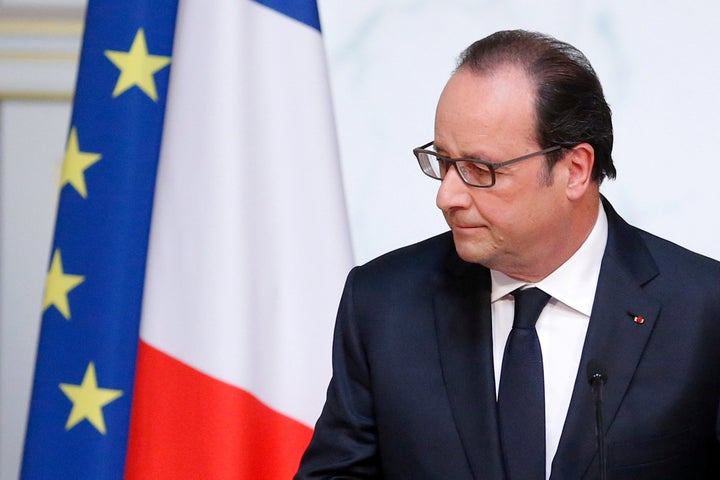 The president is already facing widespread backlash and ridicule from ordinary citizens and politicians alike.
"For a normal president, [Hollande] doesn't have a normal hairdresser," said MP Sébastien Huyghe, referring to Hollande's nickname "Monsieur Normal."
"Here's a problem that won't arise with [presidential hopeful] Alain Juppé!" former minister Benoist Apparu tweeted in French, framing Juppé's baldness as a political asset.
The Twitterverse was overwhelmingly unimpressed by the outlay needed to maintain the 61-year-old's wispy black (albeit never gray) hair. Using the hashtag #CoiffeurGate, many people noted that Hollande's hairstylist receives compensation on par with that of a French Cabinet minister.
"A men's haircut at a high-end Parisian coiffeur costs between €35 and €45," Politico observed. "So getting one every day (weekends included) would set back the French taxpayer €1,350 [per month] at most."
Hollande snatched the presidency from Nicolas "Bling-Bling" Sarkozy in 2012 after he'd served only one term. Sarkozy was often criticized for his luxurious lifestyle, expensive attire and lavish getaways.
Despite Hollande's pricey head maintenance, some Twitter users came to the president's defense by sharing articles explaining that he costs taxpayers less than Sarkozy did while in office.
Others posted snarky remarks and photos on social media to criticize Olivier B.'s work and suggest that he is grossly overpaid.
Soon after the hairstylist's salary was disclosed, along came a flood of memes that showed Hollande sporting the kind of hair only 9,895 euros a month can buy.
International media outlets also jumped at the opportunity to poke fun at the president's outlandish grooming costs on Wednesday.
"Bad hair days for François Hollande over €10,000 coiffeur bill," The Guardian quipped.
"The hair-raising cost of Hollande's mane" was Shanghai Daily's headline.
"Shampoo socialist Hollande spends £100K on HAIRCUTS every year," reported Express.
Earning nearly $11,000 per month might seem like any hairdresser's fantasy, but even Olivier B. would be jealous of how much Rihanna pays to keep her locks looking fabulous.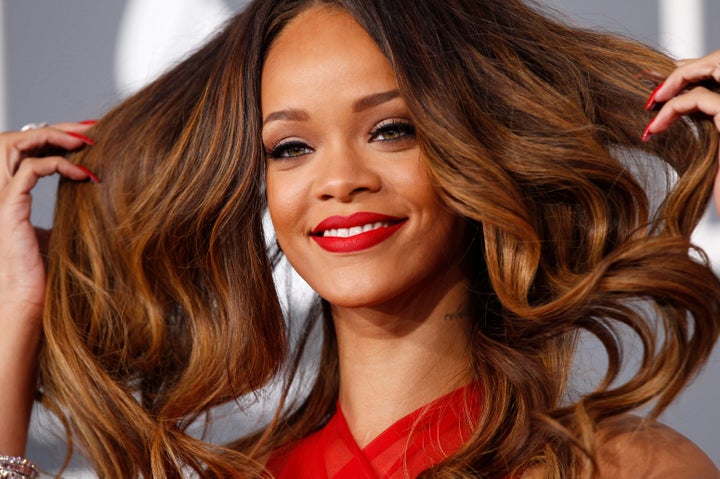 The Barbadian pop star, whose hairstyle seems to change almost as often as her outfits, made headlines in 2011 when tabloids revealed she paid her hairdresser Ursula Stephen nearly $23,000 a week to maintain her 'do.
At least her fans weren't stuck with the bill!
Related
Popular in the Community