It's only a tiny jungle-clad speck in the vast ocean, barely five-square miles, yet in 1944 it was the scene of the highest casualty rate of any amphibious invasion in the entire Pacific in World War II - 11,000 Japanese dead, and up to 1,800 U.S. marines and soldiers killed and 8,800 wounded, 40 percent of the total force.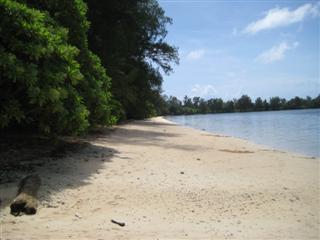 Landing beach on Peleliu
Today, with a population of just 700, Peleliu is part of the peaceful republic of Palau, its lush green shores caressed by the lapping waters of an azure ocean. But the detritus of war - crashed Japanese Zero fighters, burnt out U.S. tanks and landing craft, Japanese gun emplacements in caves, the bombed out Japanese HQ and pillboxes - litters the thick jungle, attesting to its bloody past.


Wrecked tank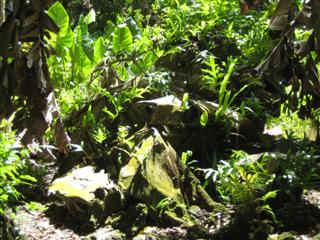 Plane wreckage
Rising 300 feet above it all, Umurbrogol Mountain lords it over the island, its name forever changed by U.S. marines to Bloody Nose Ridge, site of some of the fiercest fighting of the campaign.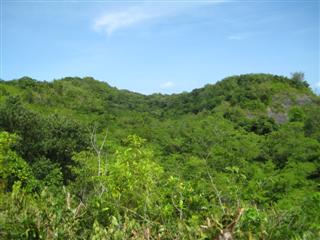 Bloody Nose Ridge
Originally planned to last 72 hours, the battle raged on for 73 days as wave after wave of U.S. marines ebbed and flowed and the Japanese occupiers withdrew, swarmed forward, regrouped and picked off their foe with deadly accurate sniper fire, particularly on Bloody Nose Ridge.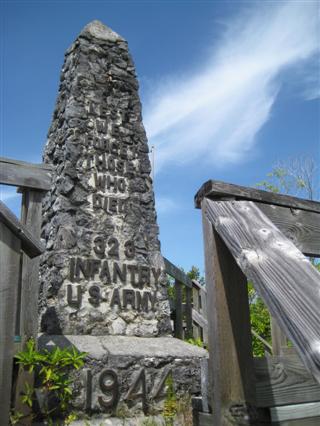 Memorial on top of Bloody Nose Ridge
Today there are memorials for both sides, including one from the U.S. paying homage to the courage of the Japanese - and a sign where some 30 Japanese came dribbling out of the jungle to surrender nearly two years after the war had ended - three years after the battle of Peleliu itself. They didn't know the war was over. That gives you an idea of how thick the jungle is and how the limestone caves can serve for hiding. Today Japanese tour groups revisit the sites.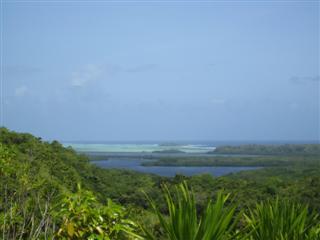 View from Bloody Nose Ridge
Apart from an example of man's inhumanity to man, Peleliu may well be an example of man's idiocy to man, another monument to total human stupidity, according to some. At first the island was seen as a dangerous Japanese base obstructing a U.S. invasion of the Philippines.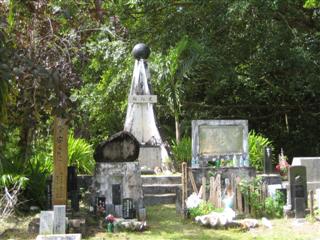 One of the Japanese memorials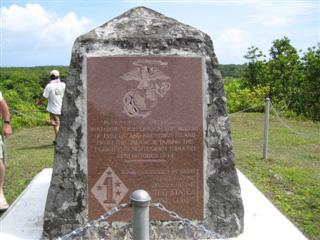 One of the U.S. memorials
But after it was determined that the Japanese had only a weak presence in the southern Philippines and the U.S. Air Force had pummelled Peleliu airstrip, Admiral Bill Halsey of the Peleliu task force suggested the island no longer posed a threat to the Philippines invasion plans and should be bypassed. General Douglas MacArthur and Admiral Chester Nimitz, however, overruled him. Go explain that to the families of the troops who died and the wounded survivors.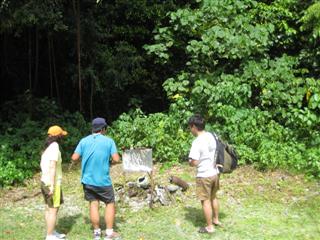 Sign where Japanese emerged from jungle two years after the end of WWII
Wherever you go in the Pacific - and indeed further afield, from Vietnam via Europe and Africa to the Falkland Islands off the southernmost tip of South America - you can follow the swirl of humankind's passion for war, from rusting tanks and guns to monuments and markers in tranquil valleys, to the peaceful green lawns of manicured cemeteries.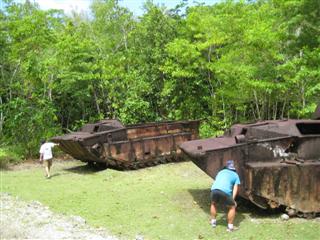 More wrecks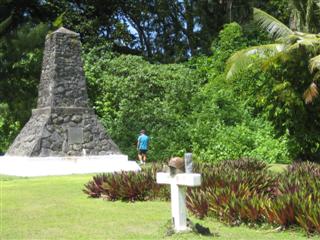 One of the U.S. memorials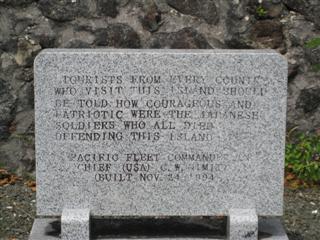 U.S. homage to Japanese soldiers
Some 2,500 miles to the east of Peleliu, in Kiribati, you can go on 'Molly's War.' Molly is a lovely island lady who takes people in her crapped out truck on a tour of the Battle of Tarawa, past old Japanese bunkers, wrecked tanks and shelled gun emplacements on Betio atoll.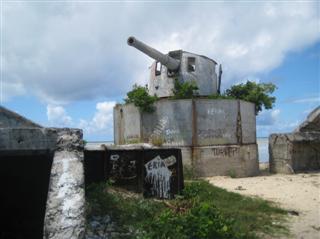 Wrecked gun emplacement on Betio, Tarawa
In November 1943 some 1,700 U.S. marines and soldiers died and a further 3,600 were injured in the three-day battle, which started out with a major snafu for the Americans; the neap tide didn't rise as high as expected and many landing craft ran aground on a reef, becoming sitting ducks for the Japanese, as attested even today by the wrecks in the water.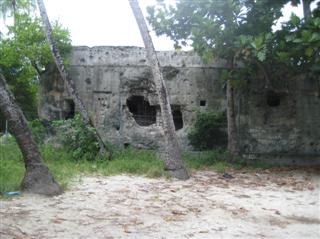 Bombed Japanese HQ
When it was all over, nearly all the more than 5,000 Japanese, including enforced Korean labourers were dead. According to Molly's sister Ioanna the Japanese admiral in charge committed hara-kiri in his now ruined HQ bunker, but others say he was killed in the bombardment.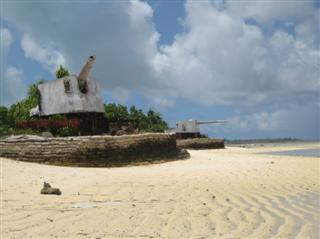 More wrecked gun emplacements
A Japanese generator from another bunker, however, still works, 70 years later, providing lighting for the locals who have taken it to a new home. One ruined tank named Cecilia lies embedded on the beach, where its driver pranged it into a hole. He named it after the daughter he had not yet seen. Sadly he never was to see her; he died in the battle for Pohnpei in Micronesia.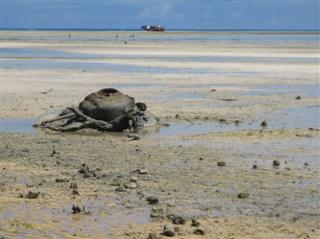 What's left of tank Cecilia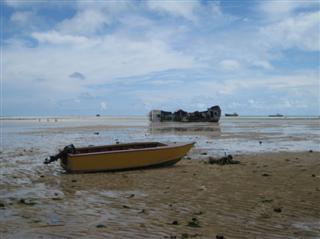 Wrecked craft on Betio's lagoon side
Just over 800 miles to the north of Palau, on Guam, you can visit the cave by a waterfall on the Talafofo River where Japanese soldier Yokoi hid out for 28 years until 1972, not realising the war was over. The Japanese regard him as a hero, though he does seem a bit of a loser. Pictures and captions in Japanese and English tell his tale.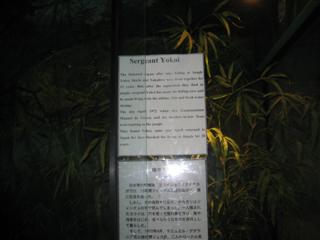 Sergeant Yokoi's cave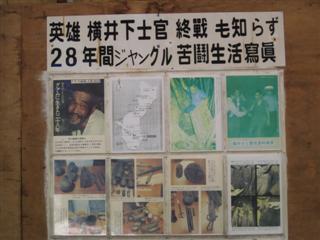 At Sergeant Yokoi's cave
About 100 miles further north on the island of Tinian, what look like domestic greenhouses enclose the atom bomb pits on North Field airstrip where the B-29 Superfortress bombers Enola Gay and Bockscar loaded up with Little Boy and Fat Man on those fateful August days in 1945.


Atom bomb loading bunker on Tinian
Over 1,500 miles and six hours to the west in Hiroshima, the gutted dome of an exhibition hall, an arch, statues and museums in the Peace Memorial Park mark the epicentre of the blast where Little Boy instantly killed 60,000 to 80,000 people - for a final death toll of 135,000 or more. In Nagasaki the memorial is more muted. A hall, museum and park with statues, including the 33-foot tall Peace Statue with upraised arm, mark ground zero where Fat Man killed or injured 150,000 people.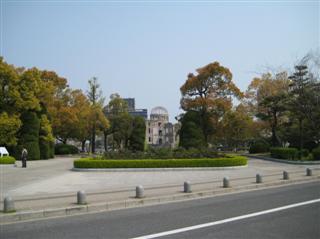 Hiroshima memorial peace park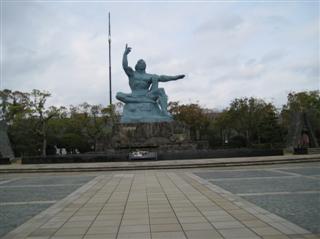 Nagasaki peace statue
Yours Truly pushes on a dozen more miles to Saipan aboard a one-engine six-seater Cherokee piloted by the most wrinkled prune of an old crone that I've ever seen. This does raise a smidgen of concern. She's stooped, has a hunchback and limps, and would clearly win hands down any audition for a witch in Macbeth. The airport guy says she's over 80.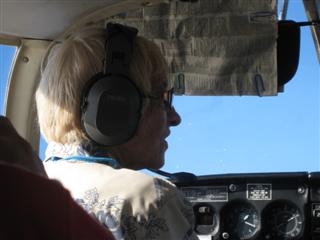 Lady pilot from Tinian
Despite all my misgivings, we land in Saipan without incident.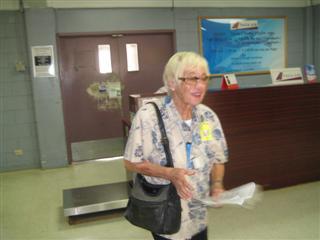 And you thought I couldn't fly!
At the northern end of Saipan, Banzai Cliff soars high above the ocean. From here in 1944 scores of Japanese families committed suicide by jumping hundreds of feet to the crashing waves below.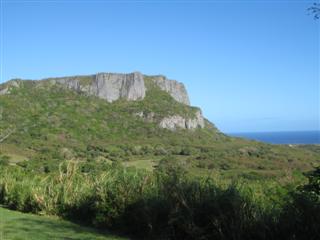 Banzai cliff, Saipan
On virtually every Pacific island you'll find WWII sites, whether it's the highly organised Pearl Harbor exhibit galleries in Hawaii, a wrecked Japanese Zero not far from the huge stone wheel money on Yap, the 60 Japanese ships that the Americans sank in Chuuk's huge lagoon, to the delight of today's scuba divers, or the one-man tour operation round the front lines of the six-month-long Battle for Guadalcanal in the Solomon Islands, in which 7,000 Americans and 30,000 Japanese died.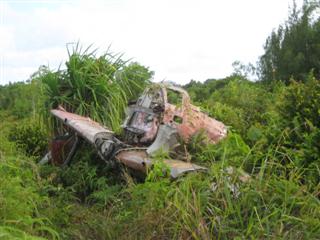 Wrecked Japanese Zero on Yap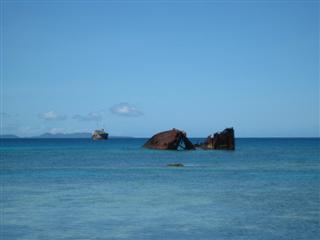 Wreckage in Chuuk lagoon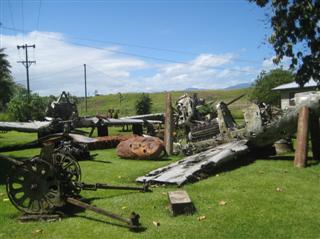 War wreckage collection near Honiara, Solomon Islands
And talking about one-man operations, 230 miles to the west of Guadalcanal in the shadow of soaring Kolombangara volcano lies tiny Kennedy Island, where the future U.S. president first swam ashore, hauling an injured crew mate by a life jacket strap clenched between his teeth after a Japanese freighter sliced through his torpedo boat, PT-109, hurling him and his men into the sea.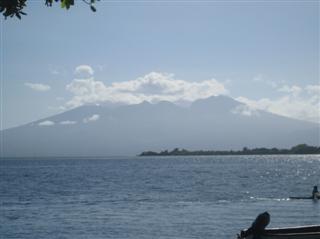 Kolombangara volcano
Actually, JFK couldn't have chosen a better place if he had to collide with a Japanese vessel; there are islands, some flat, some mountainous, all around. But he could have made a better island choice since this one has no fruit trees, not even coconuts for water, even if it also has another name - Plum Pudding Island - and he had to swim on to neighbouring Olasana, which had palm trees, coconuts and water.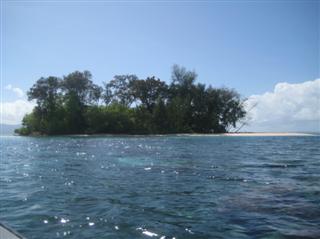 Kennedy Island
Yours Truly almost does a JFK reprise when my own little boat, bringing me chugging across the wavelets from Gizo, the main town in the area, suddenly churns round violently on itself, and the starboard side careens perilously into the deep. We're within an inch of capsizing.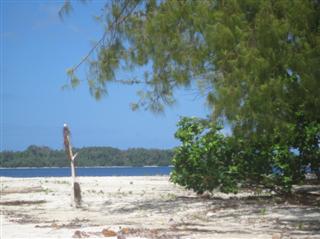 View from Kennedy Island to Olasana
But I don't have to dog-paddle to JFK's minute cow-pat with the beige sand shore and the green jungly fronds. The idiot skipper just manages to right it on the brink of Armageddon. Standing at the back and holding the outboard handle between his legs, he grins inanely and says he slipped. More likely he nodded off - or erotic thoughts knocked it akilter.
For additional travel experiences see www.looneyfront.blogspot.com
Also by the same author, Shakespearean spoofs on current day politics at www.shakespeareredux.blogspot.com
Popular in the Community