If I were to ask you if you are a maker, what would your response be? I recently saw a commercial that used this term to seemingly appeal to people's sense of identity. As a designer of children's science and creativity-based programs, maker is a popular buzzword in my world, but I find it exciting to know that it has seeped its way into common vernacular. From self-esteem boosting to problem-solving skill building, making is a natural part of a child's (and willing adult's) development.
Makers can be thought of as the do-it-yourself-types who value the power of activities such as designing, prototyping, fabricating, coding and creating. They have transformed geek into something very chic (SHēk). For more than 40 years, the National Inventors Hall of Fame® (NIHF) has been celebrating the nation's chicest and most innovative makers -- the original tinkerers, take-apart legends and heroes of invention and entrepreneurship. These are the individuals who often lay the building blocks that allow others to make.
In 1990, Camp Invention® was launched as a national outreach program of the National Inventors Hall of Fame, operated by Invent Now, Inc. The program was inspired by NIHF Inductees and their experiences with taking apart, making, investigating and tinkering. In the mid 90s, these elements also informed the NIHF Museum exhibits in Akron, Ohio. In the "Make-It" area of the Museum, families could take apart old devices and use their parts to create new inventions.
During this 25th anniversary year of Camp Invention, the Inductees' dreams are more alive than ever. The Camp Invention program annually impacts more than 112,000 children at 1,200 plus sites across the nation. The National Inventors Hall of Fame is now located on the campus of the United States Patent and Trademark Office in Alexandria, Virginia and is a proud National Landmark to Innovation™. As for the NIHF Museum site in Akron, Ohio, it has transformed into the dynamic National Inventors Hall of Fame®...Center for STEM Learning.
Through Camp Invention and other imaginative initiatives, the type of making that was once restricted to those with specialized training is now accessible to all. In the early 2000s, the Center for Bits and Atoms launched research and prototyping spaces, each one bearing the name Fab Lab. Maker Media, Inc. -- which produces Make:® magazine and Maker Faire® -- has cultivated makerspaces and has been a key catalyst in what has come to be known as the maker movement. Just one year after garnering enough interest from the first Maker Faire® in 2005, the first open-access public workshop, called TechShop®, opened in Menlo Park, California.

While each of these spaces has its own unique model, many of the tools, techniques and materials found in these spaces can easily be traced back to NIHF Inductees. A simple and prime example is the LED (light-emitting diode). Enter any maker-type space and you'll likely find a wide variety of these small electronic innovations (even sewable ones) available.
The first visible light-emitting diode was invented by NIHF Inductee Nick Holonyak in 1962; the recipe for creating the blue LED, however, remained a technological mystery for more than 30 years. In 1993, NIHF Inductee Shuji Nakamura solved this mystery and made the full spectrum of colors in LEDs available to the world for the first time. We look forward to honoring Nakamura in May at the National Inventors Hall of Fame Induction Ceremony at the Smithsonian National Portrait Gallery in Washington, D.C. under the bright (and blue) lights.
One of the most popular tools in a maker-type-space is a 3D printer, made possible by the stereolithography technology of NIHF Inductee Chuck Hull. This innovation has been used to print prosthetic limbs, model concept cars, shoes, toys, images from the Hubble Telescope, bird beaks, heart valves and even skin and other tissues.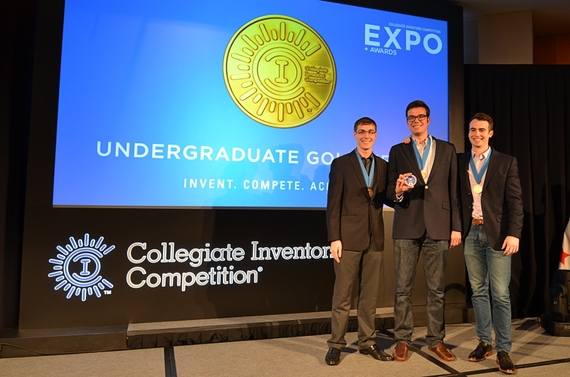 NIHF Inductees and Collegiate Inventors Competition Finalists' passion for inspiring makers is evident in the personalized video challenges they pose to our Camp Invention and Invention Project® participants. This summer, Camp Invention youth (1st-6th graders) across the country will accept and problem solve their way through these challenges in Inducted™. They will also become Next Level Gamers™, design freestyle KartWheel™ race karts and explore Squishy Circuits™ in Design Studio: Illuminate™. Invention Project Innovators (6th-8th graders) will be designing wearable technology, taking offers from simulated venture capitalists, programming robots and more.

The National Inventors Hall of Fame is proud to be the storyteller of those who make making possible and the providers of programming that allows younger makers to write and tell their stories of invention, innovation and entrepreneurship.
Calling all HuffPost superfans!
Sign up for membership to become a founding member and help shape HuffPost's next chapter