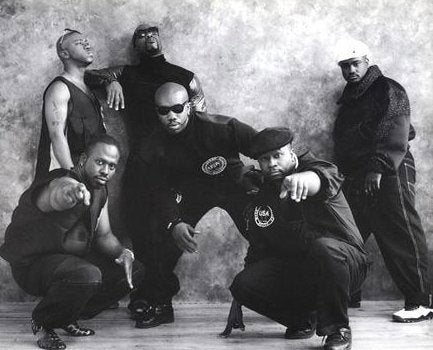 Let's face facts. Most episodes of TV One's groundbreaking docu-series Unsung are pretty disheartening. As we observed last season, the woeful coulda, shoulda, woulda tales of mismanaged funds, drug abuse, and untimely deaths read as surefire instructive texts on what not to do, if you ever find yourself on the verge of superstardom.
So, if you don't know much about this week's featured group, Full Force, you might assume this is going to be another illuminating, bittersweet narrative about fame lost and bitterly mourned.
That would be the wrong assumption.
"Unsung: The Story of Full Force" is actually one of the funnest, most pleasantly surprising episodes in the series' history.
For one, within the first few minutes, you discover this isn't just some flash-in-the-pan crew that peaked as foul-mouthed high school bullies in House Party or as a jheri-curled, ripped shirt-rockin' rap group best known for "Ain't My Type of Hype."
Turns out they'd been around for years before that--they got their start as a child singing act who won Amateur Night at the Apollo four times in a row--and for decades after. They're still collecting profits for having produced some of the highest-grossing pop acts of all times, including The Backstreet Boys, Britney Spears, and N*Sync.
This episode is jam-packed with trivia about this versatile six-man squad. For instance: did you know they started the whole '80s Roxanne/The Real Roxanne craze, having penned the original? Can you guess their one degree of separation from Nicki Minaj? Did you know they discovered Lisa Lisa and wrote most of her songs? And there's a nugget about Cheryl Pepsii Riley's most famous hit we'll just let you see for yourself.
If for no other reason than the incongruous imagery of seeing these muscle-bound dudes unironically deliver quotes like, "I always think from a woman's perspective" and "We wanted to bring the stripper mentality to the stage," this is a must-see.
With guest appearances from ?uestlove, Don Cornelius(!!!), Blair Underwood, UTFO, and Chubb Rock, and only one truly sad tidbit offered during the whole hour, this isn't an episode you want to miss.
Y'all. Full Force is pretty awesome. Who knew?!
Support HuffPost
Every Voice Matters
Popular in the Community