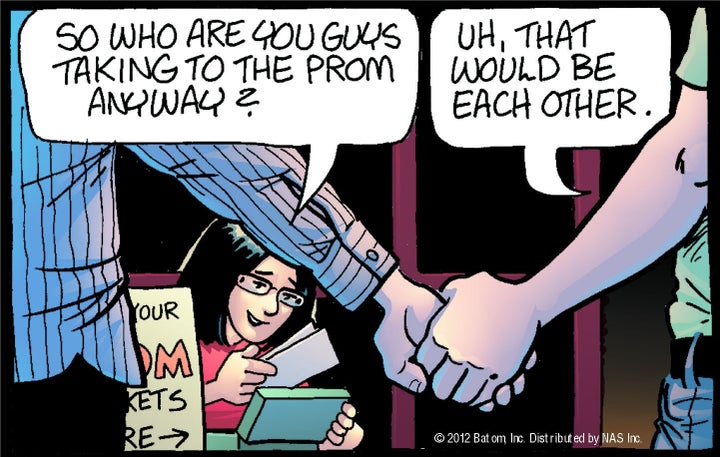 Newspaper comic strip "Funky Winkerbean" is set to mark its 40th anniversary in groundbreaking style: by featuring a story arc about a gay couple planning to attend their high school prom together, and the consequences that ensue.
Beginning Monday April 30, "Winkerbean" cartoonist Tom Batiuk's storyline will depict the fictional Westview High School's debate over the same-sex couple's plan to attend the dance, "with one side demanding acceptance and the other side expressing intolerance," according to an email statement.
Batiuk says he was inspired by witnessing current high school students' attitudes towards the lesbian, gay, bisexual and transgender (LGBT) community. "As I sit in on the classes at my old high school, I see how the younger generation's attitude towards gays is more open and accepting than that of their predecessors," Batiuk, whose strip has also touched on teen pregnancy, suicide, cancer and alcoholism among other hot-button issues since it began running in 1972, said. "It shows promise that this emerging generation will one day bring this cultural war to an end. Until then, this story is an attempt to reach across the divide and speak to the intolerance that still exists on the other side."
Among those to praise Batiuk was Brendan Burford, Comics Editor of King Features Syndicate, who noted, "We hope the series brings new light to this important issue and helps parents initiate the conversation about tolerance with their children."
Gay storylines have been infiltrating the comic world for some time. Earlier this year, Archie Comics featured Kevin Keller -- the fictional Riverdale's first openly gay character who is also an active U.S. military officer -- tying the knot with his African-American boyfriend Clay Walker.
In 1993, cartoonist Lynn Johnston sparked controversy when she depicting Lawrence, a long-standing character in her "For Better or For Worse" strip, coming out of the closet. "It felt right for Lawrence to be gay," Johnston, whose strip ran for 30 years until 2008, wrote at the time. "He was like so many people I know who have had to deal with this traumatic realization and who have done so with courage and honesty."
And while "Batman" has never featured a gay-specific storyline per se, Action Comics writer Grant Morrison referred to the titular character as "very, very gay" in an interview with Playboy magazine.
Popular in the Community