Gabriel García Márquez (1927-2014), the Colombian novelist and journalist who won the 1982 Nobel Prize in Literature, passed away on April 17, 2014. He is considered one of the greatest South American writers of the 20th and 21st centuries. Perhaps the most well-known of his many novels is One Hundred Years of Solitude. Many of his writings are drawn from his own life. Because his father was trained as a pharmacist who practiced homeopathic medicine, this medical subject has been a part of several of his novels and short stories.
In Love in a Time of Cholera, the godfather of the novel's protagonist is a homeopathic doctor, and ironically, the protagonist is fighting for the affections of a woman who is married to a conventional physician. Just as conventional physicians and homeopathic doctors have been at odds for 200 years, Garcia Márquez positioned these two sides against each even if it was only symbolically oppositional in this romantic relationship.
Also, in an autobiographical short story called Serenade: How My Father Won My Mother, published in the New Yorker (February 19, 2001), Garcia Márquez wrote: "Over the course of the year, Gabriel Eligio gave up his worthy profession of telegraph operator and devoted his talent as an autodidact to a science on the decline: homeopathy."
In the book Gabriel García Márquez: A Life, an authorized biography, Garcia Márquez slept with the wife of a military man who, upon discovering him in the act, forgave him out of gratitude to his homeopath father. Historically, homeopathy's strongest advocates have included royalty, religious leaders, and high ranking military.
In his most recent writing of non-fiction, Living to Tell the Tale (2003), Garcia Márquez chose to incorporate elements of his own life with some fictional twists. His heroine, a much-loved mother, is a "lioness" who fights a long battle with her family to marry a violin-playing telegraph clerk. Then, struggling in poverty when her husband abandons her and her eleven children, she seeks to make a better life for her family by making a living as a homeopathic pharmacist.
Garcia Márquez has been a part of a long tradition of literary greats who were known to use and/or advocate for homeopathic medicine. In the United States, many of America's leading literary figures in the 19th century were also advocates of this "new medicine," including Henry David Thoreau, Ralph Waldo Emerson, Henry Wadsworth Longfellow, Nathaniel Hawthorne, Harriet Beecher Stowe, Louisa May Alcott, Emily Dickinson, Mark Twain, Henry James, and William James. Likewise, several renowned European literary greats were also homeopathic supporters, including Johann Wolfgang von Goethe, Fyodor Dostoevsky, Charles Dickens, W. B. Yeats, William Makepeace Thackeray, and George Bernard Shaw.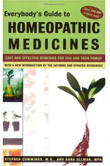 Dana Ullman, MPH, CCH, is America's leading spokesperson for homeopathy and is the founder of www.homeopathic.com . He is the author of 10 books, including his bestseller, Everybody's Guide to Homeopathic Medicines. His most recent book is, The Homeopathic Revolution: Why Famous People and Cultural Heroes Choose Homeopathy (the Foreword to this book was written by Dr. Peter Fisher, the Physician to Her Majesty Queen Elizabeth II). Dana lives, practices, and writes from Berkeley, California. He sees patients from all over the world via phone and Skype and in his Berkeley office.
Support HuffPost
A No-B.S. Guide To Life
Related
Popular in the Community