WASHINGTON -- EMILY's List, an advocacy group dedicated to electing Democratic women to office, hosted an awards dinner Tuesday night where a distinct theme emerged: Those women don't, and won't, focus solely on reproductive rights issues.
The group, which calls itself the nation's largest resource for women in politics, held a gala honoring Sens. Dianne Feinstein (D-Calif.) and Barbara Boxer (D-Calif.), the first ever pair of Democratic women to represent a state in the Senate. Also feted was Georgia House Minority Leader Stacey Abrams (D), who was presented with the Gabrielle Giffords "Rising Star" award.
It was Giffords, the former representative from Arizona and a gunshot survivor and gun control advocate, who grounded the evening with her story.
"It's been a long, hard haul but I am getting better," Giffords said at the event to thunderous applause. "My spirit is as strong as ever. I'm still fighting to make the world a better place, and you can too. Get involved with your community, be a leader, set an example. Strong women get things done. Be passionate, be courageous, be your best!"
The issue of gun violence came up earlier in the evening, when Feinstein recounted the night in 1978 when San Francisco Supervisor Harvey Milk was shot and killed. Feinstein, who was president of the city Board of Supervisors at the time, found Milk and notified the public of his death.
In the Senate, Feinstein has made gun control one of her hallmark issues. She was the author of the now-defunct Federal Assault Weapons Ban, which took effect in 1994 and which was, as House Democratic Leader Nancy Pelosi (D-Calif.) put it Tuesday, "a big deal for a senator who had been in office for just a year."
Abrams also discussed guns at the event, bringing up a bill Georgia Gov. Nathan Deal (R) signed last week that allows licensed gun owners to carry firearms into bars, nightclubs, schools, churches and government buildings.
"I think Georgia has been uniquely positioned, both by demographic changes but also by the overreaches of Republican extremism in the state," Abrams told reporters, adding that hers is a state where an EMILY's List-endorsed Senate candidate like Michelle Nunn (D) could succeed.
Though being pro-abortion rights is a prerequisite for an EMILY's List endorsement, references to reproductive rights issues were made sparingly at Tuesday's event. Sen. Mazie Hirono (D-Hawaii) mentioned "attacks on women's health," and Feinstein said the Democratic Party needed to work to elect "women who are pro-choice, women who are anti-gun."
Abrams whipped up the crowd with her speech, which acknowledged the trailblazing path of so many EMILY's List candidates. However, she also said that she wanted to be "the last" to have to advocate for progressive social and economic policies.
"We cannot stand quietly by and let them take our voices," Abrams said. "I want to be the last woman to explain that my body is not a place for experimental social policy."
"We will be the last to demand our rights and the first to say thank you," she added.
EMILY's List, which now has more than 3 million members nationwide, aimed to showcase its strength ahead of a potentially bruising midterm election year for Democrats. Recent polls show that demographic groups traditionally more inclined to vote for Democrats, such as younger and minority voters, are reporting that they're not sure they'll vote, as candidates grapple with unfavorable ratings for President Barack Obama and a flood of negative outside spending attacking the Affordable Care Act.
The organization had a banner year in 2012, winning 80 percent of the races it was involved in and helping a record number of women get elected to Congress. A focus on issues like gun control, equal pay and the minimum wage, on top of its traditional defense of women's health, could help the group sustain its momentum this fall.
Before You Go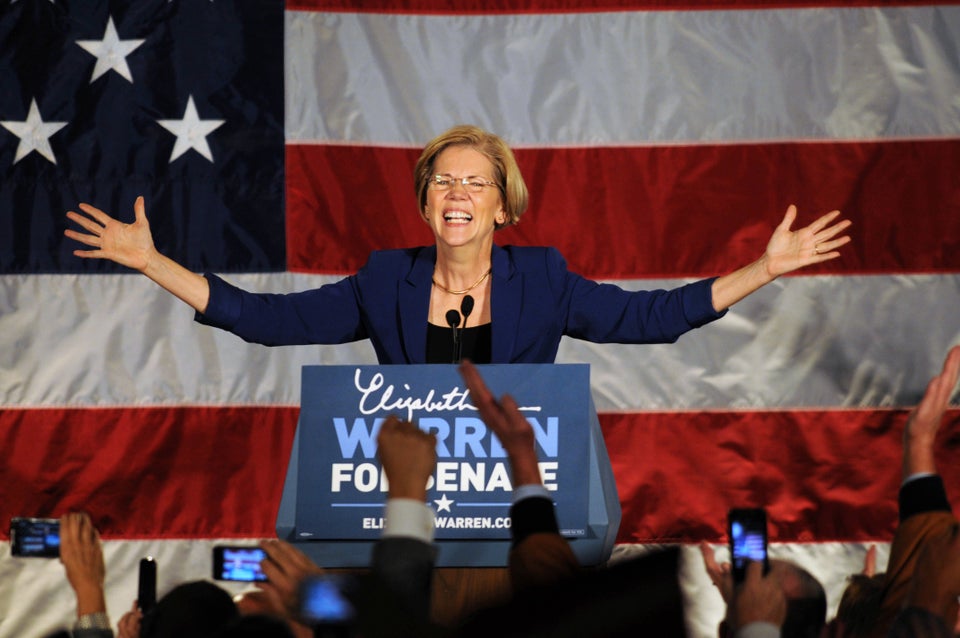 Women In The U.S. Senate
Popular in the Community