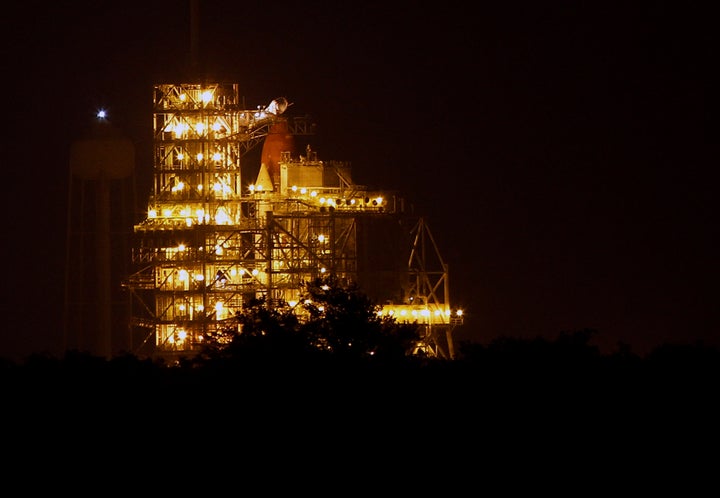 When Rep. Gabrielle Giffords watches her astronaut husband get launched into space on Friday, two of her staff members who also survived the Tucson mass shooting will be there, too, thinking about how far they've all come in less than four months.
Ron Barber and Pam Simon traveled to Florida from Tucson on Thursday with family and other staff members of Giffords to watch the space shuttle launch. They both spoke with The Associated Press shortly after landing.
"This just really makes you think about the human spirit, and our determination to go into space as a nation I think parallels Gabby's determination to get well," said Simon, a community outreach coordinator for Giffords who survived after a bullet hit her in the chest and exited her hip.
"It is incredibly meaningful," said Simon, 63. "Knowing that Gabby is here and watching her husband go to space and that she wanted to be here so bad, and he wanted her to be here – for me, what a journey from being flat on the pavement the day of the shooting to be here to celebrate. It gives me a lot of hope."
Simon said watching Mark Kelly's last shuttle lift-off in 2008 was emotional and she expects it to be even more so this time around.
"I had a huge lump in my throat last time, and I expect alligator-(sized) tears this time," she said.
Barber, who is Giffords' district director, was shot in the face and thigh during the shooting. He will attend the launch even though he's been having nightmares about the day of the shooting and experiencing extreme pain in his leg.
Barber, 65, said he didn't think he'd be able to go until the pain got a little better Tuesday and his doctor modified his medications.
"I'm just thrilled to be here to support Mark and Gabby," he said. "This is an exciting moment. The fact that she was able to make it is a tremendous victory and accomplishment for her when you think about where she was two months ago or four months ago.
"None of us could have imagined that we would be here, given what we went through and given what she went through with the most serious of all the injuries," Barber said.
He watched Kelly's launch on television last time and said he's excited to see it in person.
Six people were killed and 13 were injured in the mass shooting outside a Tucson grocery store on Jan. 8. Simon has since returned to work, while Barber is still undergoing extensive therapy.
The congresswoman arrived in Cape Canaveral on Wednesday, leaving behind the Houston hospital where she has been undergoing rehab for the past three months. When she watches the shuttle Endeavour lift off Friday afternoon, it will surely be her husband's last mission in space. NASA is retiring the shuttles with one final flight in June.
"It's something she's been looking forward to for a long time," Kelly said of his wife's attendance at the launch earlier this week. "She's been working really hard to make sure that her doctors would permit her to come. She's more than medically ready to be here, and she's excited about making this trip."
Below, video from local Texas station ABC 13 on the congresswoman's plans to attend the launch.
Popular in the Community