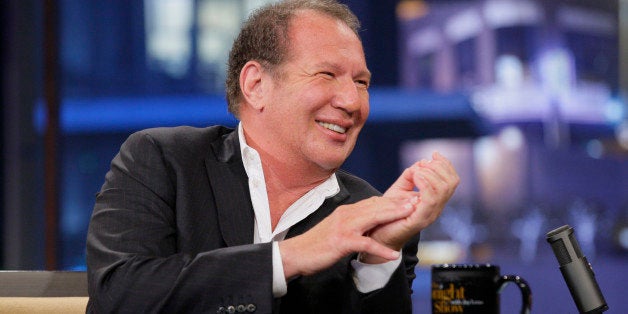 On March 24, 2016, Garry Shandling died suddenly of a heart attack. The day of his passing, not many television news feeds had mentioned anything substantial about this comic legend. Unfortunately, other world news had overshadowed the death of a true comic genius. On March 25th, he didn't even make the Today Show's trending topics. Hyman Roth said it best in The Godfather, Part II when eulogizing Moe Green, saying, "There isn't even a plaque, or a signpost or a statue of him!" Besides the perfunctory newspaper obituaries, there has been no indication of how many lives he touched through his groundbreaking comedy.
This piece is not a biography of Garry Shandling. It is a means of explaining why he was so important to comedy and television. In 1986, The Garry Shandling Show: 25th Anniversary Special was a brilliant mock-up of all the Johnny Carson-era Tonight Show anniversary specials. Pretending he had had a talk show for 25 years was on its own an inventive and novel concept but the execution was, for me at least, a life-long comedic memory. Very few people had seen this special, as it aired on Showtime and was never available in any sort of playback format. Unless you recorded this show back in 1986, it faded to a distant memory for many years. After that special, Garry worked with Showtime again, creating the It's the Garry Shandling Show. This show, like its predecessor, was a mock up on every sitcom we grew up on. For Garry, these two shows worked in tandem, as he used to guest host the Tonight Show on many occasions and write for shows like Welcome Back Kotter and Sanford & Son. However, it was The Larry Sanders Show where the rest of the country recognized his genius.
I have always loved Mel Brooks but his satire was always 10 years off of being hip (although, sometimes that's half the fun). The Larry Sanders Show came out just as the "Late Night Wars" began. After Johnny Carson was forced out of The Tonight Show, Late Night was fair game and Garry's name was thrown around to host a multitude of talk shows, including this famed program. But by waiting it out and pretending to be a talk show host during this time it allowed Garry to utilize all other people involved to, in turn, make the fake Larry Sanders Show all too real. The thing is, everything about The Larry Sanders Show is real. Anyone involved with late night television will tell you it is the This is Spinal Tap of talk shows. It even conquered the daily office show mockumentary before The Office came on to the scene. One particular episode, "Out of the Loop", shows Larry feeling disconnected to his employees. He decides to have them override the 'Managing Partner, Producer, or what have you' and come directly to him with their everyday problems. The repercussions are obvious but the reveals at the end of the episode are more well-written than a full season of most network shows.
On the flip side, one of my favorite episodes and what some consider to be where the show truly came into its own, comes from Season 3 entitled, "The Mr. Sharon Stone Show". At the time this was written, Sharon Stone was the hottest actress in Hollywood. What makes it fascinating is the interest we all had in the idea of how a celebrity (especially a male celebrity) deals with and dates a female celebrity that's exponentially more famous. The episode, written by Garry himself (with Peter Tolan), explains this quandary just as we 'outsiders' might envision it. And, as far as I have heard from 'insiders', completely accurately.
One of the other nuances about Garry is the ability to make fun of yourself. In this particular Sharon Stone episode, Larry invites Sharon to a Bill Clinton fundraiser. Of course, it turns out Sharon is already invited on her own as she is sitting with Bill and Hillary, and Larry is seated at table 20. This has such an effect on Larry that he struggles to perform with Sharon in the bedroom until his own show comes on that night on the television. That's a tough thing for a man to admit or play whether in character or not, but that realism and laugh-out-loud comedy mix is what made The Larry Sanders Show HBO's first bonafide hit. The Larry Sanders Show was adored and in many ways is almost a time capsule for the hottest celebrities of the day.
I was fortunate in the fact that I got to spend time with Garry Shandling during this era. I was already a fan of The Larry Sanders Show when I met him. However, once he found out I was a huge fan of the elusive 25th Anniversary Special, he knew I was bigger than a bandwagon fan, which allowed him to loosen up (as far as Garry Shandling can loosen up). There was no doubt he was a little quirky but sometimes mad geniuses are like that. I remember going to the movies with him to see Wild Man Blues, which was a documentary about Woody Allen's Dixieland band tour. I'd never seen Garry so happy as he was laughing about how "crazy" Woody Allen looked up on the screen compared to himself. I got to go to the set of the Larry Sanders show, which is the definition of the word surreal for me, AND attend his legendary Sunday basketball games at his house. He would let me read Larry Sanders scripts that were, what he thought, in draft form, but were, in my mind, completely ready to put on film. As many comedians go, he never thought he or his material was good enough. I would encourage him, like I have with many of my comedy friends throughout the years that don't seem to get their contribution to comedy or how they make people happy. I'll never forget when his movie, What Planet Are You From? came out he had called and I told him I loved the film. The first words out of his mouth were, "I didn't direct it." What Planet Are You From? certainly wasn't his best work but it sure was a lot of fun. He was never going to be pleased, which is maybe what drives geniuses like Garry or Woody Allen.
Incidentally, What Planet Are You From? was directed by Mike Nichols. I couldn't love Garry anymore for trying to lay blame on the director of The Graduate and Who's Afraid of Virginia Woolf. Epic.
This is a minute tribute to a great comedian and a television pioneer. The unfortunate world news took away what people needed to know about a great American comedy legend.
Popular in the Community