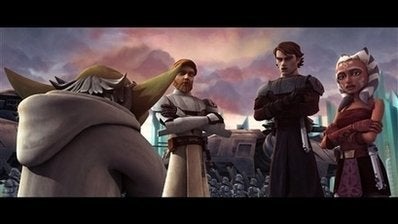 Like so many of my generation, my first movie was Star Wars. I was two years old when my parents took me to see it at a second-run drive-in in Miami in 1978. I sat in the back seat and have a fuzzy memory of the opening scene of Darth Vader boarding Princess Leia's ship, and then I fell asleep and don't remember anything else. But that was enough.
My mother is fond of saying that my brother and I come by our geekdom honestly. My parents keep a pewter replica of the Millennium Falcon in their bedroom. The cookie jar in their kitchen is R2-D2. My brother's Bar Mitzvah reception theme was Star Trek, complete with t-shirts that read, "I was beamed up to Mr. Funny's Bar Mitzvah, Star Date 02201993," below a color photo of him dressed as Mr. Spock and doing a perfectly stoic "Live long and prosper" Vulcan hand gesture. And these examples are just the tip of the geek iceberg in my family.
So it was with some regret that, for reasons I won't go into, I thought I wouldn't be able to go to the 2009 New York ComicCon this past weekend. Then my super-awesome sister-in-law, Daria, hooked me up. She works for a local magazine and had a press pass for the entire weekend. After spending all day Saturday in the company of my geek brethren, there to support Mr. Funny and his improv group "Start Trekkin'," she was burnt out on all things "Stars," both of the "Wars" and the "Trek" varieties, as well as pretty much the entirety of fandom culture. When she asked me if I wanted her pass for Sunday I nearly exploded with delight. Everything else fell into place, and Sunday morning I was off on the 42nd Street crosstown bus to the Javitz Center to get my geek on.
Since Sunday was Kids' Day at ComicCon, I had worked on convincing Husband to come with me as Han Solo to my Princess Leia, and we could stick some pointy ears and a brown robe on the Princeling so he could go as Yoda. As much as my husband loves me, there are certain lines he will not cross for me, and now I know that dressing up as Han Solo is one of them. He wouldn't even come to ComicCon with me, preferring instead to take the Princeling to the park for the afternoon. And that, right there, is one of the biggest differences between myself and Husband: while he likes things like "sunlight" and "warmth" and "outside," I am perfectly happy to spend a 54-degree cloudless afternoon inside the Javitz Center, strolling aisles of pure, unconcentrated geekdom without Husband or Princeling getting in my way. Their loss, my gain.
Despite the fact that I was without the company of my own family, I was heartened to see so many other families in costume together, and that even if the parents couldn't be bothered to put on, say, a long-sleeved red t-shirt with pointy gold chevron on the chest, that there were still many, many miniature Imperial Storm Troopers, Spider-Men, Batmen and even a Bat Girl, Disney princesses, and other various adorable decked-out kids. You just know that this was like Halloween in February for them, and how fun is that when you're a kid! I roamed around, looking for a possible present for the Princeling, but decided that a four-month old is still too young, even by my standards, for a child-size light saber. Instead, I browsed some baby alien t-shirts, and chatted with a publishing representative at a booth displaying some books by a dark fantasy author I like, Kelly Armstrong. He gave me a free copy of his company's latest sci-fi release, and while it doesn't look like the usual stuff I read, I never turn down a free book.
Upstairs in the Kid Zone, I watched costumed members of New York Jedi teach "younglings" how to use light sabers (please please please PLEASE still have that in five years when the Princeling is old enough!), and debated whether or not to ask a total stranger to take a photo of me standing with Chewbacca. (I opted not to, as it seemed kind of creepy and weird in the Kid Zone.) I tried to make it to the screening of Joss Whedon's new show, Dollhouse, but arrived too late. My ComicCon guide said it started at 1pm, but when I got there the sign said 12:45pm. Ah well, I'll just have to DVR it this Friday like everyone else. (I spent my 30th birthday taking a personal day from work to stay home and watch the entire Firefly series on the DVDs I got as a gift from my brother. Happy birthday to me!)
When I got home I told Husband all about the super-awesome time I had at ComicCon, and while I did convince him to come with me next year ("Look, someone has to take photos of me with Chewbacca,"), alas, I still cannot get him to agree to dressing up in costume. He has said, though, that I can bring the Princeling in costume. Anyone know where I can get fake-fur footie pajamas so I can turn my son into a "tribble?"