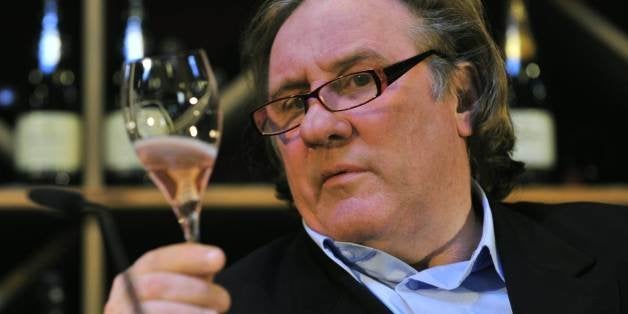 French actor Gerard Depardieu revealed he can drink up to 14 bottles of wine in one, single day. That's a lot of vin.
Depardieu spoke about his drinking habits during an interview with the UK's So Film magazine.
"When I'm bored, I drink," he said. "Apart from occasional compulsory moments of abstinence. After undergoing bypass surgery (five times), and also because of cholesterol and stuff, I have to be careful. Anyway, I'm not going to die. Not now. I still have energy. But if ever I start drinking … I can't drink like a normal person. I can absorb 12, 13, 14 bottles … per day. But I'm never totally drunk, just a little pissed. All you need is a 10-minute nap and voilà, a slurp of rosé wine and I feel as fresh as a daisy! I have to admit that when I start counting, doctors start worrying."
The 65-year-old actor made a conscious effort to cut back on his alcohol intake after undergoing an emergency quintuple bypass in 2000 following a heart attack, the New York Times notes.
The star has admitted to living a life of excess, but says it has never hurt his persona in his native country.
"I think it corresponds to an image that the French love. Someone who is a bit of a rebel, who shakes things up, and is sometimes drunk. It's a bit of this hooligan spirit which pleases Putin," he said during an interview last year, referencing his friend and Russian President Vladimir Putin. He later added: "[I'm] drunk sometimes, but my drunkenness is part of my excess. I've never jeopardized investors."
Popular in the Community