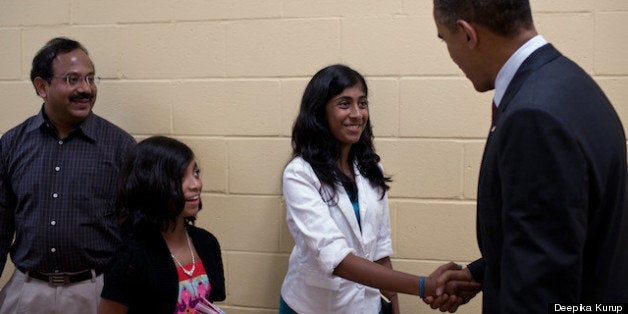 In my elementary and middle school years, not many students paid attention to a girl interested in STEM (science, technology, engineering and math), especially when compared to my peers who excelled in sports and drama. In 8th grade, I helped start my school's first-ever science bowl team. I was extremely excited because I had always been passionate about science, and I thought the best way to share this was to get others in my school involved as well. Only five kids showed up. I was dismayed to see that in a school of about 300 students only five kids showed interest in joining the science team. On the other hand, many students come to basketball and cheerleading try-outs. This, I feel, is mainly because science doesn't have the "coolness factor" sports has. Most kids my age want to follow their sports and television celebrities who have rich, luxurious and famous lives. Recently I've been seeing a change in this attitude. Even President Obama compared Super Bowl winners to science fair winners in his 2011 State of the Union Address.
Take a closer look at the classic "sports vs. science" example. The average NFL player makes more than $1 million a year while an average scientist only makes $75,000. Now don't get me wrong, I understand that all NFL players have put their heart and soul into football and have practiced hours on end to be where they are now. But then what about the scientists, who are unraveling the mysteries of our world, to better humankind? So why are sports stars paid so much more than scientists? The answer to this question I still haven't found but I can say that kids like me are slowly starting to receive more recognition and opportunities for pursuing our passion in science.
My own interest in STEM began early on in my life. When I was younger, I always loved to build things. I can vividly remember helping my dad assemble bookshelves and bicycles, and building motorized windmills out of K'NEX and Legos. I was always curious about what was happening around me, and science always had an explanation for all my questions. I realized that science is everywhere. Science has the enormous power to help people find solutions to problems we never thought could be solved. In the past few months, I have been trying to use science to solve one of our world's biggest challenges: the global water crisis. I was exposed to this problem at a very young age during my visits to India where I frequently saw people, especially children, drinking dirty water. About one-sixth of all the people in the world lack access to clean drinking water. In order to help solve this problem, I spent my entire summer vacation developing a green sustainable cost effective system to purify water using solar energy. I submitted my innovation to the Discovery Education 3M Young Scientist Challenge and won the grand prize of $25,000 and the title of "America's Top Young Scientist."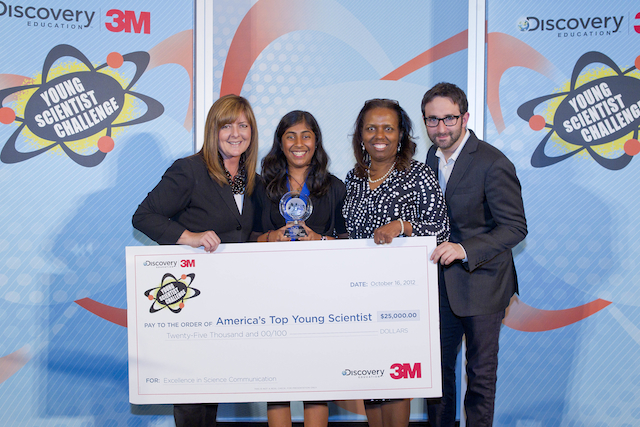 All of a sudden, I started receiving a lot of attention. Perhaps it was because I won the $25,000 grand prize, or maybe it was because I got an opportunity to discuss my science project with President Obama. Or, perhaps it was because I was invited to the 2013 White House Science Fair to exhibit my invention for purifying water.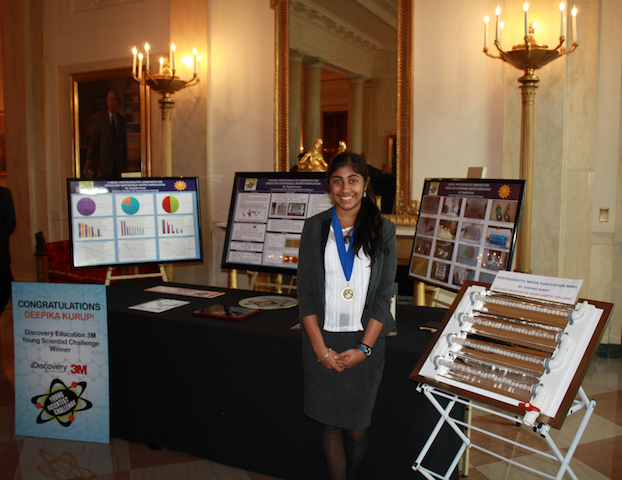 I had wanted to participate in this fair (in my opinion, the coolest science fair in the nation) ever since it was launched in 2011. Of course, I had only dreamed that this wish would actually come true. In late April, when I got a phone call from Discovery Education informing me that I was invited to the 2013 White House Science fair I was extremely excited and overjoyed. I met many kids who were enthusiastic about using STEM in coming up with solutions to problems that affect our world. During his formal remarks, President Obama mentioned that we were young scientists who dream, create and innovate. I truly believe him when he said that we are the participants in this long line of inventors and creators that have made America the most dynamic economy and the most dynamic country on earth.
I also got the opportunity to present my project to key administrators, renowned scientists and other celebrities like Bill Nye (the Science Guy), Kal Penn and Bobak Ferdowsi (NASA's Mohawk guy). Interestingly enough, I was also able to meet NFL player Victor Cruz of the New York Giants. Of course, his salary is still much greater than that of the average scientist, but in some ways, the playing field was starting to even out. Now, not only Super Bowl winners are invited to the White House, but science fair winners as well. Surely there is a shift in attitude!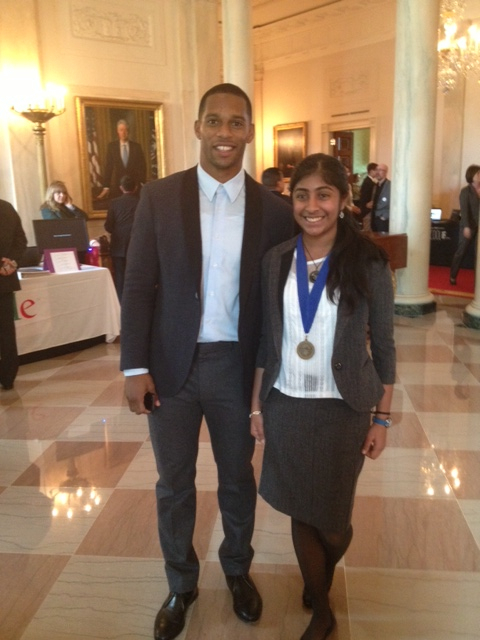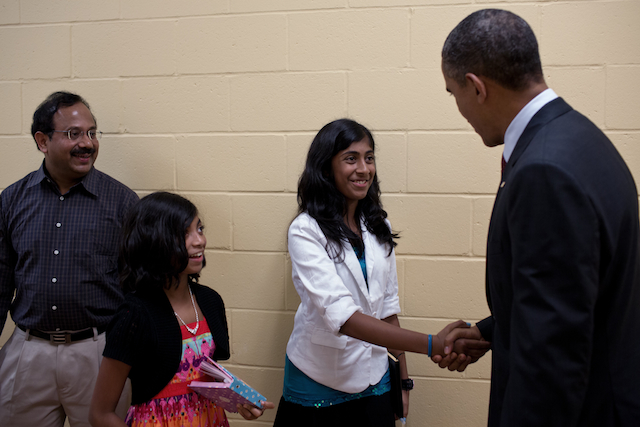 Related
Popular in the Community