The most photographed building in Monaco, the glamorous seaside principality on the French Riviera, is the Monte Carlo Casino, which sits grandly on the central square, Place du Casino. Though the adjacent Hotel de Paris, which has hosted everyone from royalty to rock stars, has an impressive façade, it's the Belle Époque beauty designed by French architect Charles Garnier that everybody comes to see. Dating from 1863, this building has always played a special role in the principality. In addition to the casino, which is exactly where you'd expect James Bond to saunter up to the table to play baccarat (it appeared in the films Never Say Never Again and Goldeneye).
The complex also houses restaurants and one of the world's most beautiful opera houses, which is where I found myself, gazing at the insanely gilded ceiling, during a midday tour.
If you've seen the Paris Opera, also designed by Garnier, you will recognize similar design elements including gilded statues, crystal chandeliers and red velvet curtains. Inaugurated in 1879 by French actress Sarah Bernhardt amid much fanfare it continues to be one of the highlights of the Monaco social season with patrons arriving in tuxedos and gowns. Prince Albert, the ruler of the principality and his new bride South African Charlene Wittstock have their own entrance and box. This glittery space played a role in last year's wedding festivities. After dinner on the building's Mediterranean-facing terrace, the wedding party including Albert's sisters princesses Caroline and Stephanie made their way into the opera house, where the seats had been removed for a gala ball.
I planned on hitting the casino later that evening so I had time to explore the principality, which at just two square miles is easy to do by foot. I sipped a coffee on the outdoor terrace of the Café de Paris and took in the terrific people-watching -- the parade of luxury cars, Ferraris, Maseratis, Bentleys, etc. was something to see. In the 182-room Hotel de Paris, the principality's swankiest property with chandeliers and marble columns, I marveled at the diamond jewelry and watch displays from names like Graff and Chaumet along the corridor and in the lobby I noted guests lingering over glasses of rose Champagne and martinis. Pre-dinner, a popular meeting spot in town is the hotel's Le Bar Americain with live jazz -- it's known to be a favorite of Prince Albert's.
One of Monaco's premier restaurants, Le Louis XV, is also located within the hotel. The three Michelin-starred restaurant from Alain Ducasse is celebrating its 25th anniversary and is offering special menus until the end of the year. It's an intimate spot that is impossibly elegant (and extremely hard to get into). Other restaurants of note include the eighth-floor Le Grill and Le Vistamar at the Hermitage, a sister hotel around the corner. For a more contemporary vibe, there's a branch of Buddha Bar with an Asian menu and décor. Outside Monte Carlo, you might be surprised to find reasonably priced eateries in Monaco's other districts such as Monaco-Ville or the Old City, perched on a high promontory with casual bistros where you can sample local specialties like barbajuans (fried pastries stuffed with spinach or cheese), stuffed zucchini flowers and Swiss chard pie.
Also in this area, which has winding cobbled streets you can shop for crafts such as pottery from Vallaruis and glassware from Biot, both arty Riviera villages. The Prince's Palace, Albert's official residence is located here and tours of the State Apartments including the Throne Room are available. A five minute walk brings you to the 19th century Neo Romanesque St. Nicholas cathedral that holds the tomb of American born Princess Grace who died tragically in a car crash in 1982 and down by the port you can gawk at the mega-yachts owned by Russian oligarchs and Saudi princes. Back in Monte Carlo, some serious cash can be dropped at high-end designer boutiques like Chanel and Valentino.
I could certainly window shop, but I wasn't realistically gong to buy anything in Monte Carlo. Recently restored, the salons were resplendent with inlaid mahogany paneled walls, stained glass windows and gilt-edged grand-scale paintings. I sat at a roulette table and made a few bets alongside a Saudi man betting astronomical sums and some attractive Brazilians. After a time, I found myself up in my Euro count. Of course, I should have quit while I was ahead but the atmosphere was very seductive.
I took a few more spins. I suppose it was the closest I'll ever get to feeling like James Bond. Martini please.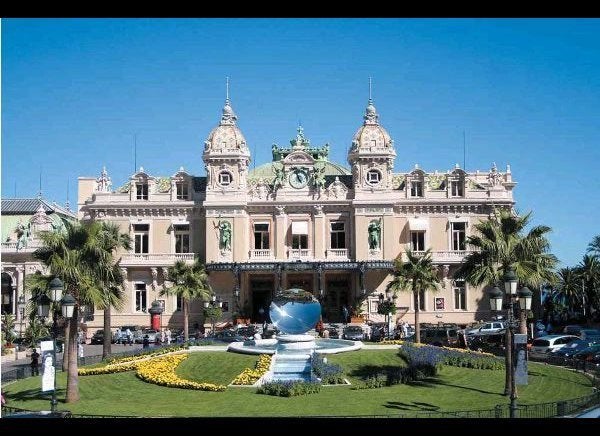 Monaco
Related